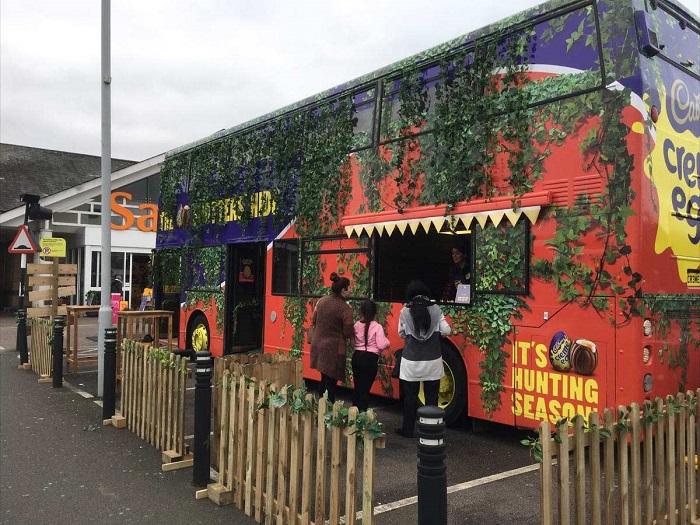 Promohire was appointed by brand experience agency Jackanory to support the latest Cadbury Creme Egg campaign. Cadbury has teamed up with Sainsbury's to launch the Creme Egg Spotter's Hide Bus which is touring stores across the south-east. This activity is providing an egg-citing opportunity to sample a delicious Cadbury Creme egg treat from the on-board café, and to take part in a variety of 'hunt the Creme Egg' games for all the family.
Promohire worked closely with Jackanory to deliver the bus at the centre of this campaign. The vehicle needed to be highly eye catching and functional in order to launch this activation and deliver the results the client was after. The double decker bus was treated to a full exterior wrap featuring Cadbury's campaign branding and messaging. Our award-winning install team took several days to wrap the double decker and implement the detail which included manually cutting out thousands of tiny vents in places. The hub caps were also painted a striking yellow.
The inside of the bus saw a full conversion which started with a kitchen installation at the rear of the bus. In order to provide the facilities for the team to serve up the Creme Egg treats, Promohire fitted solid oak worktops, a sink with running hot water, a fridge and four microwaves. An awning was constructed on the outside of the bus over the exterior serving hatch.
The bus conversion included the installation of a built in TV screen to provide a 'digital window' for a looped film. Promohire also constructed a scramble pit which was later filled with foam cubes and hidden Crème Eggs, which was to feature as one of the games.
The stairs were lined with AstroTurf and the the top deck hosted a themed Spotters Hide which was fully clad in wood. All hand rails were wrapped in a foliage style vinyl to complete the look, and finer details such as binoculars and bird boxes were installed by company Fuel4 to further embellish the scene. Promohire constructed benches for use on the upper deck which were finished with a padded purple vinyl top. LED lights were fitted and birdsong can be heard throughout.
In addition to supplying, wrapping and converting the double decker bus, the team at Promohire team were responsible for the campaign logistics in delivering the bus to its 20 destinations over its 4-week tour.