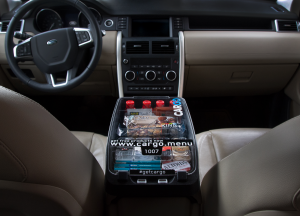 Cargo has announced their launch in Minneapolis. With this launch, Cargo also kicks off an in-car product sampling campaign with Red Bull, just in time for the Red Bull Crashed Ice and the Big Game on February 4, 2018.
Cargo enables brands to build brand loyalty by placing products like Red Bull directly in the hands of the millennial and generation Z audience who are frequent rideshare users. For a limited time, tens of thousands of passengers in Cargo-equipped cars can get energised with a complimentary Red Bull on their way to the football game or the after-party.
Red Bull adds to Cargo's selection of products that cater to the rideshare generation, including beauty products like Labotica Green Tea Face Mask, unique remedies like Blowfish for Hangovers, and snacks like Rice Krispies and RXBar.
"Cargo's in-car and digital platform introduces a new consumer touch point for brands. Our goal is to identify brands and products that resonate with passengers so that we can deliver the best in-car experience," says Sabina Rahaman, director of brand partnerships and merchandising for Cargo. "Our campaign with Red Bull gives us the opportunity to surprise riders with a complimentary Red Bull energy drink in-car on the way to the game or headed out to meet friends for the Red Bull Crashed Ice event."
The Minneapolis launch is Cargo's first move for expansion in 2018, following initial launches in New York, Boston and Chicago in 2017. Minneapolis is among the top cities in the U.S. for rideshare drivers, and Cargo's availability in the city will allow these drivers to earn up to an extra $500 per month from commissions, referrals, and performance bonuses. Cargo recently raised $5.5 million in funding to scale operations more rapidly across the U.S.