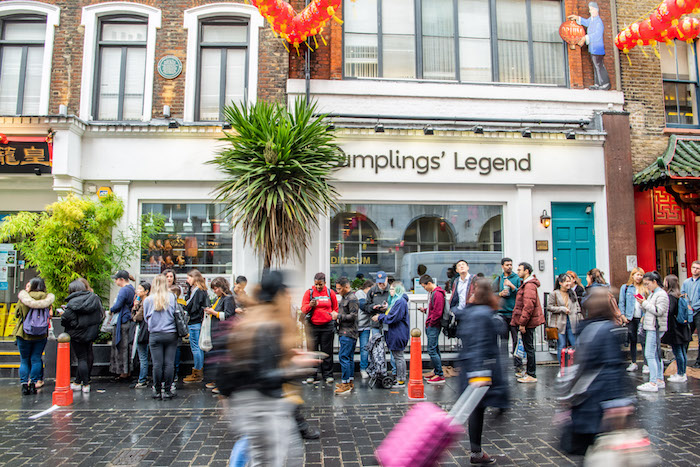 On 26 September, Chinatown London celebrated National Dumpling Day by handing out over 2,000 free dumplings from some of the destination's top restaurants. Starting at 12 noon, dumplings flew out of the nine restaurants in under an hour.
Each restaurant brought a unique offer to the table, showcasing Chinatown London's diverse regional dumpling offering. Savoury dumplings, including Shanghainese xiao long bao, Cantonese siu mai, Korean mandu, and Japanese gyoza, came from:Dumplings' Legend, Leong's Legend, Rasa Sayang, Shanghai Modern, Ichibuns, Olle, and Orient London. Sweet treats were also available for the first time this year, provided by Bun House and Yolkin, which were all handed out in under 5 minutes.
Along with the dumpling giveaway, Chinatown London also marked the day with the launch of a one-month residency for MasterChef Australia 2018 finalist Brendan Pang, in a dumpling inspired takeover at Dumplings' Legend.
The renowned and imaginative chef, nicknamed the 'dumpling whisperer', is bringing the native ingredients of Australia to the heart of London's West End. Pang is best known for his vibrant rainbow dumplings and flavour combinations, and will add to the already extensive dumpling repertoire in Chinatown London with dishes such as prawn and abalone wontons, and spinach-dyed dumplings filled with crystal chicken and coriander.
Julia Wilkinson, head of group restaurant strategy at Shaftesbury, said: "The response to this year's dumpling giveaway was outstanding, and we are delighted so many visitors had the opportunity to experience Chinatown's diverse dumpling offering. We are proud that Chinatown London has become a landmark destination for this Asian staple, and continues to produce some of the best dumplings outside of China. We also look forward to Brendan Pang building on the success of this celebration over the coming month. His menu fuses together traditional techniques with modern influences, a story very familiar to Chinatown London, but this time highlighting native Australian ingredients in established Chinese dishes."
Commenting on national dumpling day, and his one month residency at Dumplings' Legend, Brendan Pang added: "Dumplings feature in all cuisines, but nowhere are they more prominent than in East Asia. My take on this internationally recognised item brings a new twist to the familiar, with ingredients including abalone, crocodile, and kangaroo. I believe the best way to introduce people to a new meat or ingredient is by incorporating it into something they already know and love, and for most people across the world, the dumpling is exactly that."