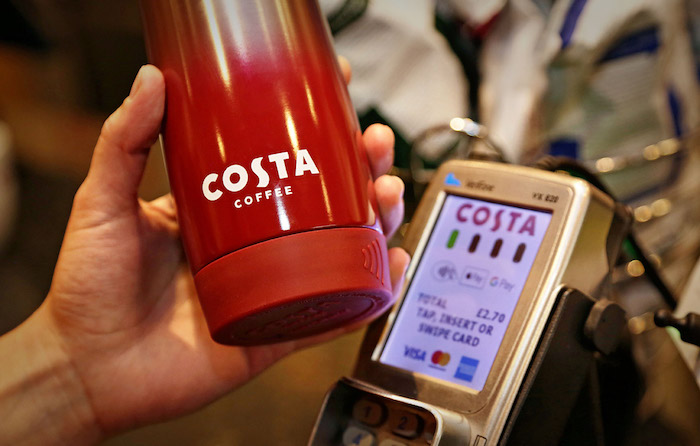 Available in Costa Coffee stores this November, the Clever Cup harnesses contactless payment technology to turn customers' reusable coffee cups into a fast and convenient way to pay.
Powered by bPay by Barclaycard technology, Clever Cup users can track their spending, top up their balance, and take control to block or cancel the contactless payment element online or using the dedicated bPay app, available on iPhone and Android devices.
The Clever Cups form part of Costa Coffee's wider re-launch of its 'next generation' reusable range, encouraging customers to use reusable cups instead of single-use takeaway cups. This follows Costa Coffee's announcement in April to pledge to recycle 500 million takeaway cups by 2020.
Sold in packaging made from recycled coffee cups, the Clever Cup features a silicon base and contactless chip, which is detachable for ease of washing. The technology within the cup can be used wherever customers see the contactless symbol and not just Costa Coffee stores.
Jason Cotta, managing director at Costa Coffee comments: "Contactless technology has become increasingly prominent in our daily lives and through the launch of the new Costa / Barclaycard  Clever Cup we hope to appeal to those tech-savvy customers to help facilitate and drive environmentally friendly behaviour.
"Whilst we are committed to ensuring more takeaway coffee cups are recovered and recycled we also want to incentivise and reward customers who help reduce the number of takeaway cups being wasted. We already offer a 25p discount on hot drinks in all our stores for customers using reusable cups, and hope the innovative Clever Cup will become an additional incentive for increasing the use of reusable cups."
Rob Morgan, head of sales and partnerships, at Barclays said: "Today's shoppers are looking for seamless and 'to hand' ways to pay. Our wearable chip technology allows almost any accessory to be transformed into a smart payment device, unlocking the benefits of speed and ease in everyday purchases. We're proud to be working with Costa Coffee to give the UK another compelling reason to carry a reusable cup as part of their daily routine."
The new Clever Cup is priced at £14.99, with a £1 donation from every sale going to The Costa Foundation and will be available from all Costa Coffee outlets across the UK from late November.