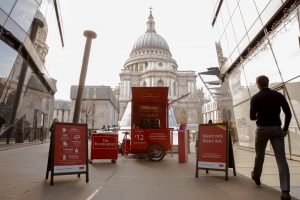 Latest real world subscription activation highlights critical need to reduce food waste by offering fresh soup made with vegetables rejected by retailers.
In a new twist on its #feedingthefuture campaign, The Economist is encouraging Londoners to try free nutritious soup made from vegetables destined for the bin. Engaging with people through a branded mobile trike, the newspaper is showing people that ugly, discoloured or misshapen produce, which is rejected by supermarkets, is still good to eat.
The campaign, devised by marketing agency Sense, forms part of The Economist's successful Real World experiential strategy designed to increase the media brand's subscriptions through bringing its content to life in the real world. Supermarkets' and consumers' obsession with 'perfect' fruit and vegetables is driving the global food waste problem, with 600,000 tonnes of food thrown away each year in the UK by restaurants alone.
"The #feedingthefuture campaign challenges potential readers to consider new ideas and solutions to reflect on more environmentally sustainable approaches towards food production and consumption," said Marina Haydn, executive vice president, circulation and retail marketing at The Economist.
Commenting on the latest activation, Sense senior account manager Daniel Hennessey said: "Giving away warming tasty waste-food soup on a cold winter's day is a great way to get people talking about The Economist's content in an engaging way. By challenging people's perception about the food we throw away, this activity self-selects the globally curious consumer – just the kind of people who enjoy reading The Economist – increasing brand awareness and driving subscription sales at the same time."
The campaign started on 29 November in Liverpool Street, before visiting One New Change (30 November). It will also visit Denmark Hill (4 December) and Victoria Station (5 and 6 December). It will then run from January to March 2018 at various other London locations including Canary Wharf, Waterloo, Paddington, Euston, King's Cross and London Bridge.
To date, the #feedingthefuture campaign has generated more than 60,000 subscribers globally for The Economist across five continents.