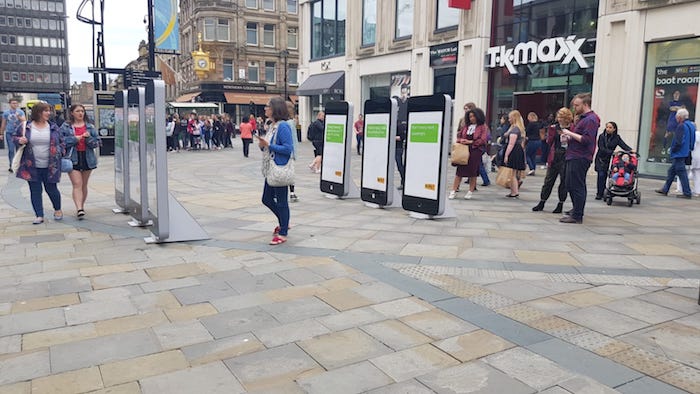 Road Respect, of the Northumbria Safer Roads Initiative, have launched their Last Text Tour to spread awareness of the dangers of texting behind the wheel.  The first tour date was on Northumberland Street in Newcastle, with stops scheduled for other funding areas such as Gateshead, Sunderland and South Tyneside in the coming weeks.
The tour features six bespoke made 6 feet tall phones with a text on the front of each.  These messages were sent either via text or other social media platforms, by drivers who crashed and unfortunately died as a result of texting behind the wheel.  There are plaques on the back of each of the phones explaining how each driver crashed, who they were texting and why they were doing so.
The installation is part of the No Look, No Touch, No Phone campaign which has seen these texts printed on billboards and petrol station forecourts in a multi-faceted outreach campaign around Newcastle and Gateshead, as well as distributed to local pubs and bars on beermats and posters. The visual nature of the phones/texts aims to draw people's attention in, with the sobering message behind the phones really resonating with drivers and passengers alike, with the outcome being the encouraging of behavioural change behind the wheel.
The installations will all tie in digitally with the Road Respect social media channels which will feature the texts in various forms, with video footage of the events also curated to amplify the reach of the campaign to digital and physical worlds.  This is in the hope that drivers will see and recognise the risks associated with driving and using a mobile phone, before it's too late.