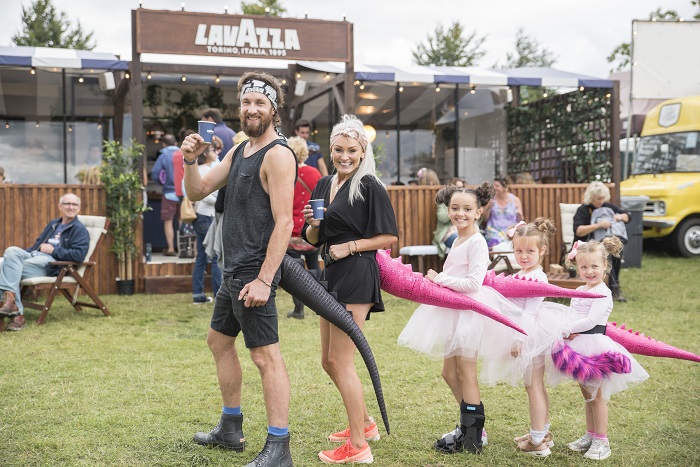 Italian coffee brand, Lavazza, has once again teamed up with Amplify  to create a brand-led summer experiential campaign.
To help the brand reach a new younger audience whilst maintaining relevance with their existing advocates, Amplify created a 'Waves of Coffee' workshop experience for this year's Wilderness Festival in Cornbury Park, Oxfordshire between 3 and 6 August.
Building on the success of last year's Wimbledon and Wilderness Festival collaborations between Lavazza and Amplify, the 2017 campaign is centred around a premium branded café that showcases Lavazza's full product portfolio whilst immersing festival –  goers in the brand's Italian heritage.
Within the café, the Lavazza brand experience is amplified through an intimate workshop space where customers can journey through the 'Waves of Coffee' to experience coffee's different eras and trends, from instant through to artisan and the futuristic brews of tomorrow. This sensory experience is enhanced by tasting different coffees and matching each one to flavours such as caviar or liqueur.
Doubling as a relaxing destination for drinking, eating and educating, by night Lavazza's café is transformed into a coffee-themed cocktail bar, complete with a resident DJ, to engage younger people who see cocktails as a gateway to drinking coffee.
Outside the café, Lavazza-branded tricycles will travel throughout the festival's campsites in the mornings, providing free Prontissimo instant coffee to generate trial and awareness, whilst driving festival – goers to the core brand experience.
Lavazza's UK Head of Marketing, Lucinda Brett, commented: "Last year's collaborations with Amplify generated worldwide interest so the bar has been set high. But with this year's 'Waves of Coffee' experience taking festival – goers on a journey from instant coffee through to the cutting-edge science of tomorrow, we're confident we'll have another much talked-about experience on our hands."
Amplify's Founder, Jonathan Emmins, added: "The festival environment is the perfect place to engage Lavazza's young target audience. By creating the highly memorable 'Waves of Coffee' experience, Lavazza is able to reinforce its expertise whilst nurturing a long dwell that means the brand can interact with its audience in a meaningful way."