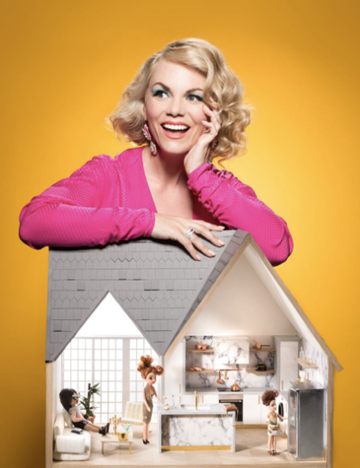 Meredith O'Shaughnessy is introducing Londoners to The Jones Family in her latest pop up adventure 'Keeping Up With The Jones' which launches on July 7th 2016, In the heart of London's design district on Clerkenwell Green.
Mrs Jones has created an eight-room residence which has the neighbours talking and the public are invited to find out why
'Keeping Up With The Jones' is hosted in conjunction with, Whirlpool and Bang & Olufsen and features an array of their state of the art products and appliances throughout the ultramodern Jones household.
Each room reveals a collection of experiences for her guests to explore, including a giant dishwasher room for guests to get inside, A washing powder snow-storm, a Bang & Olufsen sound-lounge, a feather-filled pillow fight space, a disco launderette and a Zen garden complete with 6th Sense meditation zones.
Actors will play the role of The Jones Family and audiences will become a part of their world and family matters for the evening…From the moment they step inside Mrs Jones's stylish new kitchen, where she shows off her new gear, guests will be led on a food and drink adventure of Mrs Jones secret recipes, including, edible vodka toothpaste, cocktails in detergent bottles, gin and tonic marshmallows and macaroon dishwasher tablets.
Guests will have the opportunity to enjoy one of Mrs Jones hampers, brimming with her classic British picnic favourites, which they can enjoy in the Home's Zen Garden or later on dance the night away in the dirty laundry pop up disco bar complete with Whirlpool washing-machine cocktail makers and edible liquid-tabs.
Ali Reynolds from Hawksmoor has created the cocktail list for guests to sample – with cocktail creations including: Bright & Shiny, Liquid Luxury and Nosey Neighbors.
Meredith O'Shaughnessy, Pop-Up extraordinaire, said: "Keeping Up With the Jones' is really different to anything we have had in London before and I know people are just going to love it – It's been fantastic to work with both Whirlpool and Bang & Olufsen to create a really cool and inviting brand experience for audiences to access in a completely different, fun and inviting way."
Meredith added:  "I have truly let my imagination run wild to create this totally unique and completely innovative concept which will allow our guests to step inside the amazing Jones house for the evening…I truly believe that pop-up is the perfect medium for brands to showcase both their products and key brand messages to their audiences and we have seen amazing results with the brands we have already worked with."
Meredith O'Shaughnessy's clients include Whirlpool, Lulu Guinness, Lamborghini, Manolo Blahnik, Burlington Arcade and Vivienne Westwood.