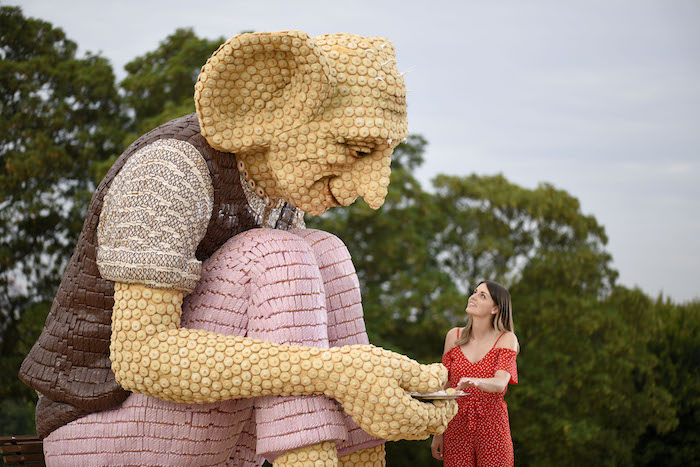 Food artist, Michelle Wibowo and Sketch Events unveiled a larger than life BFG made entirely of Mr Kipling cakes.
Sitting on a bench at the top of Primrose Hill, Roald Dahl's BFG measured 7.32 metres tall from head to toe, four times the size of a human. The sculpture was built using 7,500 Mr Kipling cakes, weighing half a tonne and taking more than 200 hours to create. The edible sculpture was built to celebrate the launch of the Mr Kipling and Roald Dahl range.
Michelle Wibowo, food artist, cake and sugar sculpture, commented, "It was a pleasure to create such a loved character using some of Britain's most iconic cakes. The sculpture included a range of cakes, including traditional Mr Kipling Cherry Bakewells to new The BFG's Strawbunkle and Cream Fancies."
Mr Kipling has launched four new cakes this summer, featuring Roald Dahl's characters and stories on the packs. The range includes The Enormous Croc's Mud Pies, The BFG's Strawbunkle and Cream Fancies, George's Marvellous Lemon & Raspberry Whirls and Mr Fox's Fantastic Forest Fruit Slices.
The Mr Kipling Roald Dahl limited edition range of cakes is available in all supermarkets nationwide until 11th September.