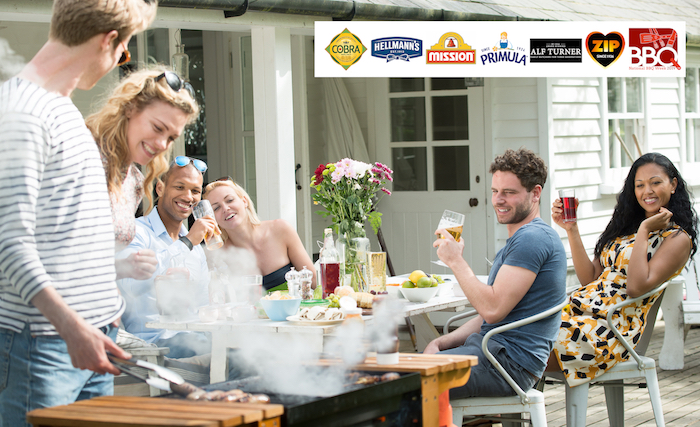 Back for the 23rd time, National BBQ Week will encourage consumers to go for the grill, become Better BBQ'ers and enjoy some gastro-grilling at the start of the great British summer.
National BBQ Week has been responsible, since its launch in 1997, for not only being the 'catalyst for growth in the BBQ market'** but also being 'fundamental in changing consumer attitudes to BBQ'**
Launching on Spring Bank Holiday and running the whole week from 27thMay until the 2nd of June, the Week will be incorporating a dynamic digital, PR, experiential and media focus set to reach over 50 million people.
BBQ RoadShows
This year the campaign includes two experiential BBQ RoadShows,The London Foodie Festival at Syon Park, 25th– 27thMay and the Royal Bath and West Show, 29thMay – 1stJune where a further 200,000 people will be exposed to the campaign and its supporting BBQ sponsors.
BBQ Brands
The 23rdNational BBQ Week is supported by the following brands:
Official Beer – Cobra; Official Condiment Hellmann's;Official BBQ Wraps – Mission Deli Wraps;Official Cheese – Primula; Official Sausages – Alf Turner and Official Fuel – Zip
Major Media Competitions
One of the UK's biggest competition campaigns reaching around 50 million consumers will be run through media, and on social media channels including Instagram, Twitter and Facebook with big BBQ prizes.
2019 also sees the return of the highly popular BBQ Baptas. Social media followers of the campaign will be sending in videos of their fun Barbi's or premium grilling technique / results, with the aim of winning a coveted BBQ Bapta Award and a big money prize as well as BarbiBoxes, full of sponsors goodies for runners-up.
This year as part of the campaign, a new retailers BBQ Guide has been launched and is being circulated to large, medium and independent retailers, farm shops, food outlets and restaurants who are all being encouraged to bang the National BBQ Week drum as loud as possible to drive sales and increase footfall.
Along with the BBQ Website full of hints, tips, recipes and guides to 'Being a Better BBQ'er', there is also a Barbi Blog, with messages from the sponsors and chief GrillMaster, Brian George, founder of National BBQ Week. Brian comments: "It's really great we're once again able to promote Better BBQ'ing and Gastro-grilling and to be able to celebrate our 23rdyear by working with such great and hi-profile brands. We're also delighted to be able to bring the National BBQ RoadShow to two of the leading food events in the UK in two of the most beautiful parts of the country."
National BBQ Week is one of the UK's biggest awareness weeks and has helped change consumer BBQ attitudes and usage from  9 million in 1997 to over 130 million last year with the overall BBQ food & drink market being worth around £1.5 billion, up from just £150 million back in 1997.