Orange launches new sponsorship platform Orange Sponsors You – making fans the stars of UEFA Euro 2016 with the help of Zinédine Zidane, and an exclusive with Eiffel Tower and Fan of the Match
Orange has launched its new sponsorship platform – Orange Sponsors You. While big brands focus their attention on star players, Orange Sponsors You takes an alternative approach, focusing instead on the fans. Orange believes the fans are the real stars whose support and passion are what make events like the UEFA Euro 2016 great.
Starting with its sponsorship of the UEFA Euro 2016, the aim is to put the fans centre stage, turning the spotlight on them whilst simultaneously rewarding them for their passion. UEFA Euro 2016 will be Orange's biggest global sponsorship activation to date, offering: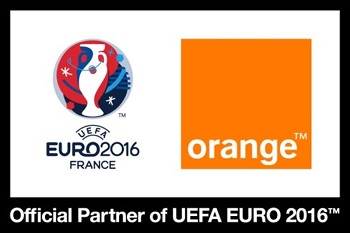 Over 3,000 match tickets to reward fans for their passions
Over 700 match tickets for employees to get in on all the action
Over 200 VIP experiences for fans to attend warm-up games in France
Over 20 of the ultimate fans from across the globe will also win a trip to watch the FINAL at the Stade de France
Orange Sponsors You is to be accessible so that everyone can feel involved, participating and not just watching. Launched through local country offers, Orange customers, including business customers, will get special offers such as internet options, data bundles, mobile TV, free calling and more, ensuring that everyone has something to celebrate, whatever the result.
In France, Orange will empower its customers with more internet to allow them to view matches on their mobile and tablets, and is creating a special edition roaming offer designed for visitors to France. Orange Holiday Europe, specifically for UEFA Euro 2016, will include twice the usual offer in terms of Go, calls and text messages. Elsewhere across Europe, Orange countries are developing unique offers, such as offering free GB of mobile data with every goal scored in specific matches, or free movies to download every time a favourite team wins.
Béatrice Mandine, executive vice president for brand and communications, Orange, commented: "UEFA Euro 2016 will be a proud moment for France, and for Orange. For us, Orange Sponsors You is an opportunity to go beyond badging and connect people with their passions. This is what inspires us and will help us to create a legacy we can celebrate long after the event has taken place. UEFA Euro 2016 is just the start."
Zinédine Zidane signs on as Orange's chief scout and fan recruiter
Starring in a global TV campaign and launching from 29th May across 28 countries, Orange has signed up famous French footballer, Zinédine Zidane, to send his scouts to scour the globe to help Orange to find the world's biggest fans.
This global advertising campaign, combined with a fully immersive 360º film launching on a dedicated website will help Orange Sponsors You to recruit from all across its footprint over 20 of the ultimate fans and bring them on a trip to watch the final at the Stade de France.
Orange exclusive involving the Eiffel Tower  
Every night during the competition, Orange will use the Eiffel Tower as the surprise centrepiece of the Orange Sponsors You campaign. Fans on social using #OrangeSponsorsYou will influence how France's iconic landmark plays its part in the celebrations.
Orange launches 'Fan of the Match'
Orange is launching Fan of the Match. Mirroring the concept behind 'Man of the Match', Orange is setting out to find the fan who has stood out most from the crowd and shone from the stands.  One fan at every match will be singled out as our 'Fan of the Match' and their fandom will be officially celebrated.
Orange Fan Zones
At the Fan Zones in six cities (Lyon, Paris, Lille, Marseilles, Bordeaux, Toulouse), fans will benefit from open spaces created on the booth for video gaming, watching some matches in UHD as well as autograph signing sessions with guests from the Team Orange Le 12ème  homme. Orange is also creating special celebration boxes on Orange booths where fans will have the chance to experience the latest technology innovations including virtual reality experiences.