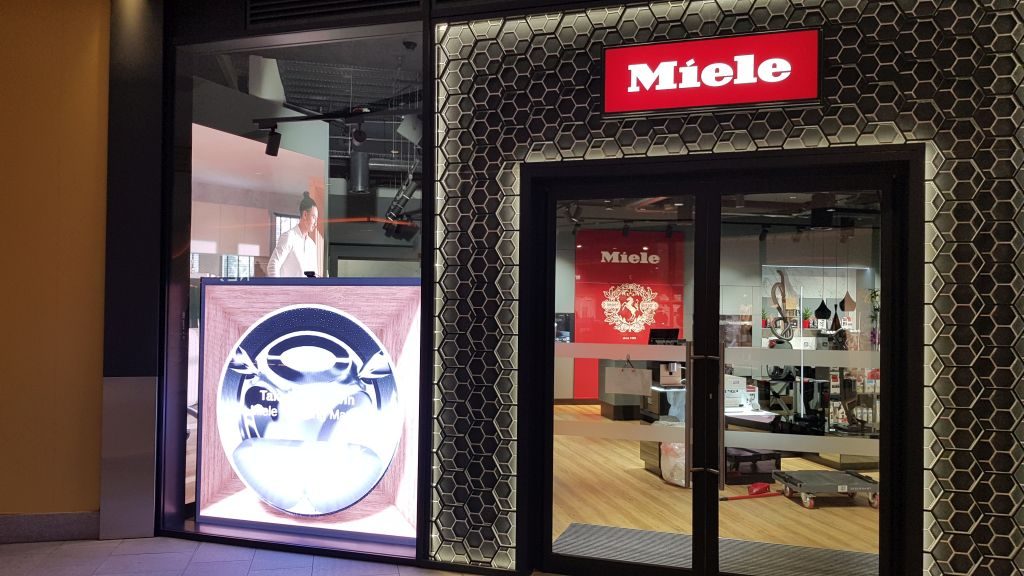 Future retail agency Outform supported the premium domestic appliance brand Miele in creating an innovative digital customer experience. This means a new interactive window display in Edinburgh's St James Quarter that drives awareness of Miele's TwinDos washing machine. TwinDos is the world's only two-phase dosing system for liquid detergents in household laundry care.
The activation combines motion tracking with LED screens so that shoppers can activate a virtual TwinDos machine by waving their arms in a circular motion. It then instructs them to stretch their arms and clap, triggering a visual that shows how its unique automated double dispensing technology works inside the machine.
The digital screen aims to attract shoppers passing the store and then educating them on Miele's innovative capabilities through a playful format.
At the end of the experience, shoppers are presented with a QR-code which they can scan to enter a competition to win a Miele washing machine through a mini website.
Outform delivered Miele's brief of bringing the brand promise of 'quality ahead of its time' to life across its high-traffic real estate portfolio, from initial concept through to design and in-store fitting.
The interactive window display has been reimagined to meet shoppers' digital expectations by blending human interaction with technology.
Simon Hathaway, group MD EMEA at Outform, concludes: "Partnering with a forward-thinking brand such as Miele allowed us to build a captivating display that we knew would attract footfall in retail hotspots. Integrating motion tracking with LED screens also ensured that the store became a destination point for shoppers that amplified the TwinDos technology.
"It was key that we combined experience with utility too. Encouraging shoppers to scan a QR code and enter a competition not only gives them a tangible reason to explore the display but also supports Miele to build long-standing consumer relationships."
Dave Lemmens, Head of Own Retail Concepts at Miele, says: "Outform's window display solution perfectly shows the innovation that goes into Miele's unique appliances with consumer interaction. This ensured the display would be hyper-visible to the right audiences and that it would ramp up the interest of Miele's products through an engaging and interactive format. Thanks to Outform who was an obvious partner for us because of its capabilities in drawing on market insight, creative and manufacturing expertise."