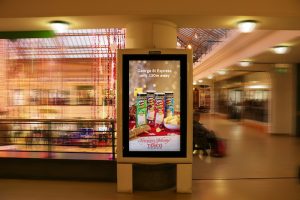 By combining Tesco store data with DOOH.com's RUSH delivery platform, festive product offers and individual store opening hours will be displayed on digital OOH screens in close proximity to stores across the UK.
Adverts will display a variety of offers and change throughout day, before switching to a localised store message in the evening, responding to the needs of its customers with true convenience messaging.
Nick Ashley, Tesco's head of media and campaign planning, commented: "The ongoing digitisation of the OOH landscape is a welcome development for us. It enables us to serve our shoppers in a way that is even more relevant and helpful to them – especially in the final few days before Christmas."
Elodie Rodriguez, senior account manager at Kinetic, added: "This campaign is a fantastic demonstration of intelligent data usage in OOH to create hyper-relevant and contextual creative to assist shoppers in the run up to Christmas. By delivering real-time content to consumers via RUSH technology, we're delighted to be reinforcing Tesco's long-standing motto of helping shoppers".
Jeremy Taylor, head of strategy at DOOH.com, said: "The festive period can be a frantic time for consumers, making it increasingly important for ad content to be relevant as well as engaging.  By being smarter with digital OOH, Tesco can deliver hyper-localised information direct to customers on a national scale."
Media was planned and booked by MediaCom and Kinetic respectively across the UK, with BBH designing thousands of creative variations to run in the lead up to Christmas day. The delivery was managed using DOOH.com's RUSH platform, working in conjunction with Tesco's API to deliver bespoke content for each local store.