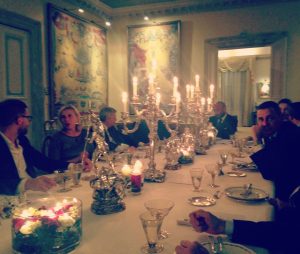 Prosecco is big business. New figures revealed that last year, a third of all Prosecco produced was consumed in the UK and Prosecco's popularity in France has increased by 75 per cent over the last year.
Which is good news for Italians, as I found out at the Italian Embassy last week where I had the pleasure of dining with Prosecco DOC Director, Luca Giavi and The Italian Ambassador, Pasquale Terracciano.
Keen to demonstrate Prosecco as a drink for all occasions, or in this case, all dishes, we sat down to a three course meal prepared by MasterChef finalist, Danilo Cortellini, which showcased the best in Italian cuisine. The food was beautifully prepared and each course was matched with a different Prosecco. We were talked through the pairings by expert Sommelier, Andrea Santangelo.
Prosecco DOC President, Luca Giavi explained: "Prosecco DOC has been basking in the glow of a steady year on year growth. We were pleasantly surprised by the drinks sudden surge in popularity as it was not predicted. Prosecco is popular as it is an elegant wine. It is easy to drink and easy to pair.  Its lower alcohol content makes it ideal for all occasions either in a pub or bar or enjoyed with dinner.  Prosecco appeals to all classes as it's an affordable celebration drink which does not have to be reserved for celebrations."
The rise in popularity of the drink has resulted in a rise of quality in the grape. Prosecco DOC are pushing to increase the different array of Prosecco available and raise the bar in terms of quality over the next few years. A further rise in popularity of the drink is predicted at around 6-7 percent per annum.
Luca adds: "Prosecco DOC are working with Universities and research centres to ensure we are reaching the highest quality possible. We are working hard to make the agriculture sustainable. We are reducing our carbon footprint and ensuring the vineyards are sustainable and ethical. We are ensuring Prosecco DOC has a positive effect on society.
"It is important for is to introduce the public to new ways of enjoying the drink. We focus a lot on education, teaching the public about the different types of prosecco and what qualities they possess.
"By teaming up with other Italian brands, such as Grana Padana, we can resonate with passionate foodies to fully demonstrate the versatility of the drink.
"Showcasing at Taste of London in June will be a great platform in which for us to engage with our target audience and ensure the people of Britain are getting the most out of this wonderful beverage"