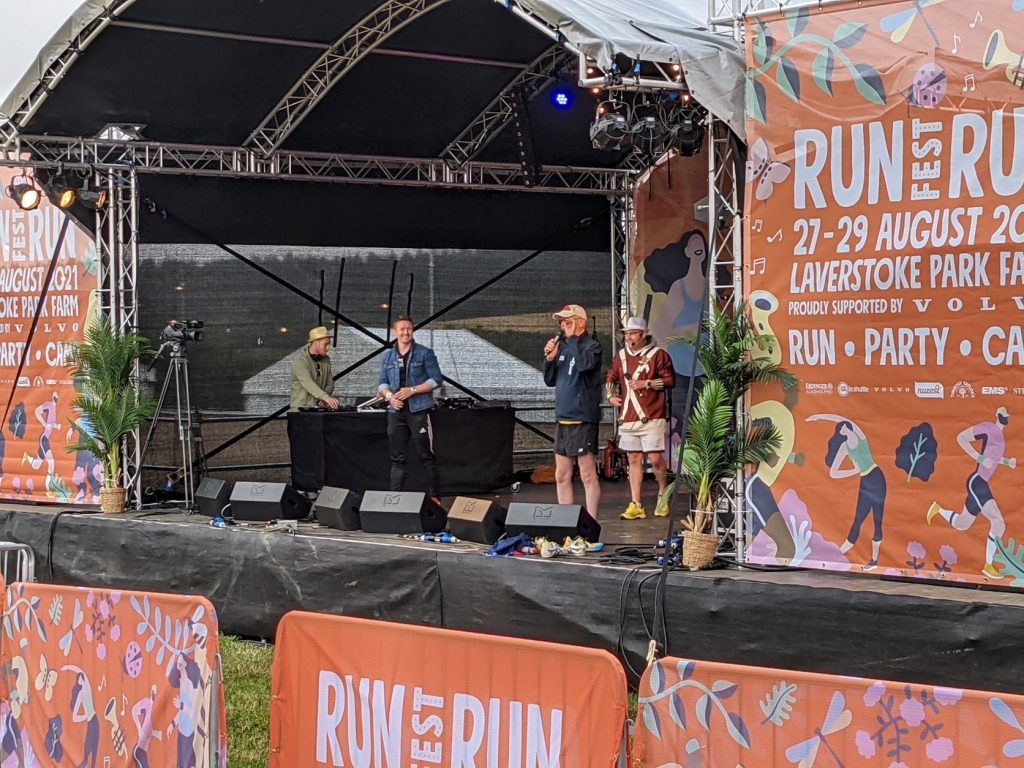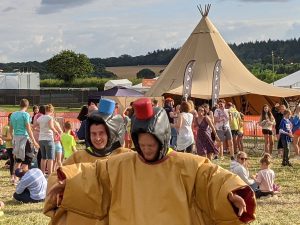 Frank Wainwright was invited to RunFestRun by EuroTunnel. As a runner, Frank went for the full experience trying out everything he could pack in across the August Bank Holiday weekend. Here's his report into the event, the brand experiences, the engagement opportunities, the shops, samples and demos.
When the team from Eurotunnel invited me to RunFestRun I was completely made up. The second edition of this event was held at Laverstoke Park near Winchester. Created by television and radio star Chris Evans, this festival celebrates exactly what it says it does – running. If anything, the name is actually more elaborate, leaning on RunForestRun than that of Evans' other production, CarFest which draws together fans of music and, er, cars. CarFest is RunFestRun's neighbour and a RunFestRun ticket will get you into CarFest's big name music line up from 5.30pm to late, via a road bridge.
I already knew that the event was loved by my running clubmates at Chippenham Harriers and FMBE's reporter Harriet Cramer had attended in 2019 courtesy of headline sponsor Volvo, at the 2019 event in Bowood Wiltshire.
RunFestRun has a very committed and engrossed audience and the event, with some legendary celebrity ambassadors on board, completely works its athletic socks off to engage with the simple strenuous passions of its attendees.
As such this engaging event will have been a great platform through which brands and exhibitors will have made a strong connection.
These are the things that I variously observed, participated in, attended, and shopped for.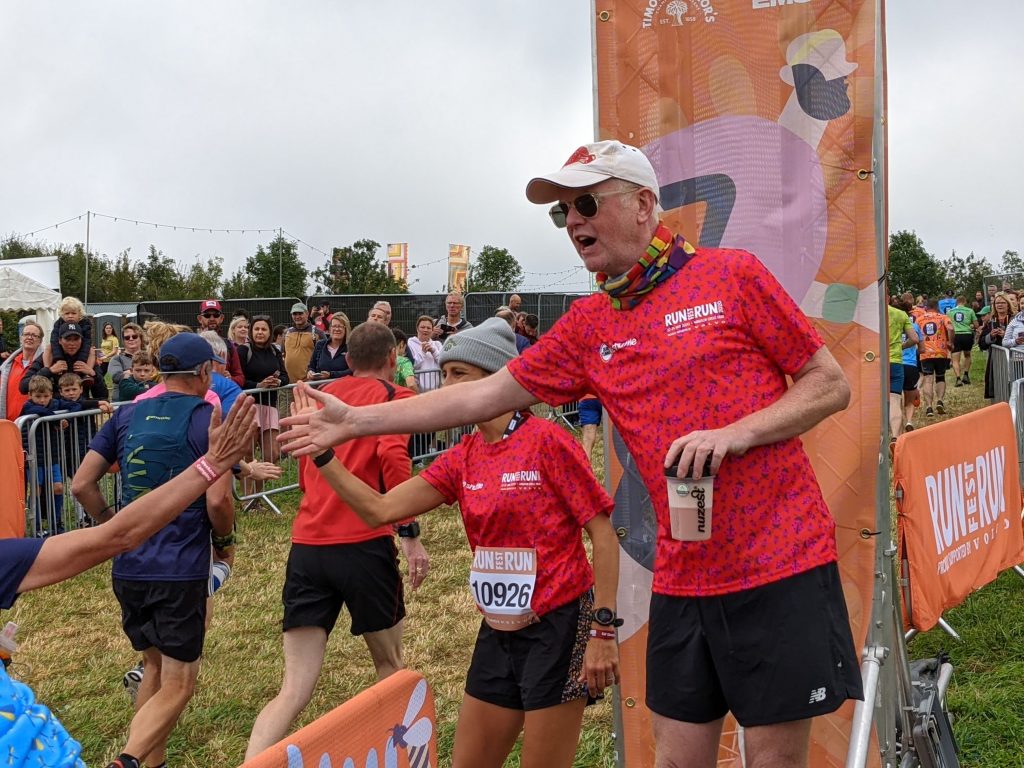 Chris Evans
Chris Evans loves running. Chris Evans loves cars. Chris Evans loves Natasha Evans.(That's her in the picture, next to Chris)
Event creator Chris Evans is scattered like freckles over RunFestRun, prancing on stages, heckling on start lines, running the races, cheering the gang, and high fiving anyone near enough.
Chris was often seen at Carfest too, but more in the evenings when the running was over. Carfest nevertheless remains a credit to its creator. The event was conceived as a charity fundraiser – and £16.5 million later, with more now to add, that's a success.
Meanwhile wife Natasha, a golf pro, was an energetic team captain at RunFestRun and one of the few people who could comfortably live in the shadow of the stellar Olympian and world record athletes captaining the other running teams.
Natasha and Chris put a family stamp on this event. RunFestRun was first and foremost a family and community all-inclusive event, where participation was the win.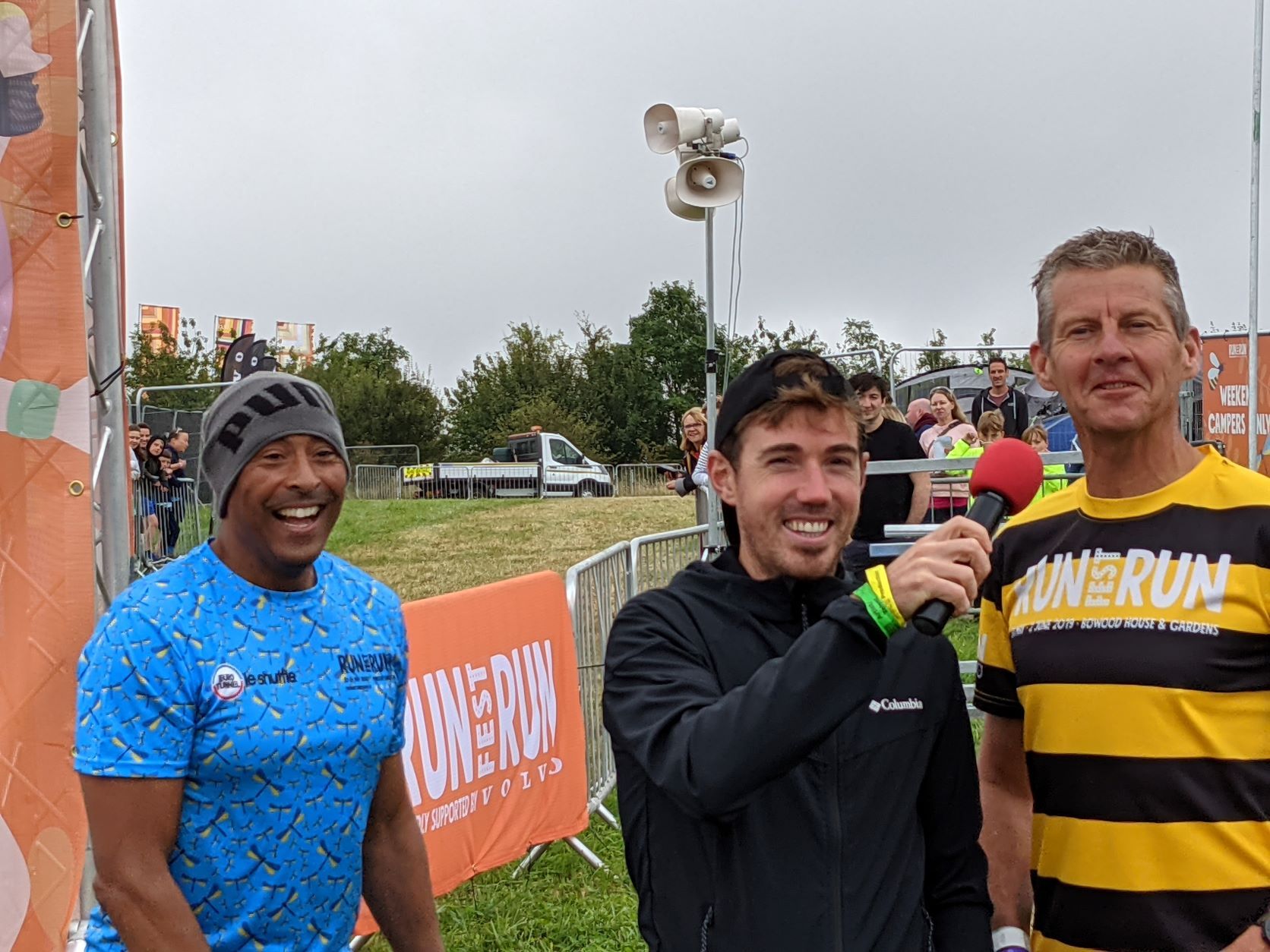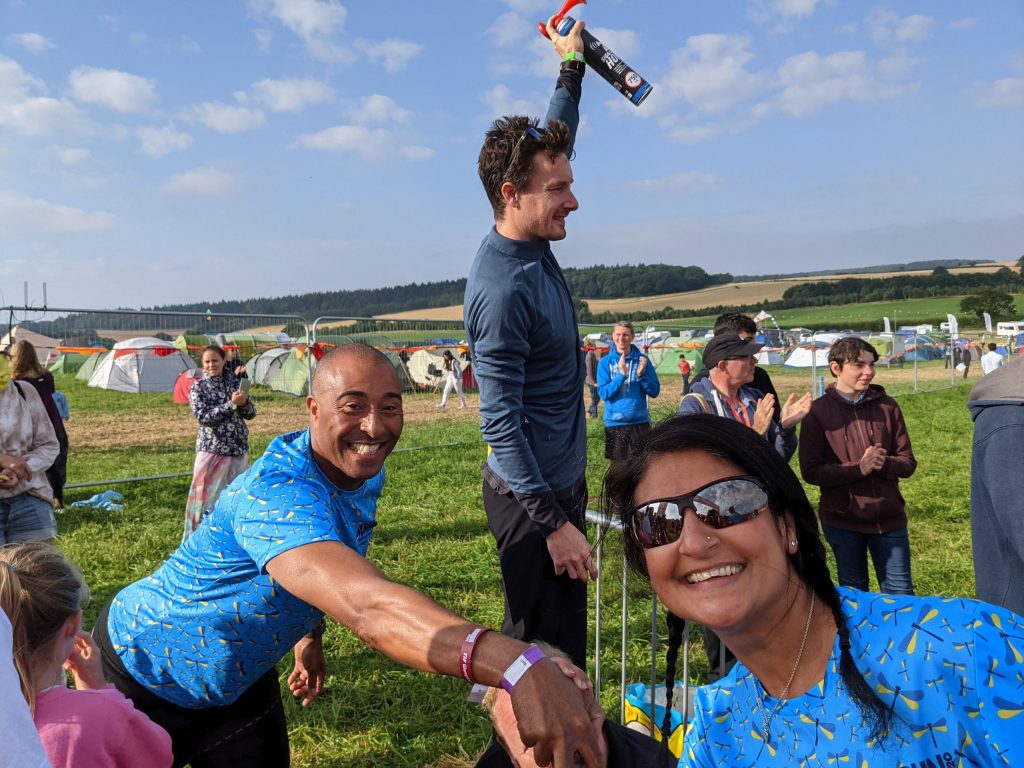 Colin Jackson, Paula Radcliffe, Steve Cram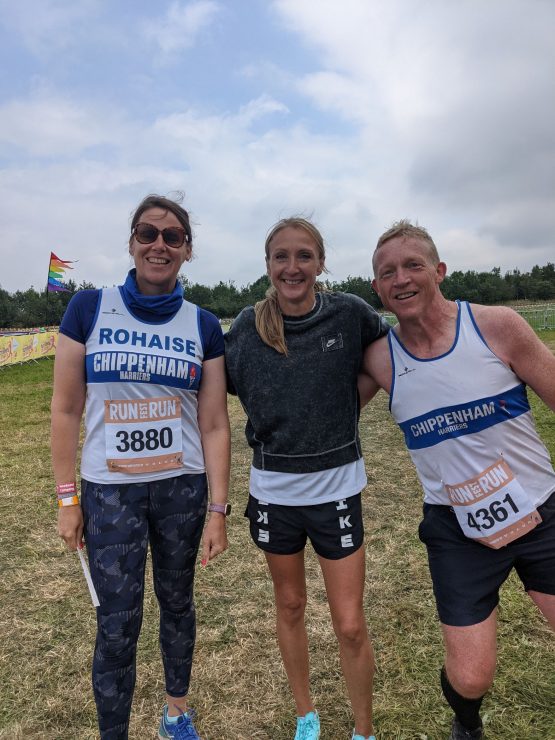 If infectious inclusivity was the plan, this astonishing trio were the omnipresent messengers. It was evident none of this gang had COVID as a hug with Colin, a selfie with Paula or a firm handshake with Crammy were as good as bundled in with the admission ticket. We all had them, and we all loved them. We had touched and been touched by greatness. These leviathans of sport have given us runners so many extraordinary memories. Their highs and their lows are etched in our collective subconscious. Doing a Paula, for instance, for better or worse, is an affectionate euphemism known by many marathoners at moments when our sporting challenge outweighs our dignity.
My two proudest moments at RunFestRun – outsprinting Paula in the 5K (though her speedy son beat me on the dip for the line) and sharing a chilled moment with Colin discussing, amongst other things, how my dear departed Mum had broken her non-participation habit to vote for 'that nice Colin Jackson' on Strictly. Colin was immediately nice and immediately sound bite. I told him about my interest in brand representation. His reply "If I can't be there, at the event, then I don't want to associate with it. I'm lucky because I'm able to choose the things I want to represent, and my life is full of variety." If you ever want a brand ambassador…
I didn't get the same first-hand connect with Steve Cram, but my Volvo moment (below) had a similar feelgood factor.
The Running
I ran 3 trail events and a team relay: The Sunset Shuffle, the 5K and the Half Marathon. The routes – appro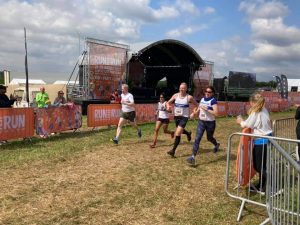 priate enough with Carfest alongside us, were across the land of Formula One hero Jody Scheckter. RunFest revellers made a colourful vagabond trail across these pastures and woodland and the Steve Cram designed Half Marathon route was rewarding.
The club relay challenge was my personal highlight – a chance to belt out a 1K relay leg in a panto-ish comic caper before swooping down through the finish tunnel with 3 of my Chippenham Harrier clubmates – roared home by RunFest.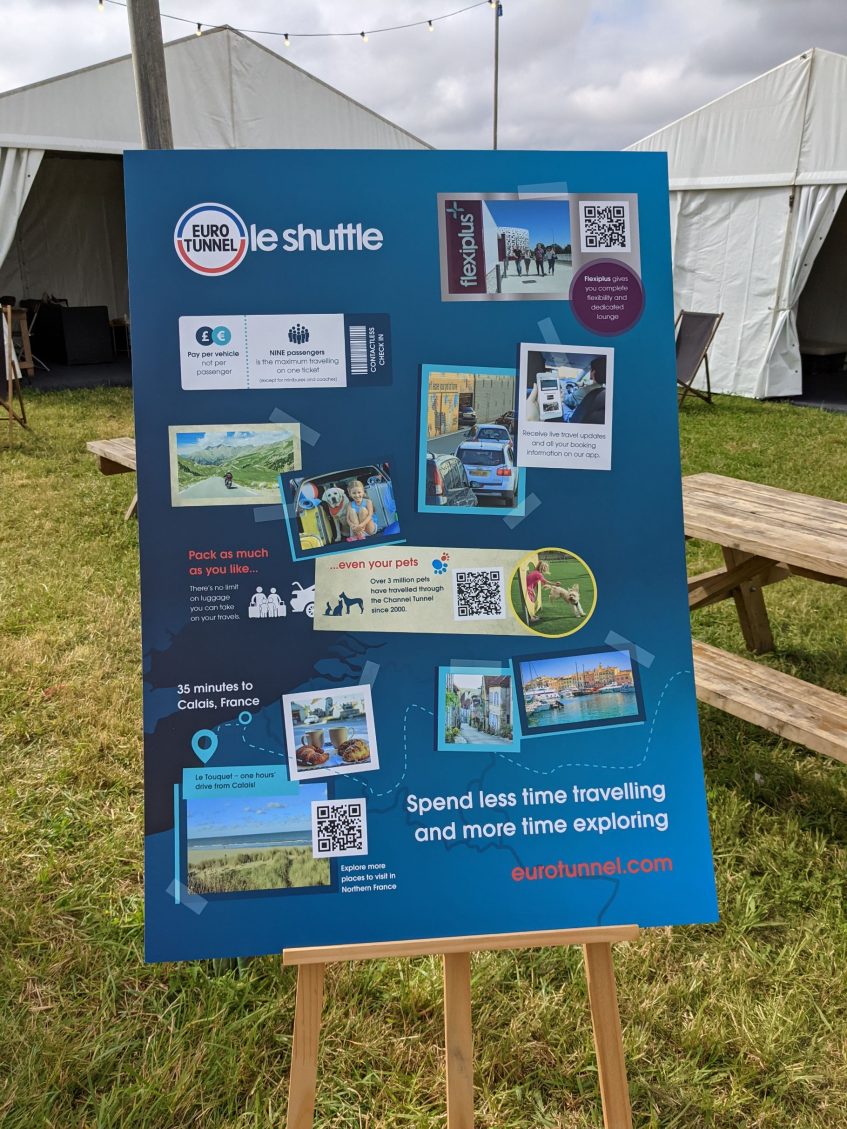 Eurotunnel Le Shuttle
Eurotunnel invited me so I was duty bound to appreciate them, but I would have anyway. I'm a huge Eurotunnel fan and have used the service numerous times. It is great to be able to travel to the continent with all of the gear to hand, packed intot the car, so that you can enjoy the great outdoors and the countryside with convenience. I imagine runners with camper vans would love it.  This company has attained another level of special now that Brexit and Covid have made us temporarily more distant from our European friends. Who wouldn't want to champion a travel company that has emerged from Lockdown with undiminished desire to facilitate joy at a festival and convenient journeys across the channel?
If a brand wants to connect with a community, then live events are such a good way to go. The community at RunFest are chilled and appreciative listeners. And of course, they do like training.
Eurotunnel's Deborah Elliott and Laura Wilson were on site running the brand's presence at the event. Their passion for the brand and the opportunities the services represents is clear to see.
Here's Deborah, filmed as an ambassador for Eurotunnel in 2016.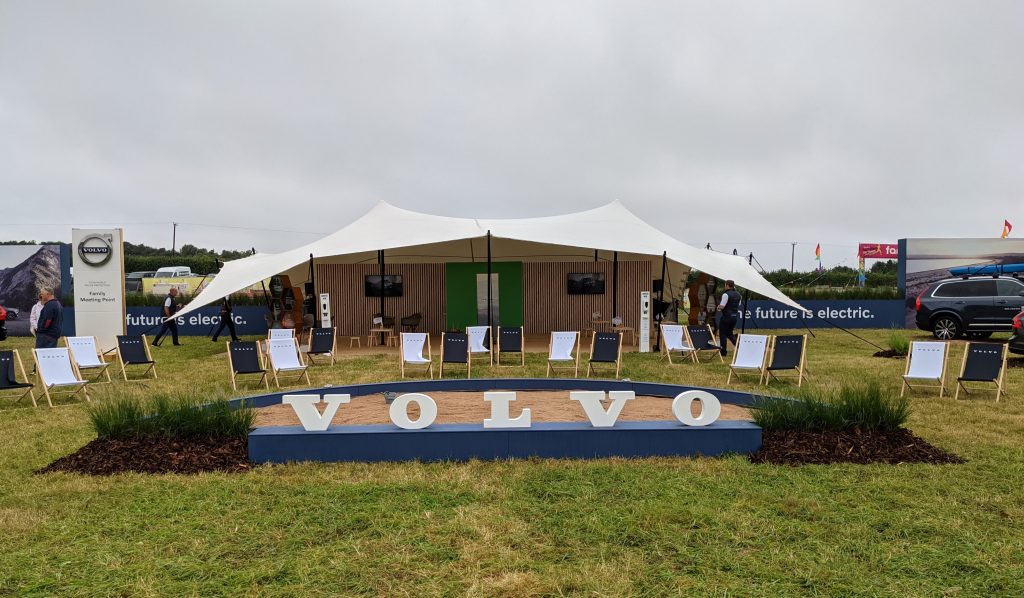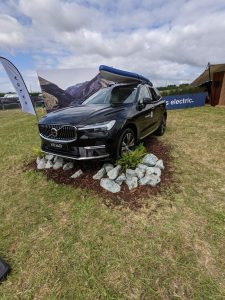 Volvo
If you are bravely showing off your 'bloo' passport and double jab combo on Le Shuttle, then perhaps you can get there by electric or hybrid Volvo. Yes, this was the second car or driver brand bravely eschewing the brum brum brigade in favour of sweaty runners by focussing on Run not CarFest. And rightly so in my book for the Volvo stand – by The Event Business – that was laid back, consultative and exuded smart sustainability.
Here's what they say: "Volvo Cars has always been a driver for change in the automotive industry, for both safety and sustainability. Sustainability is as important to Volvo Cars as safety is, so much so that the company aims to become carbon neutral by 2040 in all areas of the business, including its manufacturing network and supply chain."
Volvo also brought robber turned Ironman John McAvoy to RunFest to share his remarkable story of his self-redemption. They also made sure Crammy was on board to award a prize draw winning family.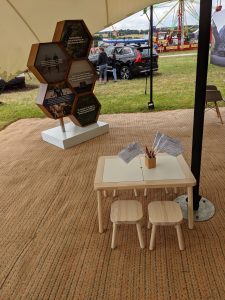 It was here that Volvo showed their class giving their prize away conversationally. The family were there, Steve Cram was there. Steve's team handed him coffee and a lite bite en route so that he would have time to fit in this engagement. He chatted convivially with the prize winners with no sign of rush or strain, looping around the Volvo with the calm assurance of a man who knew that he had a kick left with 200 to go and didn't need it yet. I have rarely seen anyone but an athlete exude untapped energy reserves in the way Steve Cram did whilst chatting away to the prize winner family.
[Brand Stand details – The Event Business stand was built with a clever combination of sustainability and durability, whilst the outfacing deckchairs and sand pit allowed families to come, chill and dwell on the stand without feeling the pressures of a car showroom]
Stillers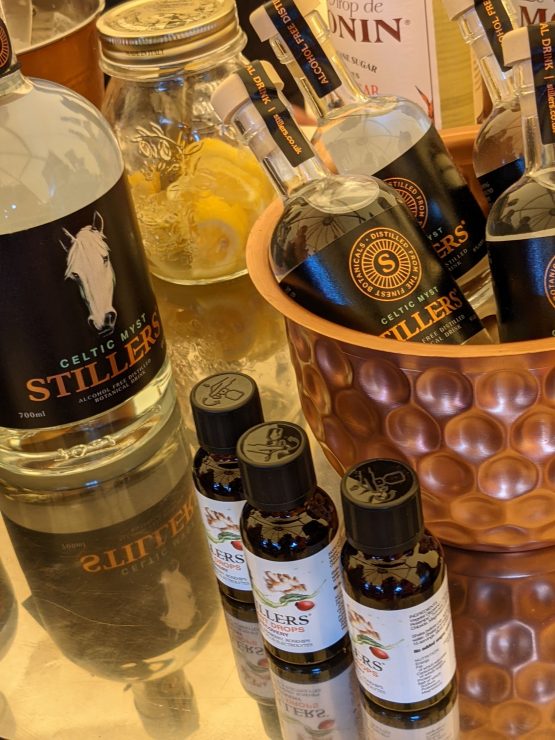 This drink, made in a distillery in the Wye Valley, features no alcohol at all in the distillation process. That is apparently unique – and quite likely required a mad genius. I had the Celtic Myst made as a Mindful Tom Collins cocktail, and it met the distinctive and refreshing requirements very easily.
Searching for the mad genius I later found master distiller David O'Brien whose warm enthusiasm for his botanicals made me love the cocktail all the more.
Away from the show I tried the drink neat. Celtic Myst lacks the texture and structural tension of a liquid with alcohol, but the complex herbal notes were deep and true. This resonated deeply. It wasn't flavoured water.
Also, an ultrarunner, I was encouraged to take away and try Stillers plant drops, to make my own recovery drinks abetted with ginger, elderberry, rosehip, turmeric, and electrolytes… and wow, these are great. I have some at home now and I feel like a post run body repair chemist when I mix them in.
[Picture note – the mini revive electrolyte bottles look set to become a regular part of my ultrarunning kit]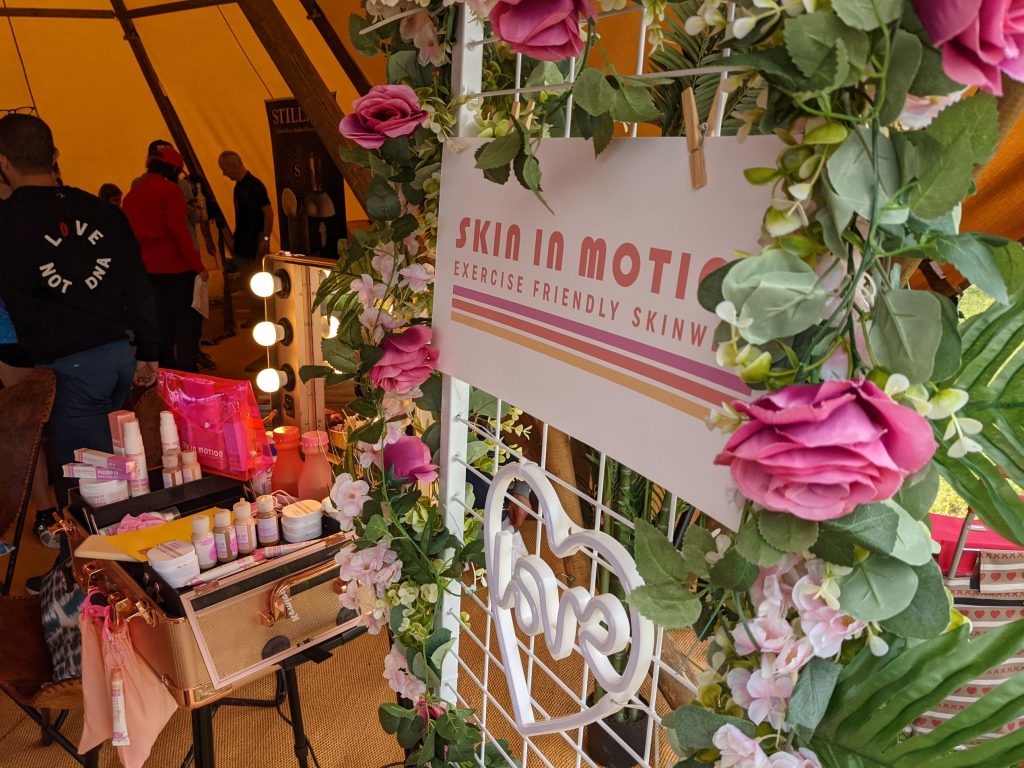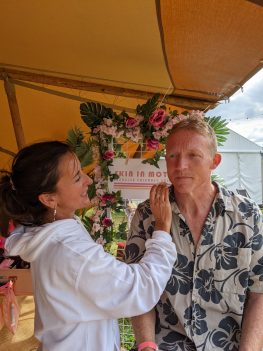 Skin In Motion
Business founder Gia Mills has a star quality about her. I was unsurprised to learn that she made her reputation as a make up artist for celebrities and when I plonked myself into her makeover chair, she made me feel just as important as Andy Murray or Sergio Ramos – two of the sportsmen that have tried the Skin in Motion products that she has invented.
Skin in Motion's core market is women who want exercise friendly skinwear. We're talking mascara you can sea swim with, sweat-proof and non-comedogenic products (look that one up). The range also includes a cool-it mist which works on hot flushes and I have to say felt delicious on my skin after hurrying to the interview with Gia straight from the 5K.
Erdinger Alkoholfrei
Alcohol free beer as a post run libation is slowly moving from 'only seen at Brighton marathon' to mainstream, and the finish line samples here certainly proved popular with many. For me the jury's out, which is perhaps why sampling is such a good idea. People of my era still shiver in fear at the thought of a Kaliber, Guinness' 1986 benchmark alcohol free product. Erdinger is certainly far superior, and the grapefruit variation was a clever variation helping this drink to move away from tastealike comparisons.
They have even slapped the trendy isotonic label on it.
Nuzest
Many like 'strawberry' and 'chocolate' protein shakes and I must thank Nuzest for investing in RunFestRun and running. I don't like these shakes much though, preferring to separate my peas and lentils from my cow juice (or water). I did take a sample with me for use during Ring of Fire 135 mile ultra the next weekend, and I am confident it aided my recovery. Personally though, I'd rather keep the protein vegetables and the pudding apart and indulge in them separately, but if you want a sure quick hit of necessary nutrients, try Nuzest.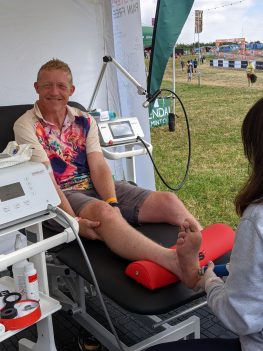 EMS
I revealed my beaten-up feet to team EMS who looked at them with a 'seen that before' nonchalance I am unused to. Some people turn a little green.
Very soon I was having my right heel plantar zapped with Guided Dolorclast Therapy an electro pulse that is designed to provoke healing through trauma.
I had a little bit of an audience for this, looking to see me wince as this treatment can be hard to handle. I got my own back on this team by barely noticing the expected pain as they cranked their machine up to the max setting. I loved the sensation- and for now I love the result too, as 135 running miles the following weekend and the seemingly ever-present plantar fasciitis has not yet returned.
I still suspect that it is not fully gone – there's a whisper in the heel, and I was told a course of treatment is usually necessary but the very near disappearance of my condition has been an extremely welcome development.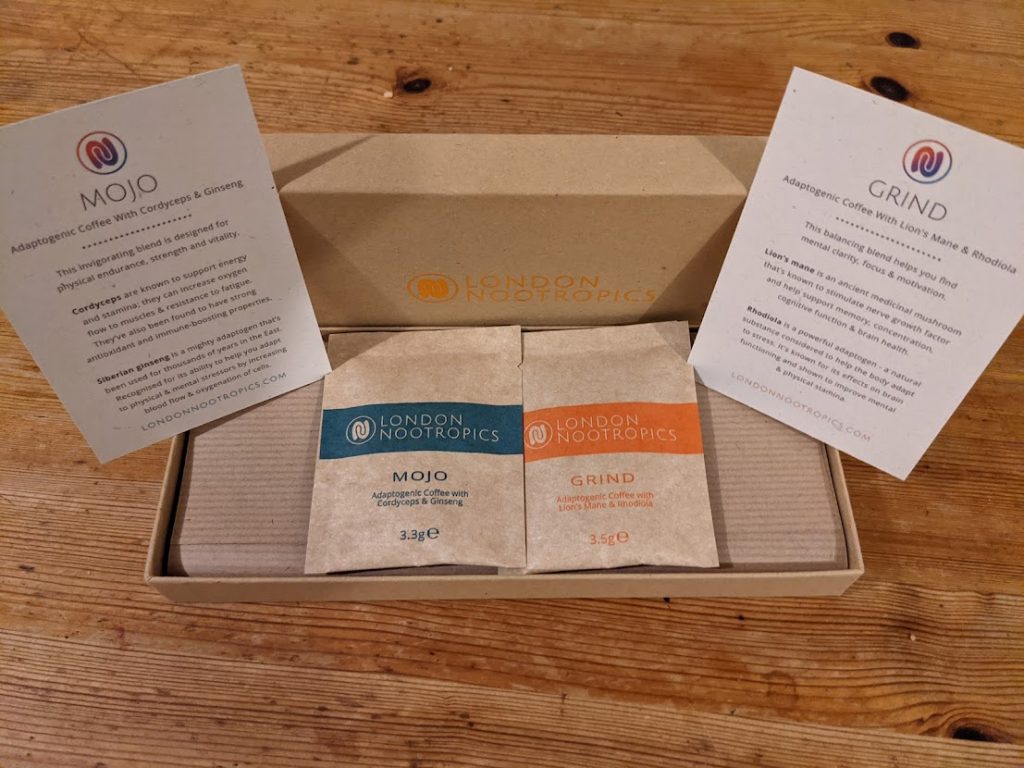 London Nootropics
RunFestRun's food outlets only included one coffee supplier and if nothing else the morning queue proved what a popular drink it is with runners.
Rather than queue I sneaked about the stands to see who might share a coffee with me and immediately stumbled upon London Nootropics (LN), a coffee company no less, and I caught them in the act of brewing up a samples batch.
Their stand was a beguiling mix of very long words and smart brown packaging. I drank it all in.
LN sells adaptogenic coffee. My brain steadily unpicked this – nootropics being a posh word for cognitive function supplements, whilst adaptogenic references stress relieving herbs and plants.
Now I lack a little in the 'omm' and 'woo' department, but it was coffee and I needed one. LN have 3 types of coffee – Grind, Mojo and Zen, all in neat paper sachets. Grind was the first they suggested I try. It is a coffee blend made with lion's mane mushrooms to deliver the cognitive function bit and rhodiola, a yellow flowering plant that would combat stress.
I sipped and waited cynically for this elevating effect to hit… when it did – at least the caffeine and mushroom bit kicked in. My eyes popped open an extra notch and I started to ask more intelligent questions.  Not only that but it tasted great.
Mojo – blended for post run oxygen flow via cordyceps and ginseng also impressed for its smoother rounder flavour.
I didn't try the chillax blend called Zen.
Converted or what? I bought myself 3 gift boxes of the Grind and Mojo and the Grind felt like an essential go to at 4AM on day 2 of Ring of Fire ultra last weekend.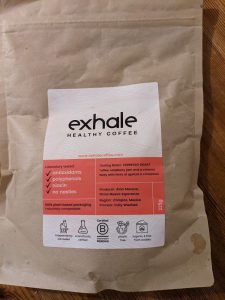 Exhale Healthy Coffee
Later I found a second coffee supplier at RunFestRun called Exhale Healthy Coffee. This was also a good experience.
Exhale already supports the supreme and likeable ultrarunner Kristian Morgan, so they already had my attention – but again sampling proved successful for their cafetiere coffee that is lab tested for antioxidants, polyphenols, and niacin.
Now I am not sure how unique this is in coffee – I have a feeling quite a few coffees might qualify as healthy by using these criteria – but Exhale is certainly a nice business, focussed on wellbeing, organics and plastic-free and the coffee was superb. I bought two packets.
[Photo – below – Carrie Baxter celebrates a job well done for WithU on the Get Active Stage whilst David Hellard looks on]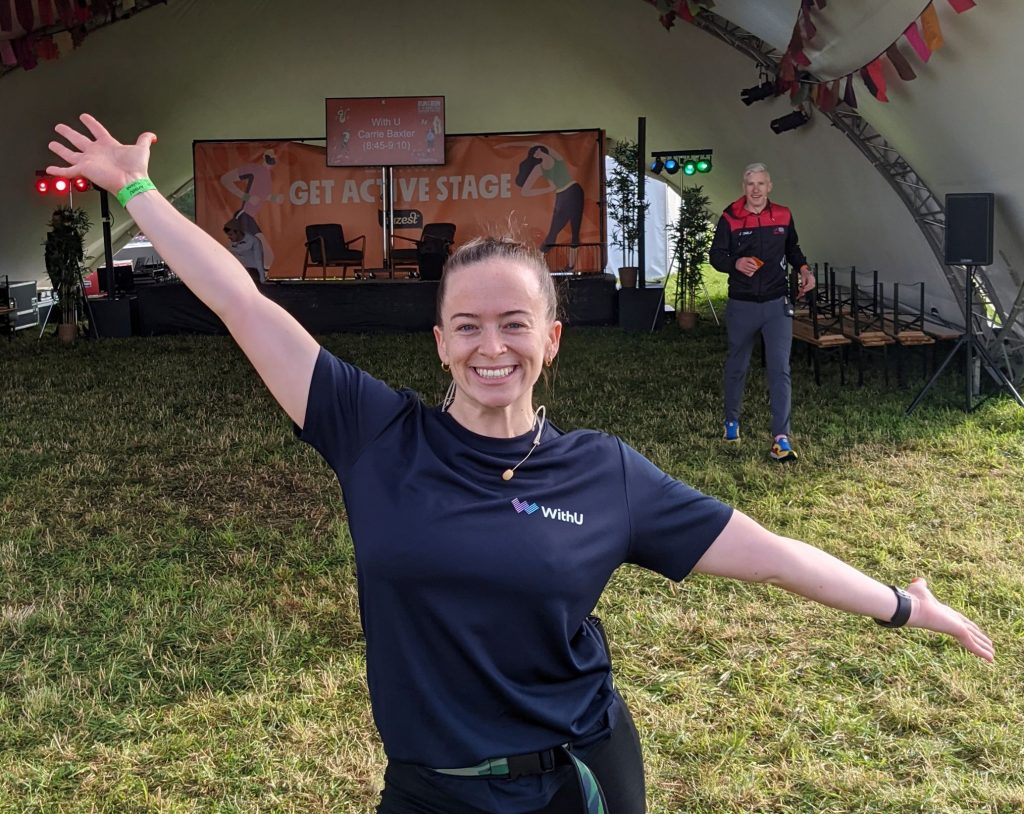 WithU
One morning I loitered by the Get Active stage and found myself beside a morning workout class with 3 participants, one of whom waved a hand in greeting. It was David Hellard, a sweet-natured ultrarunner whose bonhomie, charm and humour have made him a lead presenter a cult podcast called Bad Boy Running and whose warmth and accessibility belies a steely authentic derring-do. David would be on stage presenting later but for now he was a participant in need of a partner. I joined, for a session of exercise presented by WithU, an audio fitness app.
Our excellent fitness instructor was Carrie Baxter, representing WithU. Starting the day with her fun, engaging and tiring routine and David's instinct for improvised comedy was rewarding.
The session also worked from a marketing perspective as I am intrigued by the app which claims a vast range of running sessions to improve your technique and pace.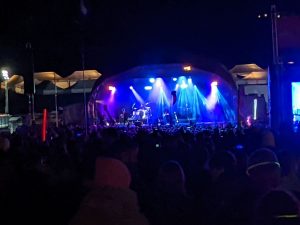 And finally… Rick Astley
Amongst the very many talented performers who played the Carfest stage there was one I was especially pleased with. Rick is a long-term friend of Evans. His resurgence in popularity has already been going since 2008 when he decided to embrace the RickRoll Internet prank meme and further his career with it.
I was delighted that Rick would headline Carfest on Saturday night, not because I am a fan, nor had any strong inclination to hear him sing, but because the ongoing meme has made him timeless and cross-generational. My daughter, 14, was very much envied by her friends just for being there. Rick was the ultimate tease but when he finally unveiled Never Gonna Give You Up he did so extensively and with consummate artistry, and because of the cross-generation factor, everyone grabbed a piece of the action. This further embedded and replicated the social media moment so that future generations may one day use our clips to extend the legend. Rick Astley is destined to haunt the Internet, preserved like the bones of pterodactyls, long after any of the original context has been lost in time.