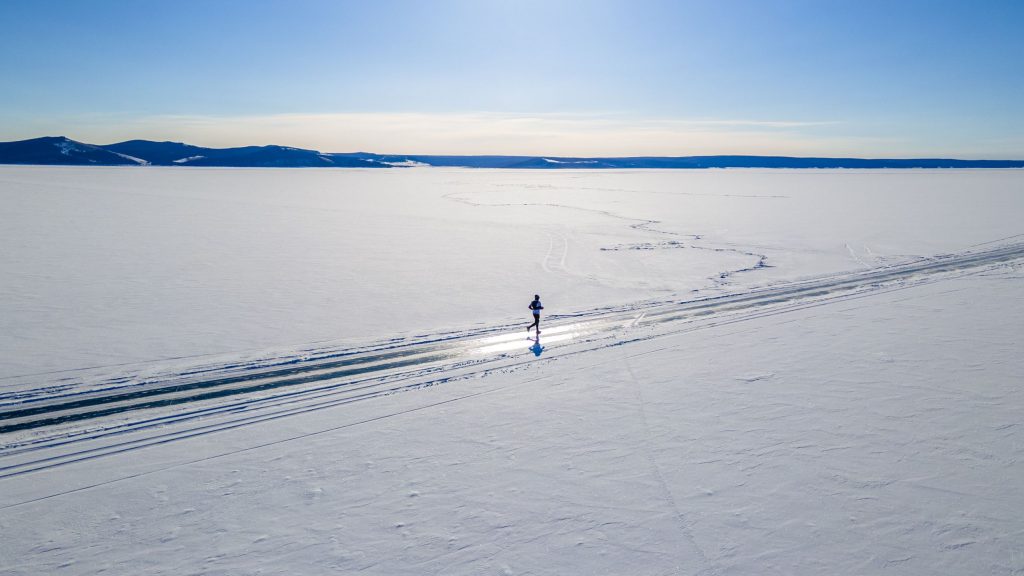 Frank's 2022 four day 100-mile crossing of frozen lake Khovsgul in Outer Mongolia.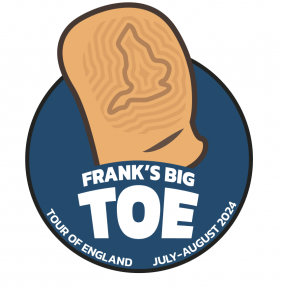 DETAILED FULL EVENT OUTLINE WITH ITINERARY
Frank's Big TOE (Tour Of England) – an unprecedented journey for the Field Marketing and Brand Experience industry.
Anyone, running at any pace can join me, meet me, provide support or a night's accommodation.
The basics – a runner roadshow, covering 2000 miles and going to every cathedral city and every county in England through 62 consecutive days in July and August with four valuable outcomes.
1. To raise a huge amount of money for the deprived youth development and opportunties charity Brathay Trust as well as awareness.
2. To run an extraordinary distance whilst writing a daily online diary about all aspects of an English summer – festivities, sports, people, towns, country, flora, fauna, food, pets, history, landmarks, shops etc.
3. To promote the field marketuing and  brand experience industry and its activities through the summer, showing shopper activity, footfall, demographics, prime locations, people power, logistics.
4. To create an extraordinary edition of FMBE Magazine covering the journey from a field markerting and brand experience perspective with editorial featuring the work of the participating agencies through the summer of 2024. There will also be a book published following the Tour with 62 chapters, one for each day of the event, with credits given to everyone who helped out with a particular day.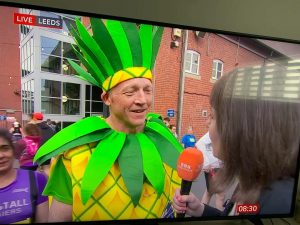 The core message will be the ways FMBE agencies and brands reach every corner of the nation.
 How to Participate
Look at the itineray below and choose a day to sponsor. Sponsoring a day costs £1500. £1000 for the charity, £500 towards the running costs of ther tour. 
After that there are many ways to get invoved and get even more out of the Tour.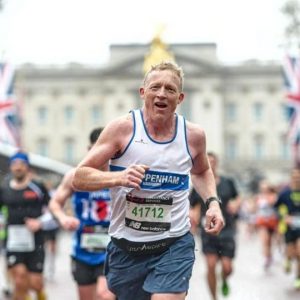 Help us and be part of the story – we need 
Accommodation sponsor, such as Travelodge or Premier Inn, Booking.com or AirBnb
Van drivers
Laundry sponsor
Camera crews and videographers for different highlight days + editing
PR support
Social media and digital support
Samples for the van, sampling Brand Ambassador support,  or sampling pop ups
Credit lines and discount codes for food or beverage outlets
Support runners to join for a few miles
Support cheer mobs, cathedral welcome groups, flash mobs
Finish line arches
Crowdsourcing sponsor to demo the reach of a crowdsourcing app
Pop up events to coincide with (ie by passing through a shopping centre)
End of day tourism guides
Local knowledge from field marketers and brand ambassadors based around the country
Costume runners, greeters, musicians, perfomers, chefs, and other talent
Anything else? Use your imagination. If it helps you and helps me, we should make it happen. 
The Tour Itinterary in brief (more detail here)
Sat 29 Jun – Preview day in Marlow Bucks including Higginson Parkrun – lunch at Tom Kerridge's Hand and Flower. Then Tree Cathedral, Whipsnade, Beds, Woburn Abbey and Gardens, Beds, finish day at Lake Caldecote, Bucks, near Bletchley Park
Sun 30 Jun – Preview day, starting with a running loop of Caldecott in Bletchley, Milton Keynes (am) and Holy Island, Northumberland (pm)
Mon Jul 1 – Newcastle – Angel of the North – Durham – Bishop Auckland – Piercebridge
Tue Jul 2 – Piercebridge – Ripon
Wed Jul 3 – Ripon – York (Copmanthorpe)
Thu Jul 4 – York (Copmanthorpe) – Tadcaster – N Leeds – LinkHQ Pudsey – Bradford
[This day supported by Link Communication, Leeds to Bradford and the Brathay Trust youth at Bradford]
Fri Jul 5 – Bradford – Wakefield – Barnsley
Sat Jul 6 – Barnsley Parkrun – Sheffield – Worksop
Sun Jul 7 – Worksop – Retford – Lincoln
Mon Jul 8 – Lincoln – Newark – Southwell – Calverton
Tue Jul 9 – Calverton – Nottingham – Derby – Wilson
Wed Jul 10 –  Wilson – Leicester – Goadby
Thu Jul 11 – Goadby – King's Cliffe – Peterborough
Fri Jul 12 – Peterborough – Chatteris – Ely
Sat Jul 13 – Littleport Parkrun  then Ely – Cambridge – Newmarket
Sun Jul 14 – Newmarket – Bury St Edmonds -Knetishall Heath
Mon Jul 15 – Knetishall – Wymondham Abbey – Norwich
Tue Jul 16  – Norwich – Bressingham Steam – Diss
Wed Jul 17 – Diss – Sudbury
Thu Jul 18 – SPONSORED BY WAVECREST Sudbury – Braintreee – Chelmsford
Fri Jul 19 – Chelmsford – Harlow – Hertford  – Welwyn Garden City
Sat Jul 20 –  Panshanger Parkrun – Welwyn – St Albans – Brent X – Highgate – St Pauls
Sun Jul 21 – SPONSORED BY BLUEWATER SHOPPING CENTRE – St Pauls Cathedral – Southwark Cathedral – Greenwich – Eltham Palace – Bluewater Shopping Centre –  Rochester
Mon Jul 22 – Rochester – Chatham Docks – Sittingbourne – Faversham – Canterbury
Tue Jul 23 – Canterbury – Leeds Castle – Maidstone
Wed Jul 24 – Maidstone  – Igtham Mote – Chartwell House (Winston Churchill) – Oxted
Thu Jul 25 – Oxted – Guildford
Fri Jul 26 – Guildford – Midhurst – Goodwood – Chichester
Sat Jul 27 – Chichester Parkrun – Portsmouth – Fareham
Sun Jul 28 – Fareham – Winchester – King's Somborne
Mon Jul 29 – King's Somborne – Salisbury – Fordingbridge
Tue Jul 30 – Fordingbridge  – Cranbourne – Bryanston (Blandford Forum)
Wed Jul 31 – Bryanston (Blandford Forum) – Milton Abbas – Dewlish – Dorchester – Pucknowle
Thu  Aug 1 – Pucknowle – West Bay – Lyme Regis – Seaton – Sidmouth
Fri Aug 2 – Sidmouth – Exeter – Moretonhampstead
Sat Aug 3 – Parke Parkrun – Moretonhampstead –  Dartmoor – Plymouth
Sun Aug 4 – Plymouth – Looe – Fowey
Mon Aug 5 – Fowey – The Eden Project – Truro – Trispin
Tue Aug 6 – Truro – Bodmin Moor – Bolventor (Jamaica Inn)
Wed Aug 7 – Bolventor – Launceston – Okehampton
Thu Aug 8 – Okehampton – N. Tawton – Tiverton
Fri Aug 9 – Tiverton – Wellington – Taunton – N. Curry
Sat Aug 10 – North Curry – Street (Parkrun) – Glastonbury – Wells
Sun Aug 11 – Wells – Chew Magna – Bristol  – Bath
Mon Aug 12 – Bath – Corsham – Chippenham – Calne – Avebury
Tue Aug 13 – Avebury – Wantage
Wed Aug 14 – Wantage – Oxford – Witney
Thu Aug 15  SPONSORED BY FIELD SALES SOLUTIONS – Witney – Burford – Cheltenham
Fri Aug 16 – Cheltenham – Gloucester – Hereford
Sat Aug 17 – Hereford Parkrun – Malvern (Elgar) – Worcester
Sun Aug 18 – Worcester – Stratford Upon Avon (Shakespeare)
Mon Aug 19 – Stratford Upon Avon – Warwick – Kenilworth – Coventry – Meriden
Tue Aug 20 – Meriden – Birmingham – Lichfield
Wed Aug 21 – Lichfield – Cannock Chase – Stafford – Market Drayton
Thu Aug 22 – Market Drayton – Nantwich – Chester
Fri Aug 23 – Chester – Liverpool – Widnes
Sat Aug 24 – Widnes – Warrington Parkrun – Trafford C – Manchester
Sun Aug 25 – Manchester – Darwen – Blackburn
Mon Aug 26 – Blackburn – Hornby
Tue Aug 27 – Hornby – Bowness on Windermere –  Ambleside
Wed Aug 28 – Ambleside – Keswick
Thu Aug 29 – Keswick – Carlisle – Brampton
Fri Aug 30 – Brampton – Wall (Hexham)
Sat Aug 31 – Tyne Green Parkrun – Wall – St James Park – Newcastle (Cathedral finish)