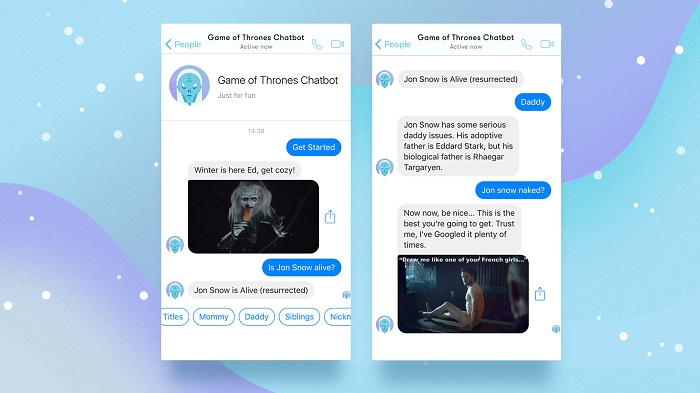 It's 2017 and chatbots are on the rise
In a world of direwolves, white walkers and dragons, there's one thing missing: bots! Catch, a digital creative agency in London, introduces you to  GoTBot, a friendly Facebook chatbot with answers to all of your Game of Thrones questions.
GoTBot is a Facebook Messenger chatbot created in solidarity with all the secondary characters you forgot about, plus all the titles and heirs that you never knew existed. It's for those of you who realise that, in fact, you know nothing.
How does it work?
Start a conversation with GoTBot on the Messenger app and ask it a question about any Game of Thrones character. For example, "Who is Varys?" will result in a photo of Varys, his title and all sorts of other juicy information about the Master of Whisperers. The "Dead or Alive" feature will come in handy when you just can't remember if that one forgotten Tully is dead yet.
But don't underestimate GoTBot… It knows more than you expect. Just try asking about Daenerys and Jon Snow's (possible? probable?) relationship. Everyone's entitled to their Game of Thrones theories…
How GoTBot was born…
Chatbots are the new "Virtual Reality" of digital, the equivalent of a fresh cronut – everyone wants one. There were a lot of conversations at Catch's HQ about chatbots and even a few chatbot-ordered pizzas, and it all paved the way to the launch of GoTBot.
It all started from a simple "Dead or alive" Game of Thrones question around the office. If only there was someone who had all the answers. Wait a minute….
Catch created GoTBot as a useful tool, but it quickly grew into an entertaining digital friend. Popular Google searches related to Game of Thrones shaped GoTBot so that he answers the most pressing questions, but is also learning every day through the magic of AI.
The A.I. of natural language processing of GoTBot is handled by the Wit.ai service. We begin by teaching Wit.ai example questions and, as we feed it information, it learns understand the users intent. When the user asks a question, Wit.ai recognises the intent of what the user is searching for then our vast GoT database gets to work and answers the user in an intelligent and useful manner as possible, with a bit of humour thrown in to keep it interesting.
At its core GoTBot uses a node.js and MongoDB server. We're also using the Google Cloud for spell checking and analytics. These analytics will help us improve the bot, e.g. the more questions users ask, the more data we can capture and ensure that we update GoTBot so that it can answer these queries.
Discussing the launch, Catch's founder and managing director, Jonathan Smith said:
"With 1.2 billion monthly active users on Facebook Messenger, the potential audience for chatbots is huge. We knew we wanted to create a Facebook chatbot and wanted to get our clients excited about the future of AI and how it might benefit their business. What better way to do so than creating our very own chatbot? And who doesn't like Game of Thrones?"
Why Chatbots?
There are currently 30,000 number of active chatbots on Facebook in over 200 countries
By 2020, it is expected that 80% of brands will be using chatbots
1.2 billion active users on Facebook Messenger
1 billion active users on Whatsapp
CNN, Charity: Water, Dominos and Nike are just some of the brands using chatbots as part of their 2017 digital strategies.