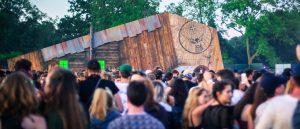 New research carried out by marketing agency FRUKT reveals the true power that brands can generate by effectively allying with entertainment. A survey of 1000 music, film & TV and gaming fans across the U.S.A. and U.K for the 'Press Play: Brands and the Power of Entertainment' report that shows 71% of the participants stated that entertainment is the most effective way for brands to connect with them, and 70% are more likely to trust a brand that helps support the growth of the entertainment they love.  The findings overwhelmingly demonstrate that brands working effectively alongside entertainment culture create a more human, more valuable and more powerful connection with consumers.
The report explores in detail the role that entertainment plays in people's lives and their expectations of brands activating in this space. When asked, most participants said they would tell their friends about brands that deliver entertainment experiences they enjoy in music (95%), film & TV (96%) and gaming (87%), while a further 73% believe that brand partnerships in entertainment help brands stand out from their competition.  The report outlines the key principles for brands activating effectively in entertainment culture and identifies the top brands that consumers find most entertaining (across 10 sectors.)
Dom Hodge, MD, FRUKT says: "FRUKT has spent the last 15 years extolling the virtues of aligning with entertainment culture, helping some of the world's biggest brands Press Play and develop bold new experiences for passionate fans.
This research reaffirms the uniquely transformational power of storytelling to captivate and connect. For brands, utilising the universal language of entertainment provides more than just a moment of escapism, it puts the brand at the very epicentre of the consumer's own, deeply personal, story".
In developing this report, FRUKT has engaged with respected neuroscientists, genre-defining industry experts, leading brand managers and, most importantly, a broad spectrum of passionate fans in order to uncover how 'play' and 'storytelling' shapes our identity, social connections and expectations of brand involvement in entertainment culture.
Giles Fitzgerald Trends & Insights Editor at FRUKT says: "Entertainment is more than a flickering image on a cinema screen, a tune you can't shake off, or a few stolen moments on a gaming app.  Entertainment sits at the very core of what it means to be human; what makes us laugh, cry and connect with other people"
"For brands seeking that elusive emotional, and fundamentally 'human', connection with today's increasingly discerning consumer, entertainment is now a serious 'relationship business'."
The 'Press Play: Brands and the Power of Entertainment' report forms part of FRUKT's 'Press Play' relaunch, showcasing the agency's reimagined ability to be a truly holistic global marketing solution for brands activating in the entertainment space.