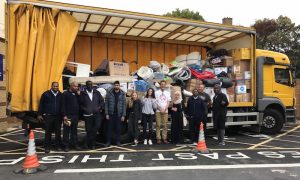 Sense Senior account executive, Phoebe Le Saint, tells the story of her recent volunteer work organised through the company's 'No Time To Waste' initiative and explains why other businesses should follow the example.
Those who were lucky enough to survive the terrible Grenfell Tower fire lost their homes and possessions overnight, leaving them stranded on the streets of London. Londoners donated food and clothing in their droves to the cause, and when Hands on London asked for help distributing the items to the Grenfell families, Sense responded, with me and my colleague Sophie Binskin-Barnes volunteering as part of our company's 'No Time To Waste' initiative. The scheme encourages staff to support good causes in the real world as part of our 'People First' philosophy.
Although delighted by everyone's generosity, the charity faced a problem. People had been asked to drop off donations at specified tube stations, but their dispersed nature made it difficult to know what was available and where it was located. This was delaying getting the items – some of which were perishable – to those in need, and a call went out for volunteers to help centralise donations.
I was based at Ladbroke Grove and Westbourne Park stations on a Saturday, where, along with other volunteers, I moved the items into waiting vans. They were then transported to a central storage location in Chiswick where Sophie was stationed ready to unload the vans. From there, the donations were shared with the families.
It was a great experience and I particularly loved meeting my fellow volunteers, who were from such a wide variety of backgrounds. Londoners are renowned from being quite stand off-ish, yet here we all were giving up our weekend to help the Grenfell victims.
It really opened my eyes to the level of work that goes on in volunteering. I knew people were making donations to distribution centres, but I hadn't thought for one minute about the logistics involved in moving them and making sure they reached the people who needed them the most.
It brought home to me the fact that charities don't just need donations of money and useful items, they also need people's precious time. Often we're reluctant to give that up, but actually I found that it can be so rewarding when you do.
If it wasn't for Sense launching a volunteer initiative, I may never have found out just how good it feels to donate your free time to help people in need. In fact, I loved it so much I'm returning this Friday 29th September to help load the final lorries with the last of the donations. These experiences have inspired me to do more for others more often. Recently I gave seven inches of my hair to the Little Princes Trust. Hair styling brand GHD were offering free haircuts to anyone who wanted to donate their hair so that it could be used to make wigs for young people suffering from cancer. I hadn't even heard of the charity before GHD began raising awareness of what they did.
Initiatives like this by Sense and GHD show the power that businesses and brands holds in their hands to do good and give their employees a highly rewarding experience they will never forget – if only more would follow suit.
Phoebe Le Saint is Senior Account Executive at real world marketing agency Sense, which encourages and supports its staff to give their time to help good causes in the real world as part of its 'No Time To Waste' initiative.