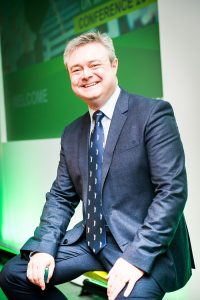 What does the Europcar brand mean to you?
"Europcar has traditionally been viewed as a consumer brand, with car rental predominantly associated with people hiring cars for their holidays.  Whilst this remains an important part of the business, we are just as focused on business customers.    We now think in terms of the broader concept of mobility – offering a range of solutions that can be used depending on the journey, encompassing everything from vehicle rental for an hour, a day or longer to car-pooling and chauffeur drive. We even think about how our services connect to public transport networks to give our customers a holistic approach to their travel needs.
"For example we recently introduced an hourly car hire service in the Highlands and Islands in Scotland providing a mobility solution that makes vehicles available independent of a Europcar location being open.
"Acquisition of the electric car club business, E-Car, in 2015 further complemented the travel options addressing the environmental demands of so many organisations, and more recent Group acquisitions have enabled us to extend the offerings in other countries around Europe.
"In September 2016, we also acquired London-based chauffeur and executive driver services company, Brunel operating in 75 countries.  This acquisition enabled us to extend the choice of travel options for our customers."
What core services does Europcar offer to Field Marketing and Brand Experience (FMBE) businesses?
"The collaboration between Europcar and FMBE will provide your members with a flexible service which we think is particularly important for field sales and marketeers on the road as well as those event managers operating touring events and roadshows.  In particular, our long-term rental product, Advantage, provides access to car hire at a fixed price from three months up to three years. And our extensive network of over 250 locations nationwide puts Europcar service within 8 miles of most customers, providing easy access to vehicle hire for all your members."
What are the specific benefits of Advantage?
"The benefits of Advantage are clear. There is no long term contract to sign, making this service ideal for businesses that may be uncertain about their future vehicle requirements, but with the added reassurance that there are no upfront or vehicle maintenance costs – it's the ultimate in flexibility.
"We offer the newest cars on the road, giving FM members access to all the latest motoring technology.  And because all cars in the Advantage Fleet are 'Business Ready' with Bluetooth and Sat Nav as standard, drivers can get on the road to their destination with the minimum of fuss.
"Advantage delivers the fuel efficiency and lower emissions of the latest motoring technology, including VED, consolidated invoicing without the investment of buying a new vehicle or committing to a multi-year lease.
"Businesses can choose from four mileage options, starting at 1,000 miles and going up to 2,800 per 28 days. And with Europcar's inclusive Delivery & Collection service, drivers can have the vehicle delivered to their door – at work or home – helping them get on the road faster and avoiding unnecessary delays.
"Europcar Advantage rates start from £7.95 per day for 1,000 miles per 28 days month for a Ford Focus."
What are the best aspects of your job?
"Having worked in a number of roles in Europcar – and the rental industry as a whole – I am well placed to recognise the challenges our business customers face.  And I have a strong team who spearhead the development of new initiatives to meet our customers' needs.
"The Managing Director's role at Europcar UK Group presents me with a diverse range of challenges on a daily basis. One day I am looking at car and van rental, the next day it is car sharing and driver services.
"In particular, I am excited by the opportunities that face us as we transition from a vehicle hire provider to a global mobility solutions company."
What are you looking forward to in 2018? [from a work perspective]
"I believe the UK vehicle rental industry is one of the most proactive in the consumer marketplace. Technology has been a key driver for change in the rental industry and mobile technology has played a fundamental role in Europcar's services, helping to improve and streamline the car hire process.
"Looking to the future, customer mobility is at the heart of how our services will develop.
"The key is to continue to deliver innovative mobility solutions to our corporate customers that address the specific needs of the journey rather than just the collective transport requirements of an organisation.  And new tools are being developed to make it easy for fleet and travel managers to access a range of flexible vehicle rental solutions that will both provide cost-effective options for employee travel plans, and enable safety and environmental objectives to be met – all from one portal.
"Europcar One is the new mobility portal that not only gives fleet managers access to a wide range of transport options in one place, but delivers important environmental and cost advantages too.  Providing direct access to what is one of the youngest fleets in the car hire market, Europcar One enables public sector organisations to drive down their emissions in order to meet their environmental targets, simply and efficiently."