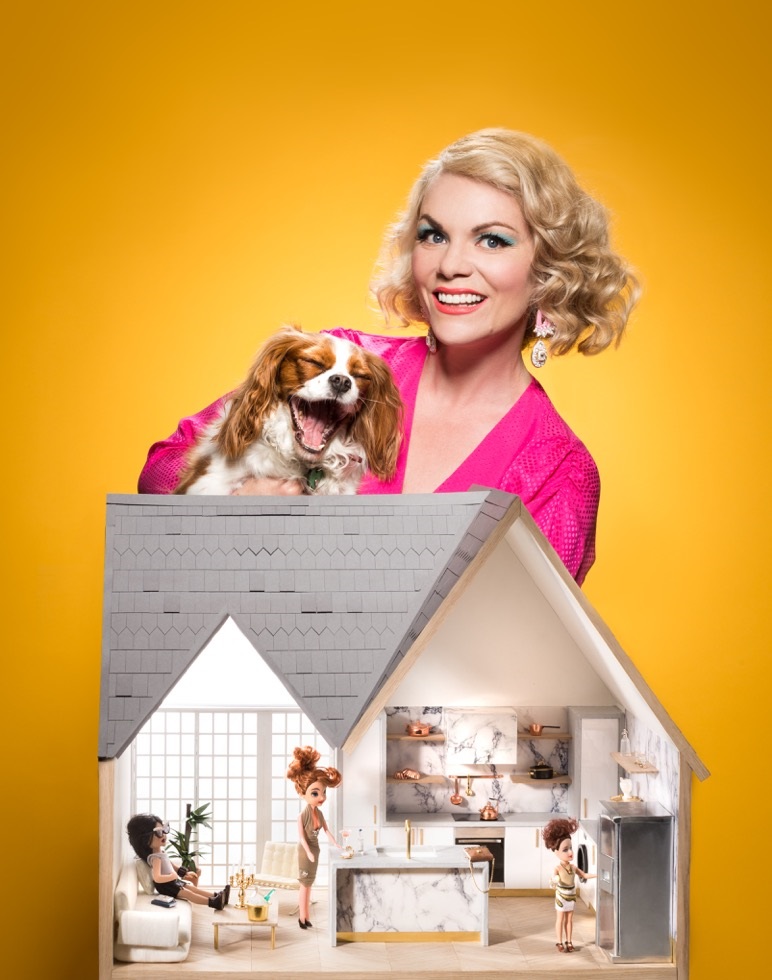 I had the pleasure of catching up with Pop-up Queen Meredith O'Shaughnessy and small dog Phoebe ahead of Keeping Up With the Jones' to discuss all things immersive and exciting.
How did The Meredith Collective come about?
I worked in venues and nightclubs from the age of 17 to 33 but after that I was unsure about what I wanted to do. I started running my own promotions in clubs and putting on nights which led to organising my own events. I swiftly became frustrated at the lack of imagination I saw in events, specifically corporate ones, it seemed everyone just wanted cocktails and canapes. I couldn't understand how brands thought they could get people to genuinely engage in such a static environment.
Coming from a background that was all about how people choose to enjoy themselves, I felt I had a more innate understanding about what people wanted to do with their time and how brands could harness that. I set up my first pop up, Nordic Yule Fest, working with people who knew what they were talking about and wanted to make good experiences for people to enjoy, and the Meredith Collective was an evolution of that.
What makes your events different?
I come up with an idea and create a platform for other brands to get involved with. We do both sides of things, if brands approach us we will come up with ideas, but at the moment it does seem to be led by us. We sit on hundreds of ideas, it's not a question of 'how do we come up with ideas?' it's a questions of 'how do we make the ideas happen?' That's where the barrier is. The ideas are there, it's finding the fit and finding the right brand, one that's innovative, forward thinking and brave.
Our immersive experiences are experiential, but also about how people choose to spend their time. Because we sell tickets to what we do it is slightly different. It puts worth on it and becomes the participant's choice. You think about what you want to be a part of and what you want to do with your friends and buy tickets for it.  You are choosing to spend your time with other like-minded people. There are more barriers to getting people into the event, but they end up engaging with it so much more. They have invested, and that makes all the difference.
What is the Meredith Collective's vision?
To be able to continue to create really incredible experiences and to constantly be able to innovate with new technology and new brands. To do things that are always interesting. We work with brands and people we love. If we are passionate about it, then we can be passionate about it. I'd prefer to not do something than to do something badly.
I think the vision is to harness this sphere we have found between brand events and experiential marketing and all the buzzwords and what people actually want and bring all those things closer and closer together in an honest and true way.
What has been your favourite pop-up?
The next event is always my favourite event. My incredible team always laugh because my mind is always on the next thing. I love the design, I love the execution and I love the event.  I am passionate about pushing boundaries.
With the Jones' I went to Bang and Olufsen with an idea of what I wanted to do with their product without knowing if it could be done or not. I then had to approach the people to help me make it happen. It is all possible, it's amazing, it's those moments that I live for. I like to be amazed which is as important as wanting to amaze other people.
The term 'events' covers such a vast amount of things. When people ask me what I do it's very difficult for me to explain it to them. I come up with mad ideas and make them happen. I approach other people and get people together and that's why it's a collective. It's not just my team, it's the brands we get on board. They are part of the collective and as enthusiastic about what we are doing as we are.
What's on the horizon?
We will be doing Nordic Yulefest again this year. It was our first ever pop-up and we bring it back annually.
We always work with several brands about a time meaning that the positioning becomes integral. For With Keeping Up With The Jones', Whirlpool is the headline brand, but then we approach other brands. When you are creating something that has many facets to it,you have to ensure that all those elements enhance the experience.
Beyond that, we are taking an element of the Jones's, Dirty Laundry (the retro laundromat) up to Manchester after. The events often evolve off the back of each other.  I think 'what do I want to do next?' then make it happen.
What makes a good event industry leader?
A good industry leader is passionate, excited by what they do, understands the importance of having a team, is always listening and somebody who genuinely thinks from the point of view of the person who is attending the event.
If you don't think about how people feel when they are in the space that you created, then why are you doing it?
In order to connect someone with a brand they have to touch it, feel it and have an emotion about it.  Emotions are only really generated when you put product in front of people.
What makes your job rewarding?
We approach pop-ups differently. If one headline brand gets on board and then other brands are able to get involved at a lower entry price. It's a good way for us to work with really interesting brands that don't have the huge marketing budget.
At the beginning, a small brand might not be able to get above the noise, but they can join in and then come back and do bigger things as they grow.  Our vision is to work with them at the beginning as brand partners and then grow as they do. Whenever we have worked with someone once, we want to work with them again. We are on our sixth event with whirlpool!
You can find more information on Keeping Up With The Jones' here