The Institute of Flavour, an immersive collaborative experience with Propercorn and flavour-based experience design experts, Bompass and Par, lived up to expectation and didn't disappoint.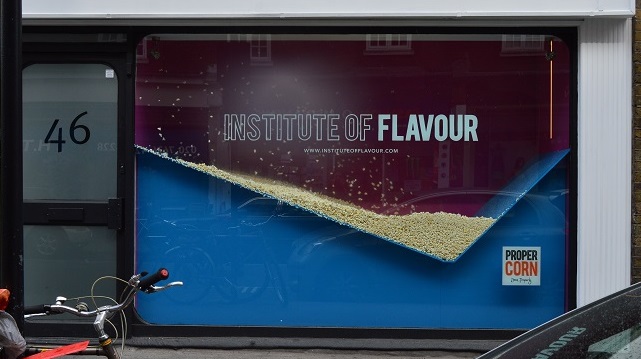 On a mission to find the next new flavour, Popcorn brand Propercorn, invited their loyal fans to help them create one, with the aim to demonstrate that delicious food doesn't have to be unhealthy and great flavours can easily be created using only natural ingredients.
The Instagram-friendly shopfront in Noho Studios, was overtaken by popcorn being churned out and blown around, attracting crowds of excited by passers eagerly posing and taking pictures of the display.
Upon arrival, we were led downstairs and given the role of Tastemakers, handed a pair of branded overalls while propercorn fully immersed us in the Propercorn mini museum complete with displayed artefacts.
Once we had all donned the overalls, the flavour experts took us through to the flavour library. Two tall walls full of test tubes of different flavours which we were encouraged to peruse and smell before selecting three favourites to create a unique popcorn flavour combination.
Once we had written down our special blend, we were taken through to the churning room.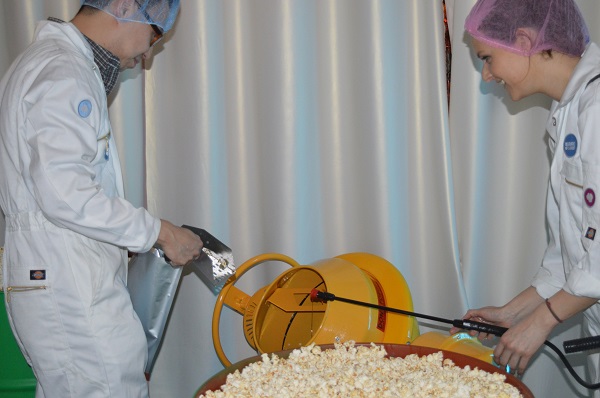 We all gathered round and watched as popcorn kernels churned in front of us with strobe lightning and wind machines adding to the experience.
After this we were taken to the oiling room. Our test tubes of flavour had been concocted and all the participants took it in turns to pop some popcorn in a cement mixer, while a brand ambassador sprayed it gently with oil.
In the mixing room, we took our bags of freshly oiled popcorn and were given a pair of headphones so we could stand on a platform and mix up our flavours to music before sealing them in bags to take home with us.
Every Tastemaker took a kernel out of their bag and pinned a sample, along with the recipe, to the Propercorn hall of fame, so the judges could pick the favourite and declare a winner.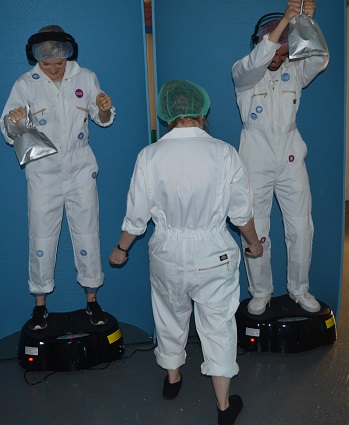 We were thanked for all our hard work with a delicious Popcorn cocktail while we de-robed and made our way back onto Great Titchfield Street- loaded up with free bags of Propercorn.
As well as being fun and enjoyable, the experience was well designed, well executed and succeeded in engaging all five senses.  The in-house brand ambassadors were the stars of the show and their charisma and brand knowledge really brought the whole event to life.