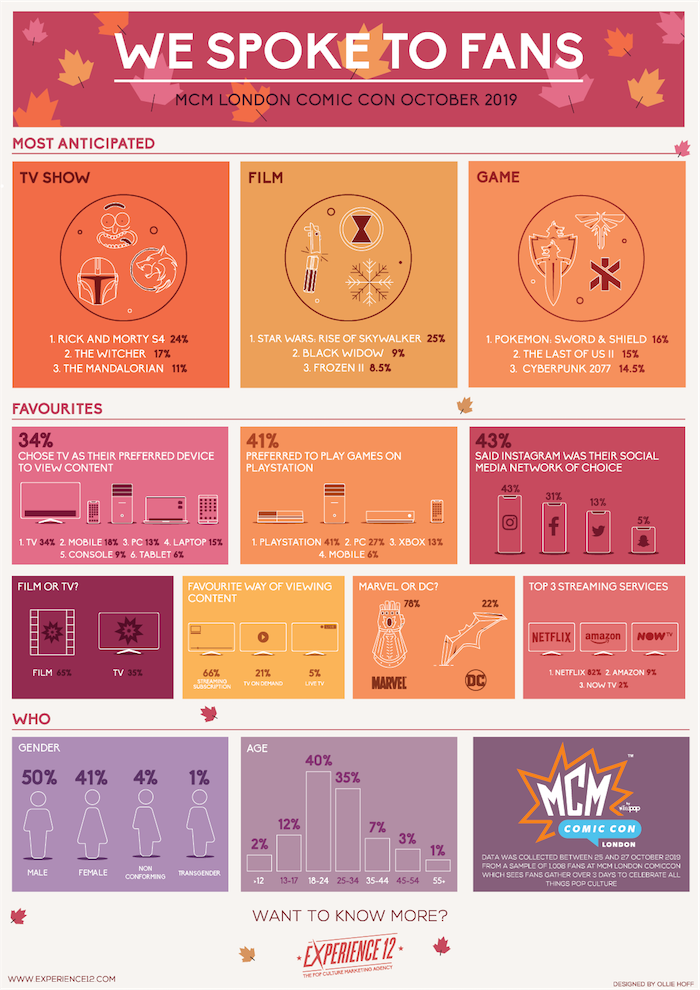 New research reveals that TV has fallen even further from favour with just 34% of MCM Comic Con attendees saying it's their preferred viewing device, a 13% decrease since May, with both tablets and consoles increasing their share of interest.
Pop Culture Marketing agency Experience12 polled 1,008 fans at the MCM London Comic Con convention, exploring consumer habits related to the most anticipated and favourite game, film and TV releases, alongside preferred ways to consume content.
The survey results also reveal that the growth of subscription services shows no sign of abating, with over half (54%) of attendees saying they'd subscribe to Disney+ following its much anticipated launch in early 2020. Netflix, which worked a 6% growth since October 2018, remains the preferred streaming service amongst Comic Com attendees, with 82% saying they prefer the subscription to any other one in the market.
Other key findings include:
Marvel's lead slips – When asked Marvel vs. DC, Marvel fans decreased from 83% to 78% in the last five months
Girl power – Since October 2018 female Comic Con attendees have risen by 7%, with women making up 41% of attendees this autumn
Rick and Morty sits on top – The show's fans have increased at Comic Con by 6% this year, with 24% attendees most anticipating season four
Gaming fans are torn: Only 6% separated the top three most anticipated games (Pokémon: Sword & Shield, The Last of Us II and Cyberpunk 2077)
Chris Whittle, founder and MD of Experience12 says: "It's always interesting to get first-hand feedback from the fans at Comic Con London about their preferences, and our insight has proven useful in comparing consumer habits over the years. It's exciting to see the ever-growing subscription platform market come into its own, especially as Disney+ is soon to hit the scene. Our research proves that fanbases are still increasing across the board, with classics like Pokémon and Star Wars staying strong."