Women's sport is an ever-evolving narrative. The lives and achievements of those athletes without a Y chromosome stand poised to smash the dominance of male sporting endeavour in the hearts, minds, wallets and purses of UK sports fans and casual audiences alike… and with good reason.
British female teams are the holders of two world cups and an Olympic gold – respectively Rugby, Cricket and Hockey. The men would be hard pushed to even dream of polishing such silverware at present. In football the national side have performed better than their male counterparts have in over two decades, reaching the last four of the Euros and the World Cup. Broadcasters are increasingly handing over more airtime to women's tournaments and audiences are not rushing out to put the kettle on! A record 4 million people watched England Lionesses heart breaking exit from the Euros 2017, having roared there way all the way to the semis! It was the most watched soccer match in the USA ever. Who needs a Y chromosome!?
Judging from the packed auditorium to see our event; Women's Sport – A Golden Opportunity at London's Imax cinema last week, it would seem that brands are turning at least one eye away from the men to check out the commotion over on the ladies' bench. Exactly how gold the opportunity is was brought vividly to life by luminaries and legends from the sporting federations.
The revelations of Kelly Smith, one of the finest England internationals of her generation, in conversation with Marzena Bogdanowicz of The FA showed why the female sporting narrative is breaking through right now: She spoke to the aloofness of male football stars, describing them as unavailable, by comparison to the women who were closer to their audiences and more prepared to showcase their personality on and off pitch. One has only to think here of any given TV interview by any male pro, stage managed to a point in which detecting any hint of personality would defy the finest detective. By contrast, Kelly's description of her early experiences as the star performer in an all boys' team, and how she was forced out of the league on account of her gender showed both purpose and authenticity – two qualities that chime resoundingly with modern audiences. This is classic overcoming all odds storytelling – a content creators hot ticket that any aspirational sponsor would love to be associated with. As indeed they should: Ad industry interest in women's sport is timely because it continues the equality conversation. Advertisers are duty bound to turn much more than an ear to such conversation given past sins in re-enforcing gender stereotypes.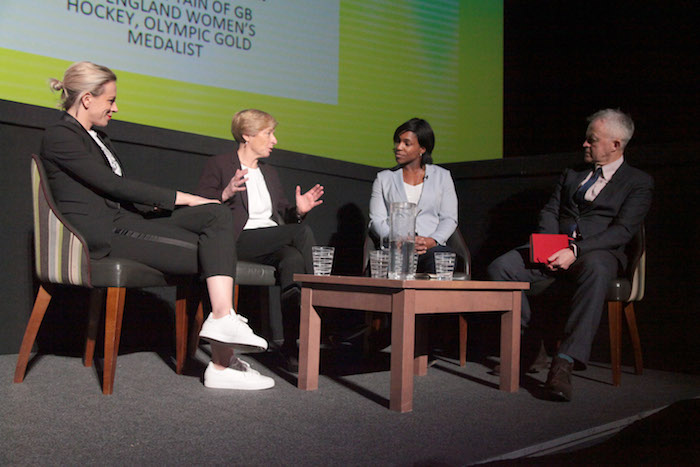 England Rugby World Cup winner Maggie Alphonsi MBE told how…
"Sponsorship money is needed to accelerate Women's sport out of the long shadow of the men to a day when we would not think of sport in terms of gender."
When I asked Maggie specifically how she would spend the money she said:
"I would invest into the competition structures. Developing talent pathways and competitive leagues so the standard of women's sport continues to progress and attract, participants, spectators and broadcasters. I would then invest in the PR of promoting women's sport appropriately to increase the perception that it is a live spectacle experience no less exciting than men's sport, and therefore attracting yet more sponsorship."
Claire Connor and Jenny Smith from the England Cricket paralleled Maggie's sentiment. They outlined the mission ahead for sponsorship, describing it as a collaborative effort between rights holders and partners to celebrate women's sport and its unique personalities. The end goal being to remove comparisons with their male counterparts. That very much felt like a battle cry.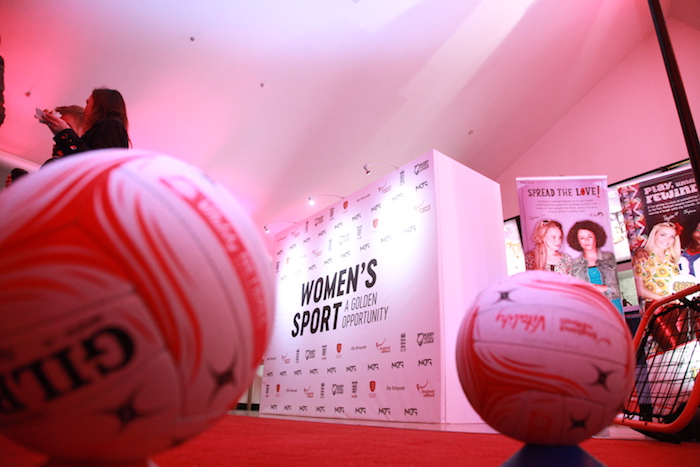 It naturally follows that, having become newly attractive to brands, sponsorship in women's sport should take a radically different path to that of the men, purely because this conversation started at a different historical time frame with differing attitudes, technologies and media:
Overwhelmingly sponsorship in men's sports arose from mere badging exercises – the let's just stick our name on all the existing assets approach for just one channel – TV. Though badging is an exercise largely frowned upon now, it has undeniably shaped present-day behaviour in the way sponsorship gets done. Some sponsors do have a tendency to focus on the numerical return at media, and there are big rights holders who are happy to play that particular ball game.
Whereas in Women's sport it is very different. I am paraphrasing Liz Nicholl OBE, chair of UK Sport who suggested that sponsors could take an active role in shaping the activation rights with the rights owners because they are engaged at early stages talking to the source. As proof we heard Joanna Adams, CEO of England Netball, declare that for the right sponsor she would change the rules of the game to help her grow netball skywards of the 1.4 million people currently playing.
For us here at MKTG the message for potential suitors is clear. We will pioneer an experience led approach that aims to get people to engage with women's sport up close and personal as a visceral and vitally entertaining thing. Brands can play an active role as facilitators and enablers of sporting and lifestyle aspirations regardless of gender and they can start the conversation with audiences from the ground up and at the heart of the action to effect positive change. To that end, I have invited three leaders from the best live agencies to outline just how they would go about doing that. More of which next time!
By Michael Brown, managing director, MKTG.