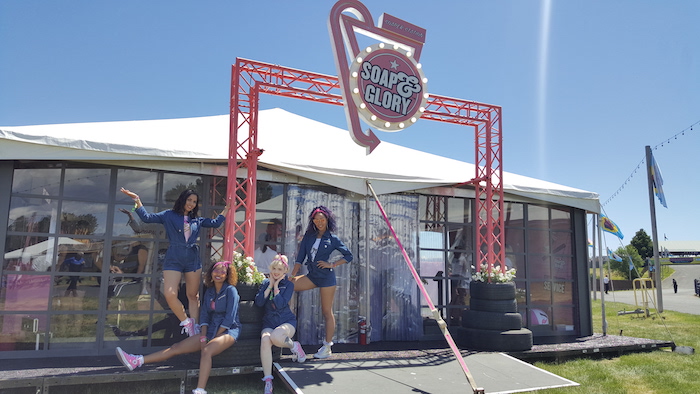 When Soap & Glory decided to roll out their first ever UK national tour, they approached Elevate. That was in 2015 and since then the relationship has gone from strength to strength. Being the first major piece of experiential Soap & Glory had engaged in, high expectations were set. As an experienced staffing agency, Elevate were ready to take on the challenge and deliver against all KPIs.
The Lowdown on Soap & Glory
Soap & Glory is a fresh, fun-loving UK beauty brand with a special USP: it offers a wide range of world-class beauty products, giving every girl the "best bang for her beauty budget". For Soap & Glory, its goal was clear – to enhance their brand and grow its presence in the beauty market with a number of unique marketing activities.
In particular, Soap & Glory wanted to target opportunities with festivals, universities, beauty events and retail stores.
The Key Hurdle
When executing any kind of sampling or experiential campaign, the challenge for any business lies in finding promotional staff that are aligned with the brand and able to create lasting engagements with the target consumer. In addition to the need for professionality and conversational intelligence, promotional staff should truly embody the brand and its values allowing for a deeper, personal engagement.
Finding the right staff is a big ask, since few people have the necessary skillset and the right passions for the brand in question. And yet, success rests on sourcing staff that meets those criteria. Throw a big budget that needs to secure a ROI into the mix and, suddenly, this all sounds quite risky, doesn't it?
How Elevate Came to the Rescue
This is where Elevate come into the equation. Soap & Glory needed a talented, glamorous and inspirational group of girls for their approach. They needed to find a group of women who were aspirational enough to represent the Soap & Glory brand, authentic enough to organically embody and exude the brand, yet impactful enough to get the required results.
Elevate have a unique approach to sourcing and training experiential marketing specialists. Using their bespoke recruitment method comprising of multiple stages, testing and video submissions, Elevate were able to find a diverse group of 30 women.
Elevate's Innovative Approach to Recruitment
These 30 girls formed a select group that was to become known as the Glory Girls. Elevate styled, fitted, and accessorized them all individually; establishing their look within the overall brand guideline but in line with their own personality. No mean feat. There were onsite fit and styling sessions and an approval process at each event to ensure the girls were always on brand.
The Glory Girls helped execute a number of initiatives; starting with a UK Christmas shopping centre tour in 2015, Elevate's staff took the UK by storm, which was only the beginning of the Glory Girl legacy.
This then lead onto global domination! Elevate US were engaged to form a team of dynamic Glory Girls tasked with introducing the Soap & Glory brand to girls across the country. Through partnership with iHeartMedia in 2016 and Live Nation in 2017, Glory Girls brought these events to life, and were the creative vehicle to delivering the brand messaging and showcasing hero products to consumers. The Glory Girls were true spokesmodels for the brand, creating visibility on camera, radio and social – at every opportunity.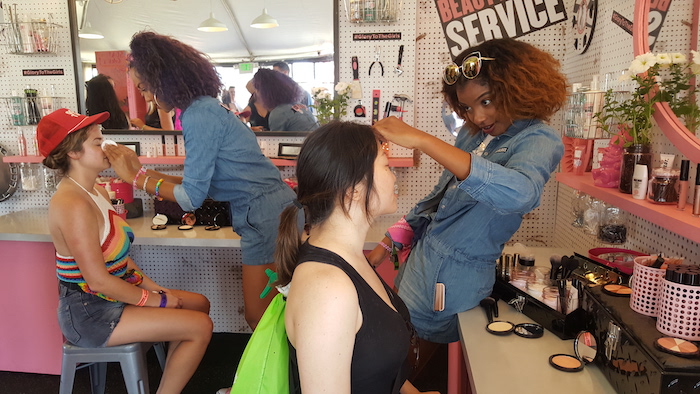 The All-Important Results
Elevate have an inherent ethos when it comes to sourcing promotional staff. It finds the right people for the right brands at the right time. Perfectly personified by Gwen Bueno de Mesquita (Global Head of PR at Soap & Glory), who said: "Elevate helped us find the right staff that were so much more than promo girls – they learned, lived and breathed the brand."
The sponsorships were so successful that Elevate continued to work with Soap & Glory throughout 2016 and 2017. Next up, Elevate showcased its full range of services with an original campaign that Elevate ideated, planned and produced in its entirety: a three-day on-campus experiential activation at the University of Miami.
During new student orientation, the Glory Girls assisted students "Get Ready for Back to School" by giving makeovers, sharing tips and pointers for a simple college look while engaging people with product trials and distributing samples. Meanwhile, Elevate executed another nationwide student campaign in the UK, targeting University campuses at Freshers weeks.
Elevate also helped Soap & Glory facilitate a number of retail initiatives. All told, Elevate contributed to a number of impressive product sampling statistics across 2016 and 2017:
30,000+ tangible engagements with consumers
25,000+ samples distributed to a targeted audience
50,000 onsite product trials
100% core staff retention
4,000+ product makeover demonstrations
Ultimately, product sampling campaigns and experiential marketing strategies are extremely powerful, but only if they're executed in the right way. And, at the heart of the matter, lies the very people who help communicate the value of a business, product or service.
Elevate found the best promotional staff for the Soap & Glory campaigns. Elevate understood the dynamics of the brand goals as well as the campaign objectives and helped create and enhance several concepts that were essential in delivering and executing each initiative.