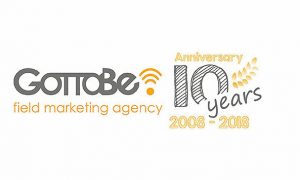 GottaBe! is an award winning, independent marketing agency specialising in field and experiential marketing. GottaBe! – "Gotta", contraction of "Got To" "Be" meaning it has to be us. With over 10 years of experience, GottaBe! is your one stop shop. Our extremely creative team is able to deliver fun and exciting campaigns that get people talking.
When it comes to field and experiential marketing, its GottaBe! us as together its "Your product, our people"
Who we are 
Since 2008, GottaBe! has been delivering campaigns across the UK and Ireland for our clients. We are a marketing agency that not only delivers on our promises but completely plans and implements the entire campaign – from A to Z! Every campaign is bespoke to our client's needs!
Specsavers, Western Union, Domino's Pizza, NHS, The Co-operative, EE are some of our Clients. Your brand next?
What we do 
We curate field marketing and experiential marketing campaigns for our clients as well as offering  costume work, roadshows and merchandising expertise. We work with some incredible brands including  Specsavers, Western Union, Domino's Pizza, NHS, The Co-operative, EE and many more
What our clients say  
I have been very impressed with GottaBe!' approachability and speedy response times, whenever a request is sent. Thanks to Tomasz and his team, even very last minutes projects run smoothly and I know that they are in good hands. I would go as far as to say GottaBe! set a benchmark in client management that other companies could learn a lot from." – assistant marketing manager, Western Union
We have used GottaBe! to staff our Dorset Tea branded trailer at the events we have taken part in this year in Dorset. They have been very easy to work with, took care of all the logistics and staffing requirements for each event allowing for a successful road show for Dorset Tea. I wouldn't hesitate to use them again or recommend them to others who want a dependable event execution agency." – head of marketing for Dorset Tea, Keith Spicer Ltd
We called upon GottaBe! to support Megaron with the in-store promotion of two products after our initial launch into the UK. The GottaBe! team took care of recruitment and training of brand ambassadors, merchandising and print, plus managed the relationship between Megaron and B&Q. Overall, we are very pleased with the work they provide. The team can act quickly and adapt to changing environments, their Brand Ambassadors are reliable, hard working and keen to represent our brand and most importantly, this has translated into an uplift in sales." – export director, Megaron
Find out more