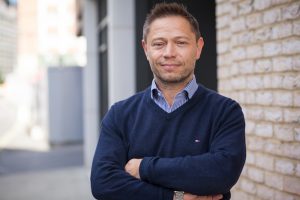 With research triggering fresh concerns over brand safety, Ian Reynolds, managing director of KBH On-Train Media, says we need a more balanced view of brand engagement across traditional and digital channels.
For anyone already reflecting on the big stories of 2017, there's no doubt that brand safety will secure a place not far from the top of the list.
Like all good stories, this is one with a strong beginning, which can be traced back to the attention-grabbing address made by P&G's Marc Pritchard at the IAB's Annual Leadership Meeting on January 29 where he called for the industry to clean up the media supply chain.
But research released last month by the CMO Council and Dow Jones shows that it's far too early for this particular story to have a sense of an ending. The study gave evidence that 72% of brand advertisers engaged in programmatic buying say they are concerned about brand integrity and digital display placement. The study also showed that more than a quarter of respondents have experienced incidents where their content has appeared alongside compromising content on digital channels.
As the story rumbles on and consumers take action by walking away from brands tarnished by poor online advertising experiences, an arguably welcome spotlight has been shone on the sometimes overlooked strengths of trusted 'traditional' media.
Out of Home (OOH), for example, very much stands apart from online media on this issue. For brands engaging with consumers via OOH, the context is provided not by editorial content but by physical location, irrespective of whether the message is delivered via digital screens, classic posters or location-based brand experiences. This virtually eliminates the brand safety risks associated with online media, and can also be turned to the advertiser's benefit, given that referencing the context in which brand messages are experienced is proven to make those messages more effective.
It's also worth pointing out that any suggested polarisation of the 'traditional' and 'digital' camps is far from helpful.
In OOH it is clear that the enduring benefits of traditional formats form a powerful and complementary relationship with innovative new opportunities in digital. For KBH, as specialists in on-train media, we continue to analyse how this evolving relationship works best for brands, not just from a platform point of view, but looking more broadly at the strengths of the rail and on-train advertising environment, across the gamut of classic boxes, digital screens, and the expanding availability of Wi-Fi services with advertising and sponsorship opportunities across the UK's rail network.
Digital out-of-home will play a huge role as the innovation driver in years to come, but our sector will never be 100% screen-driven. Classic OOH remains unique in its ability both to build brands and build awareness, and forms part of a potent cross-channel mix blending fame, trust and frequency whilst ensuring reach, impact and coverage.
So, rather than spending time getting lost in a print versus digital debate, the over-arching narrative in OOH should focus on helping marketers understand how they can optimise and balance their marketing investment to ensure it is truly aligned with a brand's goals.