More of us are having lunch at our desks than ever before, or eating 'on the move' as we go about our hectic lives. Research shows that many of us opt for a pasty or sandwich (Kantar) – often the same one every day, as inspiration deserts us while perusing the supermarket shelf. 'Meal deals' that throw in a fizzy drink and a bag of crisps don't improve matters from a health perspective.
FMCG magazine The Grocer asked strategic design and innovation consultancy, Webb deVlam, to come up with fresh ways to fuel our busier-than-ever lives as part of its regular Creative Challenge.
Taking findings from its Home of Ideas panel of 4,000 consumers across four continents, Webb deVlam produced three brand-new concepts to revolutionise and bring nutritional value to on-the-go dining, taking the Japanese bento box as inspiration.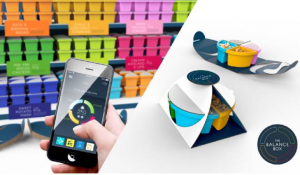 The Balance Box is a simple, intuitive concept that allows consumers to monitor their nutritional needs via an app on their smart phone that can be synced up to other health-monitoring devices and social media.
Consumer feedback showed that 64% of us want to know exactly what food we're eating – and the Balance Box provides this detailed control.
Whether you've had a sedentary morning or you've spent an hour at the gym, the Balance Box app will suggest what you should eat to meet your nutritional needs with its colour-coded system. The consumer can then pick four coloured 'quads' to make up a well-rounded meal that fits into a handy portable pack.
The food quads and carriers could be made available at supermarkets and convenience stores – a neat, 'smart', quick and easy option for people who want to monitor their diets.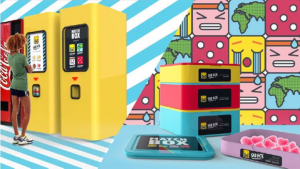 The Match Box is ideal for people who eat lunch on-the-go regularly and who are looking to counter the tedium of 'al desko' dining.
The panel said that 61% of consumers love to try new things at lunch and wish there were more options. The Match Box provides the perfect solution as it offers consumers a whole new way to order and buy at the touch of a button.
Hot and cold lunch boxes would be dispensed from vending machines, with Japanese-influenced emoticons helping consumers navigate the menus. Push the 'crying face' for comfort-food options; 
the 'fitness bunny' for healthy offerings; the 'globe map' for world-food meals, and the 'dice' for a complete surprise!
The ability to personalise meals would alleviate monotony, and vending machines could be installed at public transport hubs, in offices and food stores, maximising convenience.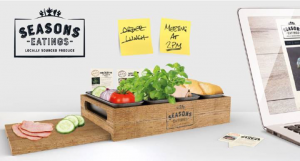 There's been a rise in subscription cook-your-own boxes. The Seasons Eating approach builds on this and moves it on. Herbs will have been grown in the very dish in which they are supplied; bread will have been baked in the loaf tin.
Over time, these recyclable bento-style trays, which come from different suppliers in the local area, will become tarnished and tell their own 'story', adding to the experience.
According to the consumer research, nearly half of us try to avoid lunch options that look unhealthy. Seasons Eatings serves up natural, local food with a wholesome, rustic aesthetic (a great option, too, for those who want to support local businesses).
Delivered in a wooden box with a base that doubles as a chopping board, the consumer can get close to the ingredients, preparing and enjoying them.
Head of design at Webb deVlam, JP Hunter, comments: "After consulting our Home of Ideas research panel, we found that consumers were looking for new, quick-and-easy options. Many people are time poor, but it was felt that options with a balanced nutritional profile and enjoyable aspect were thin on the ground. The panel felt our ideas would ease people's lifestyles, save time and make them feel good by eating better, offering greater choice and a more fulfilling experience."