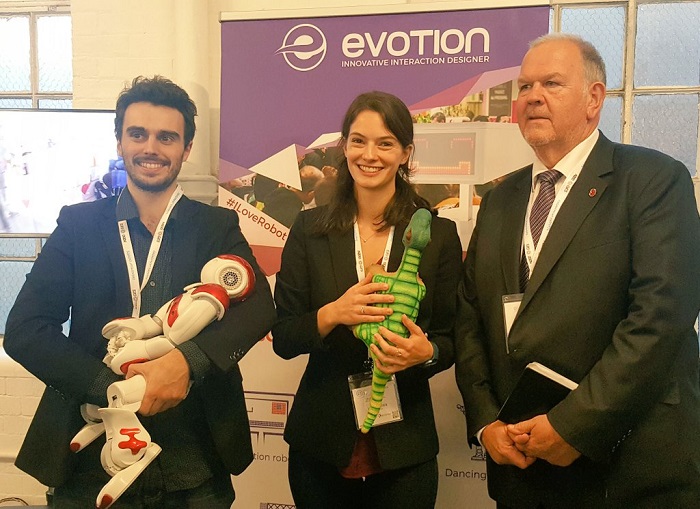 Event Tech Live kindly asked me to join an esteemed panel of judges to pick the winner of the Launchpad Pitch; a new area for 2016, championing start-up companies and providers of exciting new event technology.
With 22 forward-thinking businesses all battling it out with just five minutes to present their pitch, I wanted to reflect on an inspirational afternoon and highlight the top five companies whose innovations captured my imagination:
What3words
Unanimously crowned winners of the Launchpad Pitch, what3words have mapped out 57 trillion 3mx3m squares across the entire globe, and have transformed each square into three common and random words, each being the address of that 9 square metre location, allowing communication of that specific spot anywhere on the planet, quicker, easier and with far greater accuracy and relevance than street addresses, postcodes, co-ordinates or mobile shortlinks. The system is smart phone friendly and is in 9 languages, with more to come. With events like festivals covering more ground than some towns, production crews and emergency services can track the exact location of equipment deliveries, freelance staff, emergencies, be made aware of security breaches on the exact festival perimeter spot – the possibilities are endless.
Sparked idea: Outside of the endless possibilities for this innovative genuinely unique technology solution for the events sector, the offering has massive potential for the deliveries market, particularly given the development of online and drone deliveries. Home addresses will have different three-word codes for both the front door step and back garden for instance, so drones could narrow down the delivery address to such an accuracy that improves service efficiency. Postcodes are still meaningless in so many rural areas like farms, country parks, National Parks so this tech could help speed up policing, mountain rescue, emergency services, incident response units – the limits are only restricted by your own thinking!
Evotion
Though Evotion were not winners of the Launchpad Pitch, they were my particular other favourite and we awarded them our Mobile Technik stand support sponsorship for their robot hire developments. Just when you think you have seen everything, this refreshing company has turned robotics on its head, specifically for the events industry, developing solutions and software to improve visitor engagement. From FURo, a robotic paparazzi capturing artistically-filtered delegate selfies, a robotic bar to mix up a tastebud-tantalising cocktail at your conference or Pleo the  robo-dinosaur whose artificial intelligence captures the attention and educates young children, Evotion's tech adds a dimension for the future of robotics in the events world currently not available elsewhere.
Sparked idea: Put your staff to the test in a team building or incentive exercise using dancing robots, or building your own robot in just 20 minutes in an interactive workshop!
InItLive
This helpful platform offers event organisers and planners, a single portal from which to manage the organisation of event staff and volunteers. Helping to simplify volunteer registration, on-site task scheduling and keeping  track of volunteer communication across wide-spread areas, I feel the event applications of this software is hugely sought-after and I am excited by its potential.
Sparked idea: Whether you are organising a marathon, outdoor festival, or managing security staff for VIP areas InitLive offers an easy solution to communicating and organising all staff from one single place.
Showslice
How many times have you seen the full extent of event infrastructure be delivered, installed and de-rigged from a venue, only for the next day's event production crew to bring similar kit to the same place for the next event booking? The bright idea at Showslice has identified the opportunity to develop an event venue platform to put venues, suppliers and crews in touch with each other, with the aim of offering up to 70% discounts to a market looking to holding events at a much lower cost. By putting multiple companies in touch with each other beforehand, a certain level of that infrastructure could stay put for the next event just a few days later, offering more event for your money, a better guest experience as well as the increased efficiency helping suppliers reduce their carbon footprint.
Sparked idea: As a prime example, when I looked around Truman Brewery during Event Tech Live, the staging, seating , lighting and sound equipment could all remain in that space to effectively deliver a fashion show, a small conference or delegate workshops, helping the venue to generate further revenue on a day that may otherwise not be filled with venue hire opportunities.
MICE Book
Event knowledge and information is succinctly collated into an online directory for the benefit of individuals in the meetings, incentive travel and event industry, helping to effortlessly connect reputable buyers and suppliers. Identifying the fact the most important information is learnt from first-hand accounts and experiences, this platform allows users to create personalised suppliers info and build relationships, track enquiries, make notes and share valuable global insight to other events professionals.
Sparked idea: When encountering an exceptional hotel concierge service, the platform could be used to store all the information of that experience including images of the hotel, specific names of excelling staff members and detailed notes of how the service stood out – helping to create visual and text info-boards of global destinations for your incentive travel clients.
Event Tech Live
In summary, I take my hat off to Adam Parry, Paul Allott and the rest of the Event Tech Live team for growing the show every year, delivering a fantastic new hub of tech innovations, challenging ideas and delivering support for start-ups that will include event tech leaders of tomorrow and beyond.