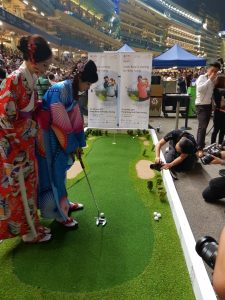 Provision Events (PVE) is celebrating another successful experiential activation at Happy Valley racecourse in Hong Kong that has driven footfall, engaged visitors with the event sponsor and most importantly, added to their growing portfolio of iconic images that have been picked up by the world's media throughout 2017.
The Happy Valley activation encouraged visitors to the racecourse to take part in a putting challenge to promote attendance at the subsequent UBS Hong Kong Open. But as with a growing number of activations that PVE has completed this year, Nick Clemens, co-founder of the business, knows that the audience on the day are not always the most important part of the equation, as he explains, "Our business has always been about providing experiences that visitors to an event can enjoy. This might be to publicise another event, drive engagement with a brand or simply to entertain. Increasingly though, our activations are becoming vehicles for a much wider promotion. If we can set up an activity and get the right people participating – such as the women in traditional Chinese dress at Happy Valley – it becomes a real draw for the media in the region and takes the message we're conveying to a much larger audience."
PVE has completed several activations this year where the image they've obtained has carried the key messages of the activation to a huge audience. When promoting the British Masters PVE set up a putting challenge at half time of Newcastle United's match with West Ham, with former world No.1 Lee Westwood and Newcastle legend Andy Cole. This event gained huge media exposure, as well as entertaining 50,000 football fans, and played its part in driving record numbers of attendees to the event at Close House in Northumberland. Similar images have transcended a traditional sporting audience, with the image of an Adventure Golf course on the viewing platform of the Eiffel Tower reaching far beyond consumers of traditional golf media.
Clemens sees this type of integrated approach as a key part of their future business and is investing in expertise to maximise the opportunities presented, "The business is always moving forward. Experiential activations were borne out of sponsors needing more from their investment and I see increased media exposure as the next step," he explains, "We have to consider lighting and brand positioning for any potential promotional shots and we've even brought in our own PR experts to offer amplification opportunities to clients who really want to maximise their exposure. Fan experiences at an event will always drive our activity but we're always learning ways that the activities we provide can deliver so much more."