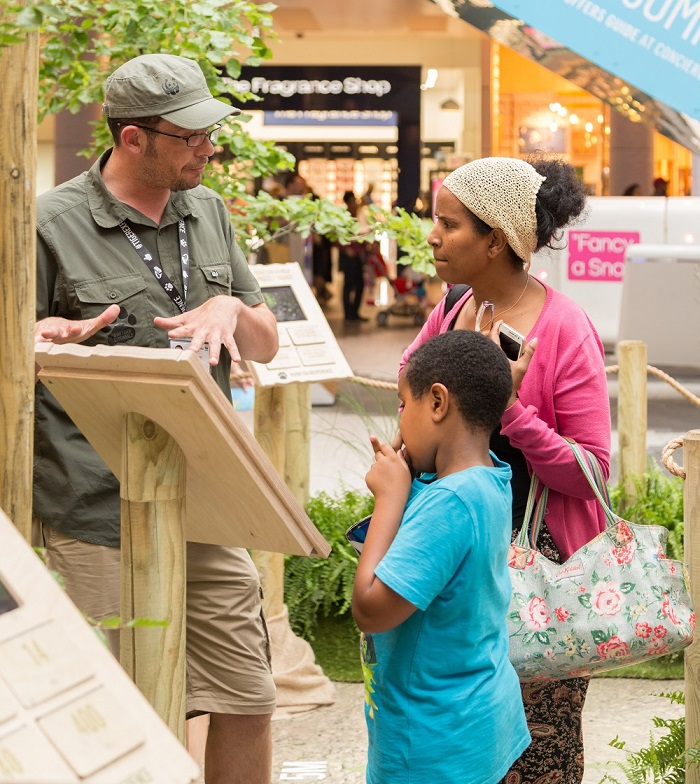 I visited BEcause Experiential Marketing and WWF's Virtual Reality Tiger Experience at Westfield to try the activation first hand. The experience was truly immersive, and when I arrived, there was a buzz around the set which had a prominent position on the ground floor of the shopping mall. After the CGI 360 experience, where I was fully immersed in the sights and sounds of the forest and met the tigers, I spoke to Gwyn Humphreys – Senior Account Director, BEcause and Gabriel Hartnell- Senior Fundraising Campaigns Manager at WWF-UK to talk about the future of experiential fundraising.
How useful is Virtual Reality (VR) to WWF in Highlighting the plight of tigers?
Gabriel-The struggle we often have at WWF is that a lot of our work is overseas. We wanted something that would bring our work closer to home and put people in the shoes of our conservation field workers. Rangers are the people on the front line protecting animals. It's hard to demonstrate the work of a ranger and make it emotive and show what they do in their everyday lives. VR is a way to bring our work to people instead of bringing people to our work.
How successful have WWF been in connecting with their audience through brand experience in the past?
Gabriel- We haven't really done this before, so it's an experiment. It's our first proper experiential marketing campaign that's related to fundraising. It's something that's new to us. So far we have had good reactions.  It's a new avenue for us and something we want to do more of.
What is the target reach for this activation and how will the success of the campaign be measured?
Gabriel-There are a few different factors. This is a physical launch as well as being present on social media, over the two weeks at Westfield the footfall will be around two million. We expect 150/200 donors and ten times as many people engaged during that period. It's a two-step process, the first step is raising awareness and educating and then getting people to donate. But if they don't donate, we hope to reach even more people with our message via online platforms and people sharing their experience on social media.
Our time here coincides with World Tiger Day. The more people we can get talking about tigers the better. We expect that the digital launch of the VR content in India, Australia and Singapore will have a big reach of people sharing it and engaging with it.
Why has Westfield been chosen as the location for this campaign?
Gabriel-We chose Westfield as it has high footfall and a long dwell time, it's a place people come to have experiences as well as shop. The majority of people who come here have time, have families and are willing to participate in experiences.
Gwyn- It's a good fit for the audience profile, we have a lot of location planning tools to make sure we are targeting the right people at the right venue at the right time, and Westfield provides the London based, ABC1 audience we want.
We wanted a good dwell time and engaging the children with colouring in, increase this. If we can immerse the children, we can talk to the adults.
Why did WWF choose BEcause as their brand experiences agency?
We saw the Boursin Sensorium that BEcause executed and were really impressed. As a multi-faceted campaign, being social, digital and international- all of those factors led us to believe that BEcause were the right agency for us.
What's in the Pipeline for WWF?
Gabriel-For us it's experiential. Although early days, there are so many avenues we can go down. The scope of work WWF does is so broad, it's one of our problems but it is also one of our strengths. It gives us so many things we can do. We can create rain forests or Arctic activations. There are so many other stories we can tell, and this is all about storytelling. We have lots of ideas of how we can take this forward.
Gwyn– Previously face to face fundraising has received a bad reputation and we hope this will help WWF to show that charities can give something back to the consumer. This could really change the way we deliver face to face fundraising, lots of learnings will come out of this to help dictate what the best way to go forward is, and it is a real test.
Gabriel- Face to face can be done really well or really badly. The media really pick up on when it's executed badly and this gives the whole channel a bad reputation, but when you look at the reputation of experiential campaigns its completely different. We need a hybrid of the two- we want good fundraising, but we want to make it much more of an event and an experience. People are more likely to give when they feel inspired and when they feel involved. Its opening up those doors to do face to face which is a good experience and is the opposite of what we see portrayed in the media, we want to revitalise fundraising and the best way of doing that is to make it not about the fundraising.
Where do you see the future of experiential Fundraising going?
Gwyn- virtual reality is at the forefront of fundraising- at the moment it's the most innovative tech we have. It has the ability to change people's perceptions and make them donate. People are becoming desensitised to the TV adverts they are seeing, but when someone is put in the heart of the problem it really hits home for them. We are trying to tap into as many senses as possible so that we can give people the full on experience.
What Part did BEcause play in putting the activation together?
Gwyn- We approached WWF with a piece of proactive thinking about how we could use virtual reality.
Gabriel- We had seen the Boursin campaign which started the discussion. I had been looking to bring face to face to the next level for a while. We have a saturated market so I thought we should try experiential- I didn't really have any idea what I was going to do then. I approached BEcause and they came to us with this proposal, which was exactly the kind of thing we wanted.
Gwyn- We sketched up a mood board, our in house creative team developed the look and feel to take people on the journey. Our brand ambassadors hook people on to the stand and take them through the experience and then hand them over to the WWF's internal fundraising team, who get the donations. BEcause have been working with the donation team to ensure we get as many sign ups at possible.
What are the benefits of having a celebrity brand ambassador like Will Young involved?
Gwyn- It's great to have celebrity brand ambassadors because of the extra reach they bring, it raises the awareness on social media and it's great for the public to see him here on the stand.
Why did you choose tigers as the focus for your first experiential campaign?
Gabriel- for the first time in history we are in a position where we can celebrate the fact that wild tiger numbers have gone up. We are aiming to double tiger numbers by 2022. We started in 2010, which was the last Chinese year of the tiger, we have got together with the leaders of the 13 countries that still have wild tigers, they have signed our agreement to help us double the numbers. Six years on from the deal, we are on track, we are aiming to see 6000 tigers in the next six years, a lot of the hard work has been done such as establishing the national parks and setting up the conservation work. Things are looking up for tigers.