Here, Nick McGrath, MD, REL Field Marketing, assesses why now might be a good time to invest in a field marketing agency. 
The UK retail industry continues to improve but still has a long way to go to reach the pre-pandemic highs. However, conditions look to be becoming more favourable, and there are reasons to be optimistic.
Online sales were up 3.4% in March, and online share of sales in March were 25.5% (ONS) versus 26.3% the prior year, suggesting a continued rebalancing of instore vs online shopping from the highs during Covid.
Shoppers are returning to the streets. During April, the BRC reported footfall as +6%, with all that increase returning to the worst covid-impacted areas of the high street and shopping centres. However, whilst an improvement, footfall is still 20% behind 2019, suggesting that whilst retail is improving, it still has a long way to go.

We see this in sales that look positive, growing 6% in March versus last year (which rose 4.7% from 2021). However, this growth was driven by inflation, and Retail sales volumes were -2.6% in the same period, and in fact, volumes have been in decline on an annual basis for 13 consecutive months as inflation persists (10.1% YoY in March). So revenue-good, volume-bad; although, with less strain on the supply chain, profits are returning.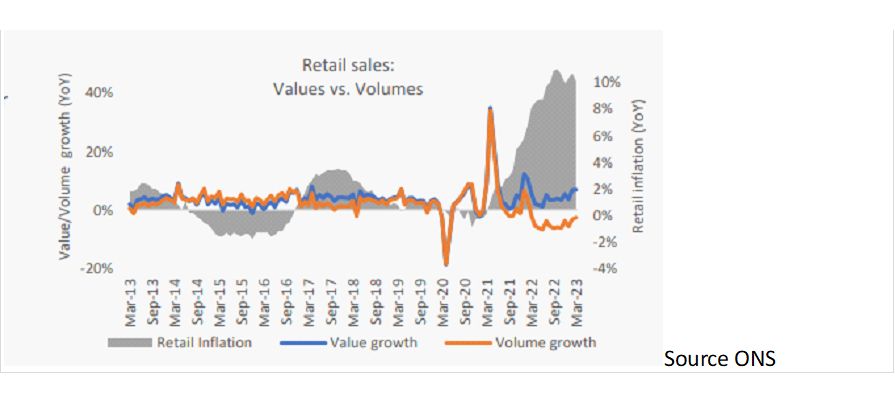 Of the volume that has been sold, it is clear that the cost-of living crisis has consumers looking for value and managing budgets. According to Natwest research 56.4% of consumers are planning on deferring major purchases. In food and beverage we see this budgeting in the growth of private label and the continued onward march of the discounters, with Aldi breaking the 10% share barrier for the first time.
Thankfully inflation is starting to reduce and was lower in April than March, and the general consensus is that inflation in food and drink will abate whilst the oil prices have dropped back already versus their highs.
According to Kantar, consumer confidence has started to improve, and it is the highest it has been for a year, even if still suppressed versus pre-pandemic.
What this means for field marketing is that brand owners should start having more confidence in their businesses' outlook. Whilst not all of them have recovered their input cost increases, many have and are beginning to look to invest.
It would not be unreasonable to think that brand owners may be looking to recover some of that lost volume. This would restore factory utilisation and further help margins freeing up cash to invest in marketing.
So the business case is there to invest once again in one of the most compelling aspects of the marketing mix – field marketing. As an industry, we are in a great position to support the continued recovery of UK retail and the further success of our brand partners.