Here are outlines of two projects from Seen Studio's work with regular client Nike from last year, FootballVerse and Air Force 1 Dance. I was reminded of them recentlty when Seen Studios hosted a Webinar called Content With Purpose: Creating Meaningful Retail Experiences.  These two experiences, for two different audiences, embraced the retail venue making great use of its prime location and were scheduled to build momentum. Quite often retail experiences are used successfully to build retail traffic and retailer and brand loyalty and whilst these examples may rightly be expected to do that, they are also supremely aware that the combination of talent and set build in store can be used both to interpret ATL advertising and to make further great digital content.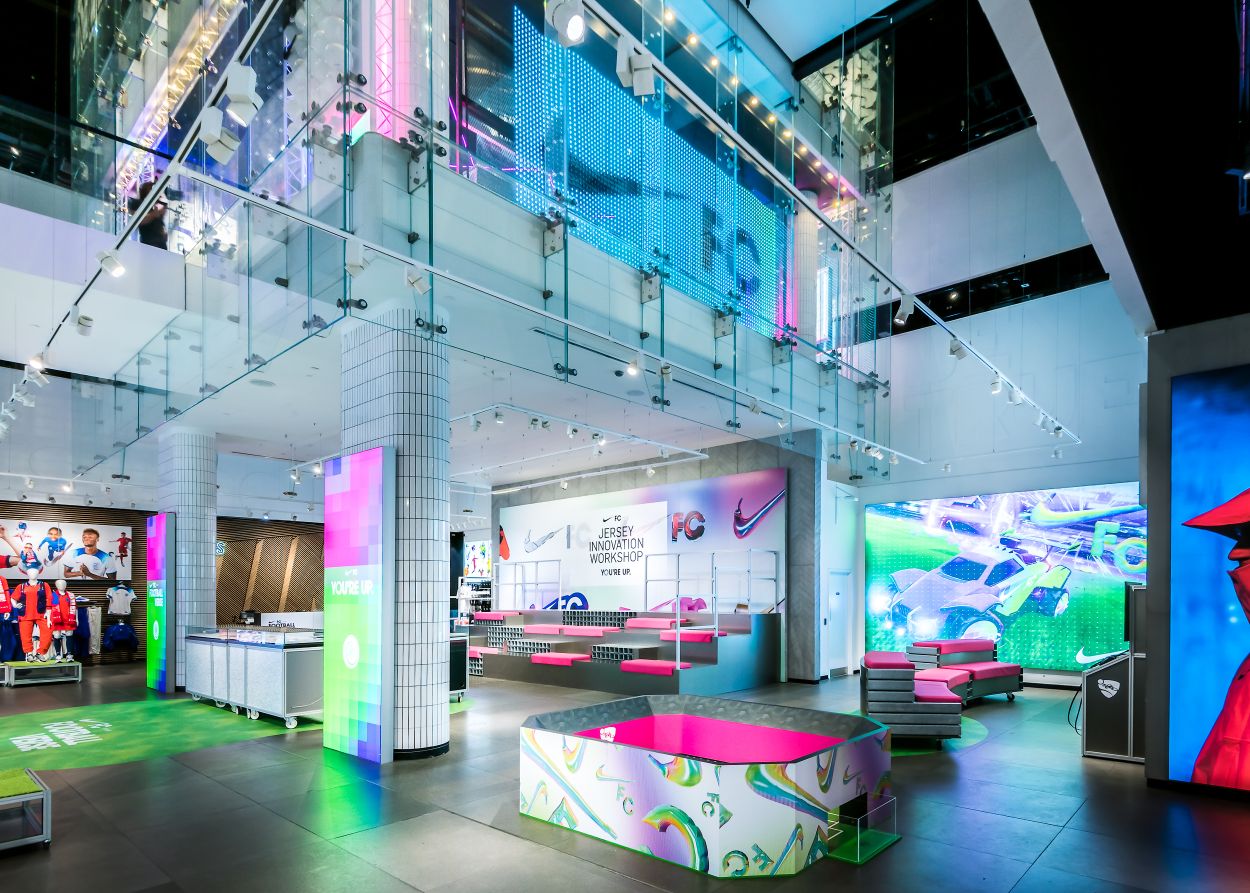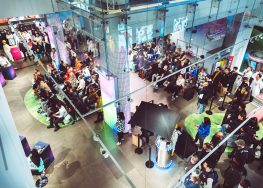 Study 1: FootballVerse
This project with Nike saw Seen Studios turn the ground floor of NikeTown London into the FootballVerse, a community-led, football focused fan-zone. Repurposing a lot of elements from our previous ground floor takeover with Nike to avoid waste, the area was revamped with a new objective.
Designed to merge the virtual and the physical, the design was influenced by Nike's latest advert, set in a secret laboratory in the Swiss alps. Across the duration of 2 days the space became host to the instore launch of the advert, a football-themed game show called 'The Reaction', a Rocket League takeover and Wormhole Lockers, looking back at the history and filled with official memorabilia from some of the game's greatest players.
Instore: As a part of the instore events, guests were welcomed in with a series of activations, some found themselves making personalised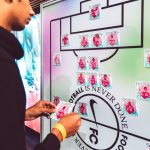 Panini-style stickers in the photo booth whilst others were making their own AI generated Nike phone screens at the AI station with Seen's inhouse design team
Personal Moments:  Art of Football were also on the scene, holding a poster workshop and a bespoke football workshop with a variety of spray paints and stencils.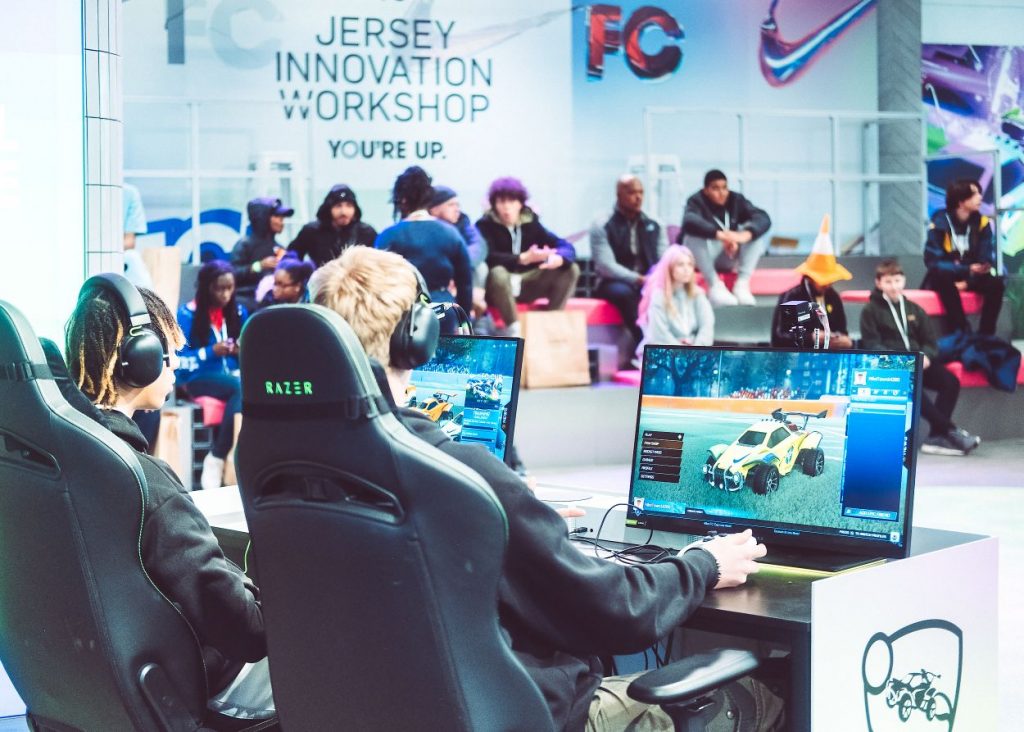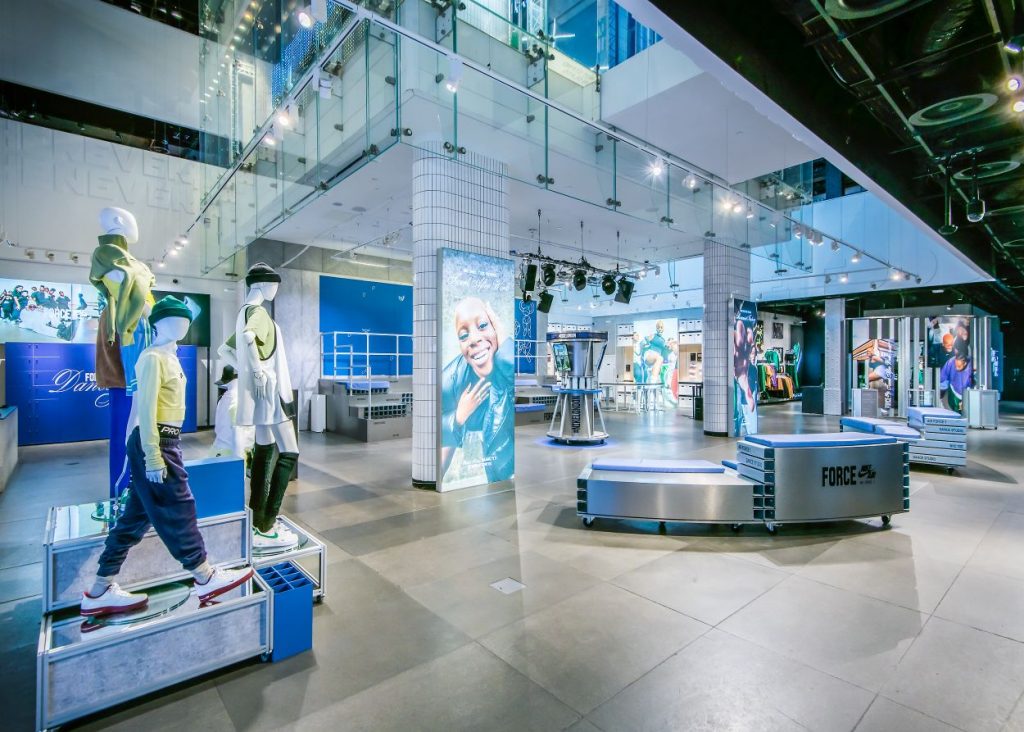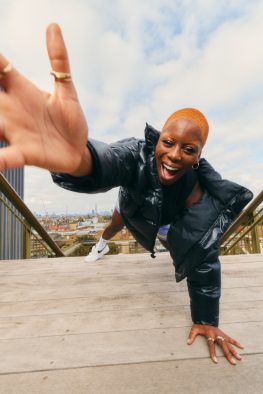 Study 2: Air Force 1 Dance
To celebrate dance, the Air Force 1, and the upcoming addition of Breakdancing as an official Olympic Sport, seen Studios teamed up with Nike to turn the ground floor of NikeTown London into a fully functioning dance studio.
Host to a series of events with local dance crews, Seen designed the space with flexibility in mind, ensuring it was both a day-to-day retail zone and an experiential activation zone.
Mirrored-digital walls, floor vinyl, moveable tiered seating, and strategically curved walls all doubled up as both features of the space and tools for way finding, guiding Nike Members into specific activation zones on event days. Large billboards also filled the space, showcasing assets from a photoshoot with the dance crews who were showing up in the studio across the duration of the events.
Interactive features were sprinkled throughout, from the live mural wall painted on by Joy Yamusangie every session, to the TikTok podium, fitted with phone holders and routine walk-throughs from the dance crews allowing visitors to record their own moves.
Putting the dance floor to good use, the space was home to the project's first NTC live session with Trina of The Curve Catwalk, a Twerk Masterclass with Bami of Twerk After Work, a 2-day takeover with Peckham-based, The Movement Factory, and last, but by no means least, the NikeTown London Battle with Aim Collective.
Delivering some of the best moves and vibes in the city, in between classes and performances, members were welcomed in across the weekends with a series of activations, programmed by us. From tooth gems and hair braiding to AF1 customisation stations in the Makers Studio with Customs by J1, Sabina Silver and Slow Projects, the space boasted the true meaning of experiential retail.
A colourful collaboration between an array of talent and creatives, this project seemed to create a buzz for all involved with it and engaged by it.