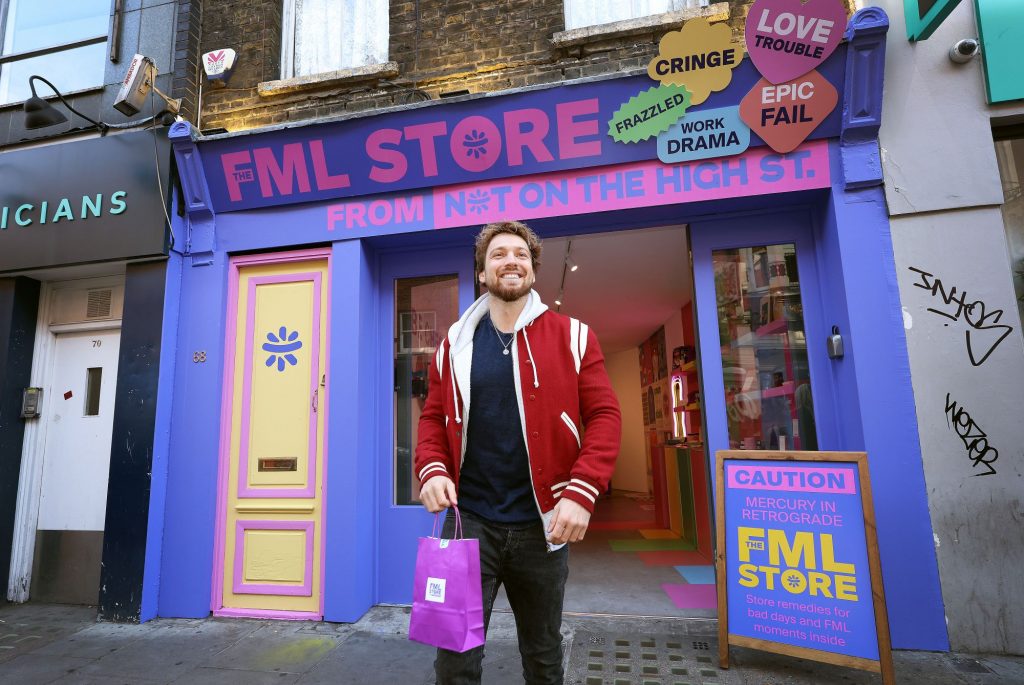 (Photo by Tim P. Whitby/Getty Images for Not On The High Street )
Fieldmarketing.com asked PrettyGreen for the inside track on September's popular pop up full of pick me ups for Not On The High Street. Here's what they told us.
PrettyGreen was asked by Not On The High Street (NOTHS) to present NOTHS' new brand platform and cooler brand product portfolio as the new 'gifting destination of choice' for Gen Z and Millennials. Here's how we addressed that.
Making more moments of Joy
NOTHS brand platform enables us to tap into alternative and unexpected gifting moments beyond the 'big four' – Christmas, Mother's Day, Father's Day, and Birthday.
The idea – The FML Store + Edit
Our strategy unpicked what NOTHS' new brand platform of 'gifting moments of joy' meant to this younger audience with insights showing that a gift was much more meaningful to Gen-Z when it was an unexpected response to things not going so well.
By not going well, we mean the up's & downs of being under 35.  Dumped, ghosted, cheated on, bad interview, sh*t haircut, skirt stuck in pants, email sent to all, colloquially called 'f*ck my life' or 'FML' moments. It was these authentic moments recognised that we knew floated our audience's boat.
Enter the NOTHS FML Store and Edit – a vibrant campaign elevating a curated edit of gifts perfectly matched to FML moments (Love Trouble, Work Drama, Epic Fail, Fuming, Cringed, Frazzled) and made available via an IRL retail 'empathorium' as well as the NOTHS website.
Launched in September to coincide with Mercury in Retrograde (an astrological bad luck moment) the FML Store swapped bad luck stories for free gifts, and we partnered with irreverent Sam Thompson to amplify NOTHS FML Store and Product Edit across social and earned media…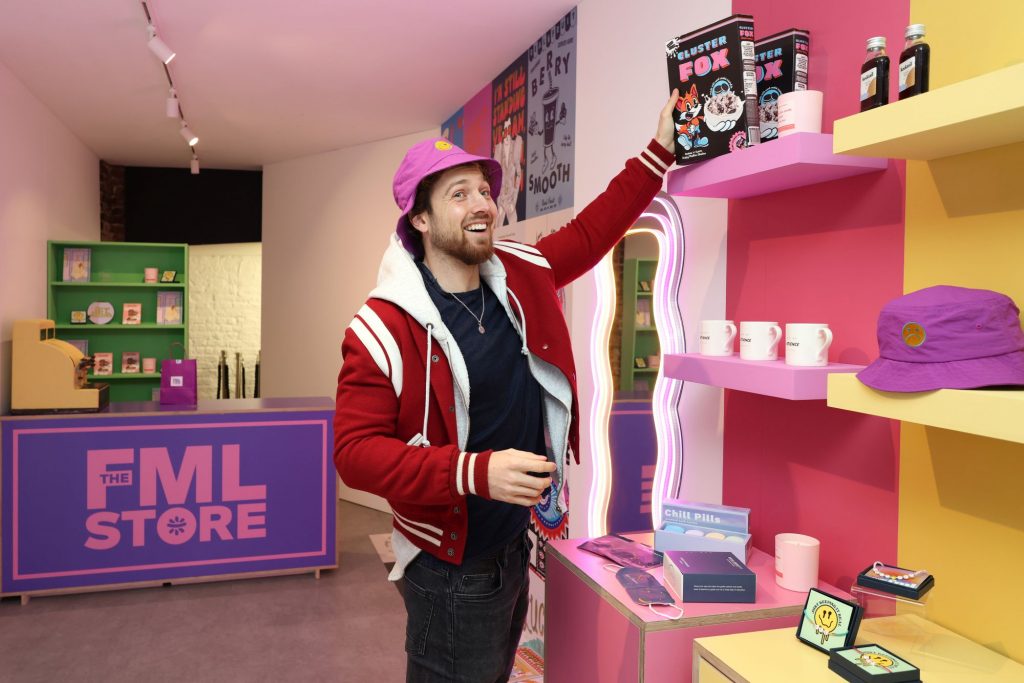 The FML store:  A pop up retail 'empathorium' in London's Soho, where the down in luck could use their FML moment as currency to exchange a gift in store.  Our army of empathetic actors were all ears as hundreds of consumers walked the FML gifting aisles and shared their life troubles with our staff.
Amplification: A layered amplification approach with a CTA to head down to the FML store and "Share your FML moment" in exchange for a free gift:
Product Edit: NOTHS developed a curated product page on the NOTHS homepage which suggested and presented different gifts for different FML moments providing a further call to action for PR through product placement opportunities focused on Mercury in Retrograde gifting.
Driving Conversation: We kicked off our launch with commissioned research which revealed Brits will endure seven bad – or "FML" – days a month with over half of Brits (56%) agreeing that an unexpected gift from a friend positively lifts their mood. This enabled us to organically ladder up to promote The FML Edit via consumer news.
Following this we shared the news about the FML Store with London Listings press landing coverage in the likes of The Evening Standard & Time Out and we invited popular 'What's On' TikTokers including Pop-Ups London, My London, and London Hotspots to capture content of The FML Store for their channels which drew Gen Z visitors to the pop-up.
Talent Partnership: We partnered with unlucky reality TV star Sam Thompson to amplify The FML Store and The FML Edit through social content across his Instagram and TikTok channels and via press interviews with The Metro, Daily Mail and Heat.
Value for the consumer: In London, NOTHS consumers had the opportunity to have their FML moments remedied with a free gift in the pop-up 'empathorium'.
Value for the brand: The activation drove consideration for NOTHS increasing share of voice by 7% across the campaign week and by 26%  during the FML Store open days, doubling the NOTHS average.