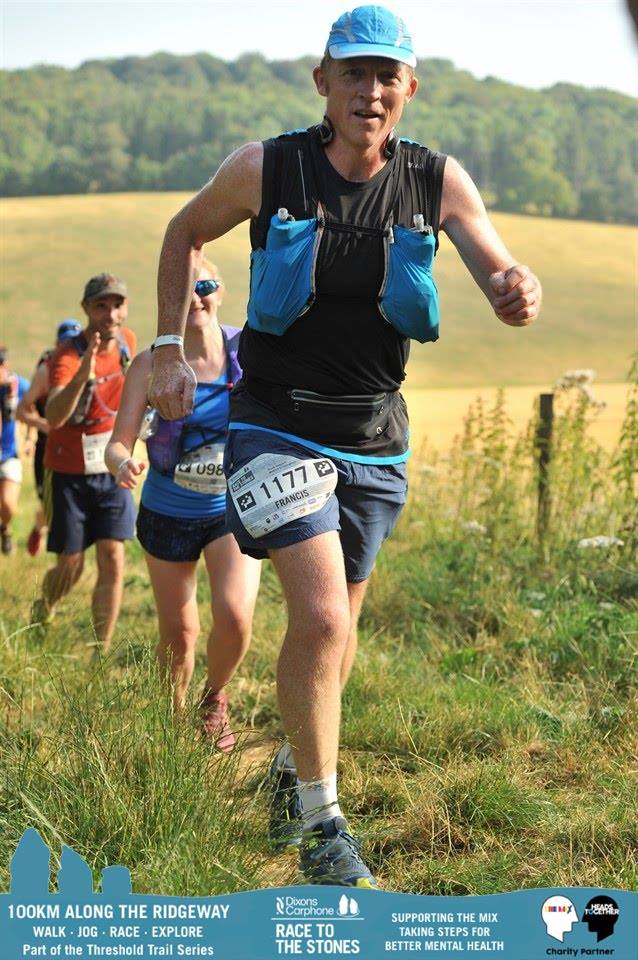 The Ridgeway, Britain's oldest route. This June and July it has passed from some kind of warm and heady floral trail to a dusty bleach blond escarpment. It has been my backdrop for 5 days as I have zigzagged my way all over it – a 3 day walk from Avebury to Ivanhoe Beacon – the whole 87-mile route, then a 26.2 mile run on my own, and finally the last 63 miles back too Avebury again, the Race to the Stones Ultra marathon that was my personal challenge for this year.
I've already reported back from the wonderful Howard's Way Walk, the best group anyone could wish to be a part of. We have been walking together for years, my feet look like they may never recover, and the memories will never be forgotten.
The donations page is still open!
There's not much to be said about a solo marathon. It took me 4 hours 30mins to complete. I set out on tired legs, after running the day before as I would need that to help prep for the Ultra ahead. The Ridgeway that day was an absolute desert, and I had to carry a big pack of drinks and gels to sustain me. I started out early. According to the car radios, England were 3 up against Panama by the time I finished. The tiring in the heat was pretty bad. The weather forecast looking ahead was sun, sun and more sun. That looked daunting, but at least I could say that I was getting acclimatised.
The Race the Stones Ultra Marathon is a true classic. A pinch over 100 KM or 63 miles of track and trail from Lewknor in Oxfordshire near the M40, crossing the Thames at Goring and Streatley and then the M4 to one side of Swindon, tripping past burial sites, iron age forts and chalk hill carvings. Th Ultra run is approximately 2 and a half marathons in length and about 1300 start out to run it non-stop with a similar number camping and making a weekend of two 50K efforts.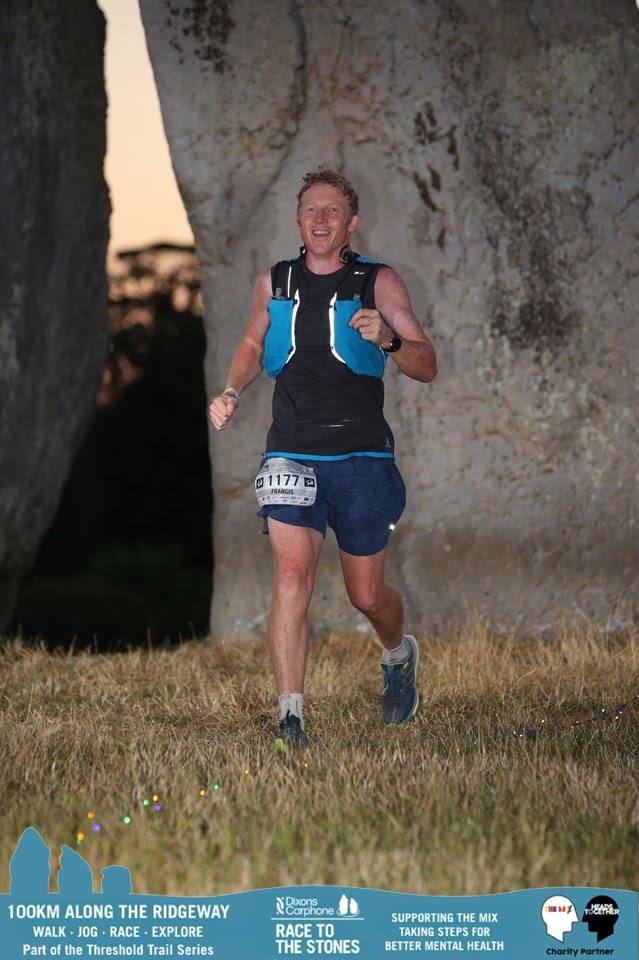 I went non-stop, taking 13 hours and 53 minutes or, perhaps more informatively 150th place out of 900 finishers. The temperature for the day hit 27 degrees early and stayed there, about as tough as you could wish for. Heat attrition vs drizzly conditions in 2017 made an hour and half's difference. For comparison, the 150th finisher in 2017 took 12 hrs 22.
Of course, finishing was the real aim, and my race was nearly over 38Km in when my gut twisted in a very unappetising way and I spent 20 minutes trying to get things right at the 40K drinks 'pit stop'. I found a way to progress with caution, the pain dissipated at 55Km, worked out that I could keep bananas down if not much else, and I felt stronger right to the end, coming past other runners for the 45K from there all the way to the finish. It was wonderful to come in feeling strong – especially when the sun finally dipped and with my family very actively supporting. I'm not sure it is normal to wish it could all go on longer but that's how I felt. The smiles had long replaced the pained and anxious face I had worn at the halfway point.
It was inspiring too, to have such a weight of FMBE industry supporting and donating to Howard's Way. That is what it is all about. Together, our walking group and the broader event industry has raised £375,000 to combat Pancreatic Cancer and there are positive developments on that front to look out for in the next months and years.
Thank you to every who has supported. Nicky Sanderson, Powerforce, won the 'guess my time' competition with 12.57, nearly an hour too positive (everyone was positive), but probably what I would have managed with 4-5 degrees less to combat!