by Frank Wainwright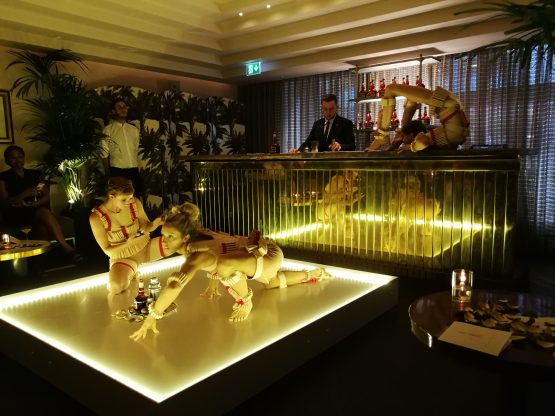 Semi-improvised contortionist dance met extreme mixology in this elite high fashion hotel encounter, where beetroot-laced cocktails were pirouetted into the hands of an agog throng.
Well, that's a sentence I have waited my lifetime to write and at last an event has turned up to fulfil the fantasy.
And what a fantasy this was, laughing in the face of anyone who'd be tempted to label it pretentious (me).
OK, let's get this straight, I'm on the edge of being a bit too old and jaded for such wilful artistic expression, and I am a little short of the right brand of beard oil to slide through Soho's Mandrake Hotel's lobby completely comfortably. But I am blessed with the a 'nothing ventured' outlook and a desire to see brands doing things bravely, edgily and with polish.
Let's get the 'been there, seen that' bit out of the way first. Courvoisier has been this redolent way before with ticketed London theatrical events that embrace art, culture, cocktail alchemy and youthful sophisticates in equal measure and Martini, Campari and Bombay Sapphire have all been brands that reference history by evoking a wondrous timelessness. Bombay Sapphire's emotively produced Grand Journey even whipped the 'Grand' carpet out from under this Grand brand's feet.
But nevertheless, I'm calling a high score here for originality here and a higher one for polish. The wow factor in this came courtesy of agency Produce, a team who really know how to captivate an audience. The devil was in the detail, getting designer Phoebe English to imagine these outfits whilst engulfing the onlookers with chiming sonorous aural abstraction, lighting the shadowy contortions with a bronzing glow and, most importantly of all, selecting a mixologist whose taste combinations were outlandish on paper but astonishingly assured on the palate. This, after all, was a drinking celebration writ large. If you are going to bless a bottle with a trio of twisting nereids en route to the bar and deliver the resulting purplish glassful back to your audience with one beguilingly outstretched fingertip, then the drink had better impress from the first indulgent sip.
It did.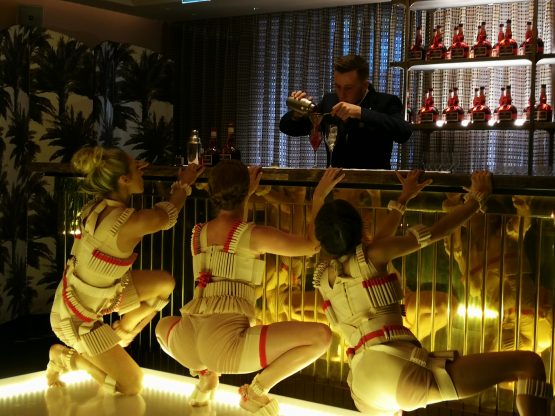 In all of the arty ambition here, no one forgot that the brand was the star. These cocktails were just outstanding and well worth the £25 ticket price. As part one of a planned series of #livegrand events, I will certainly hope to see more of this. Grand Marnier was, whisper it quietly, playing an awkward catch up with younger audiences 5 years ago with a Bubble Bar event series that fell a long way short of expectation. This event was something an audience revisit half a generation later, and lessons have clearly been learned.
This performance was very intelligently thought through, inspired by the cocktail experience and I think that is why it hung together to well.
Here's how Phoebe English discussed her ambitions with The Grand Experience:
"I wanted to create an audience activated experience aiming to amplify, emphasise and expand the alchemy of producing a cocktail. This often mesmerising experience, I have always felt holds magic at its key, the anticipation and excitement of watching the components performatively come together to their climatic, final, beautiful end is always fascinating.
As if watching a magic spell, the creative process of cocktail production is the basis for this performance. Enhancing the flavoured components by portraying them as physical manifestations, using contortionists to both visually portray these elements and to produce the drinks the audience will enjoy.  Combining extraordinary flavours with extraordinary bodies."
A Tale of Alchemy genuinely did this and in doing so authenticity won out over pretention. We were all too cool to applaud this on the press night, hence my belated words written here. Well done, indeed.
There were three performances of A Tale of Alchemy on each of the two nights on the 18th and 19th July. The contortionist dancers were from Chivaree Circus Company. Limited tickets were available and priced at £25, which includes a seat at the performance and two cocktails created by The Mandrake Hotel. 
Grand Marnier invites you to #LiveGrand, boldly twisting traditions to create the unexpected. Drink with style. Drink responsibly. https://www.instagram.com/grandmarnier_uk/