Words and Pictures – Frank Wainwright
It would be an easy pun to say that brand 'basketball' is bouncing back after COVID. But moves are certainly afoot in the sport – with London Lions in the vanguard – to showcase the matches as a true event experience.
In terms of audience and reach, basketball offers up something unique, a strong multicultural community fanbase that is primarily urban.
The absolute key element that is going to underpin any growth is sporting excellence. This is on the up both for the team and the sport. In European terms London Lions set the benchmark last Autumn making the greatest ever progress of a British team in the FIBA Europe Cup by getting through their initial group to qualify for round two.
Domestically this season, the Lions played catch up after their European travels, very nearly hunting down the dominant league leaders Leicester Riders, being edged out in the championship playoff final.
The success has brought about a court that attracts some large attendances to London's Copper Box Arena. My daughter Lily and I attended with 1800 others, the end of season play-off semi-final vs. Bristol Flyers that London won 91-73, with man of the moment Isiah Reece continually lighting up the scoreboard for London.
It was certainly exciting to witness these giant athletes in fluid muscular motion. We had also been impressed by a very inspiring display by London's highly successful Women's team in the afternoon of the same day (pictured below), though the focus on growing the sport is based around the men's team for now. That's where the razzmatazz is; it was easy to observe just on head counting that the men's game's appeal reaches a high percentage of female fans.
1800 fans are not a huge gate vs football, but this is a knowledgeable and committed fanbase. I'm sure that the fans would likely appreciate any brand that is seen to be helping the sport to grow in calibre and status. There's a chance to become build a strong association without competing against the noise made by multiple sponsors and non-sponsors looking to overwhelm your front of mind connection.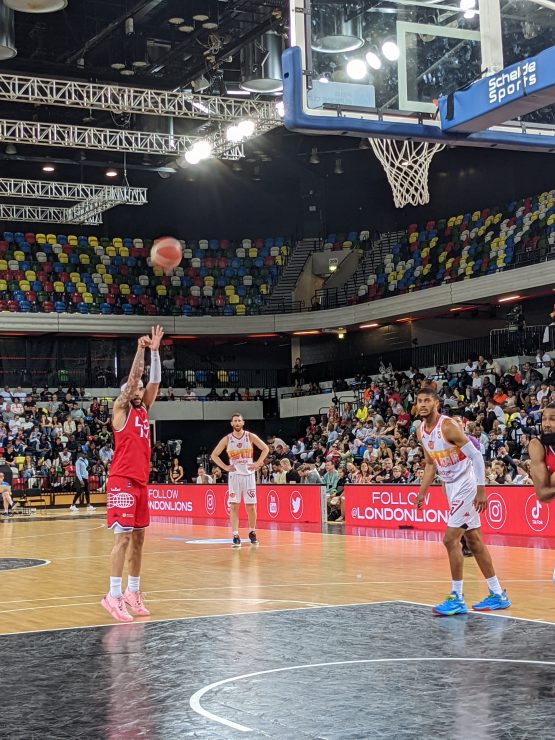 To attend a British Basketball match you are likely to either be enshrined in the sport or to have come to it by proximity – to the players, their friends, their family, or the broader community. The teams are making a special effort in their communities. America's NBA matches are the ones that are top page on the BBC Sport website. It will be interesting to see if the current levels of time and money being invested in the British game can ramp up impetus.
The London Lions have deployed agency Sidekick to help. Sidekick is London Lions' retained marketing and ticketing agency with 2 focusses: growing the London Lions brand and putting British basketball on the sporting calendar.  The Lions have an ambitious multi-year plan with a clear strategy for on-court and off-court growth.
Sidekick's Tim Davey is Group Account Director at the agency. He told fieldmarketing: "We have been working with them since February and our in-season focus has been producing and building their ticketing strategy through affiliate marketing, experiential and social plus driving attendance to the games by targeting local and key areas in London to directly engage with potential basketball fans through experiential tactics.  During the off-season our focus will switch to brand building through events, experiential and social.  We'll then look at revamping the in-game experience for a fresh approach for the 22/23 season."
It is certainly encouraging to see a long terms strategy allied to a long-term agency plan and this augurs well for the ambitions.
As 'London' is such a huge market, it is encouraging to hear that a targeted and localised approach is being taken. The Copper Box is the Lion's home venue. In 2012 it was under a global spotlight. Now the basketball team operates in the shadows of another local sports team, West Ham United, whose presence in the Olympic stadium was controversial both for those who had national ambitions for the facility and for local fans who needed to be won over to a new journey to the Olympic Park. West Ham is winning that battle. Certainly, arriving and parking at Westfield, The Copper Box seems a good balance between a commanding presence and a modern, accessible venue within easy reach of the heart of multicultural East London.
Davey adds: "The London Lions themselves have built up an impressive local community outreach programme with many affiliations to Universities, Secondary and Primary schools in the local and surrounding boroughs.  They have a number of initiatives ongoing such as school visits and assemblies with players to engage with the children and talk about their path to playing professional sport."
The London Lions is a local team, operating in a global city, playing at a European standard, with facilities that would allow them to expand. As Lily and I discovered, it is already an exciting package. We loved the quick scoring high voltage sporting action and the dancing and cheerleading. We left with a bounce in our stride.