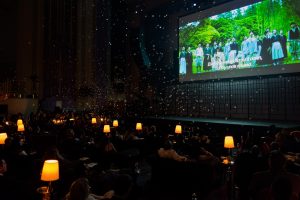 On Friday 14th April Troxy, London played host to Secret Cinema X Tell No One- an immersive preview of Chan-Wook's 'The Handmaiden.'
The event saw attendees, dressed to the nines in evening gowns and black tie, gathering in the streets of East London for an evening shrouded in mystery.  Guests weren't told what film would be shown or the location of the screening but were given instructions and hints prior to the event such as 'You must not speak until the Master signals it is appropriate to do so' and 'In advance, prepare and seal a letter of devotion to give to a stranger.'
Upon arrival, we switched off our phones and put them in opaque sealed bags before taking our vow of silence. We were then led by lantern through a secret underground passageway and into the building.
Troxy was decorated beautifully with an East-meets-West fusion representing the Japanese/ Korean mansion in which the film was set and the 1930's art deco building perfectly echoed the era of the film. Actresses in hand maiden costumes led us past street food style stalls selling bento boxes and ice cream and to our seats. The tables were set with a Sudoku, origami instructions and a red lollipop, all small signs of what was to come.
We ordered our drinks, food and introduced ourselves using only pen and paper and, upon instruction, we wondered around the room to find a stranger to pass our letter of devotion to before settling down to be fully immersed in the film. On the stage below the cinema screen ran a large Shoji screen, lit from behind, which the actors used throughout the film by either waking through the door or using silhouettes to recreate what was happening on the screen above.
After the film, the Master of the House thanked us for attending and granted us permission to talk. Chairs and tables were removed and Troxy was transformed into a dance hall complete with DJ.
Secret Cinema X was a fantastic way to enjoy a film and bring it to life. The little touches, like blossom falling on the audience, created an immersive experience and the lack of phones and talking allowed the audience to suspend their disbelief and fully engage with the film.