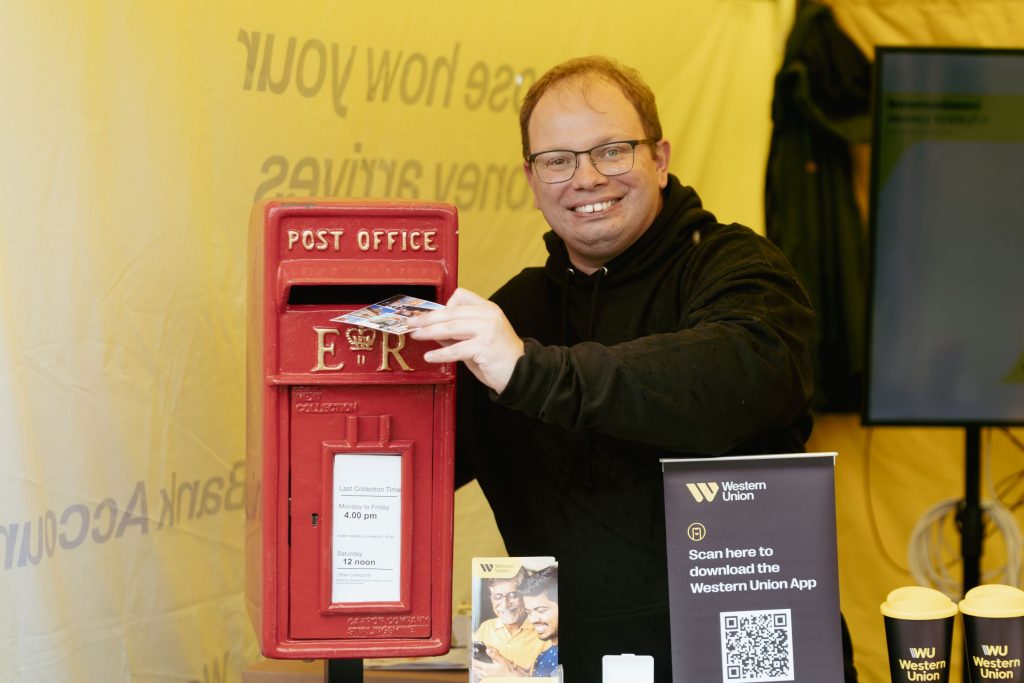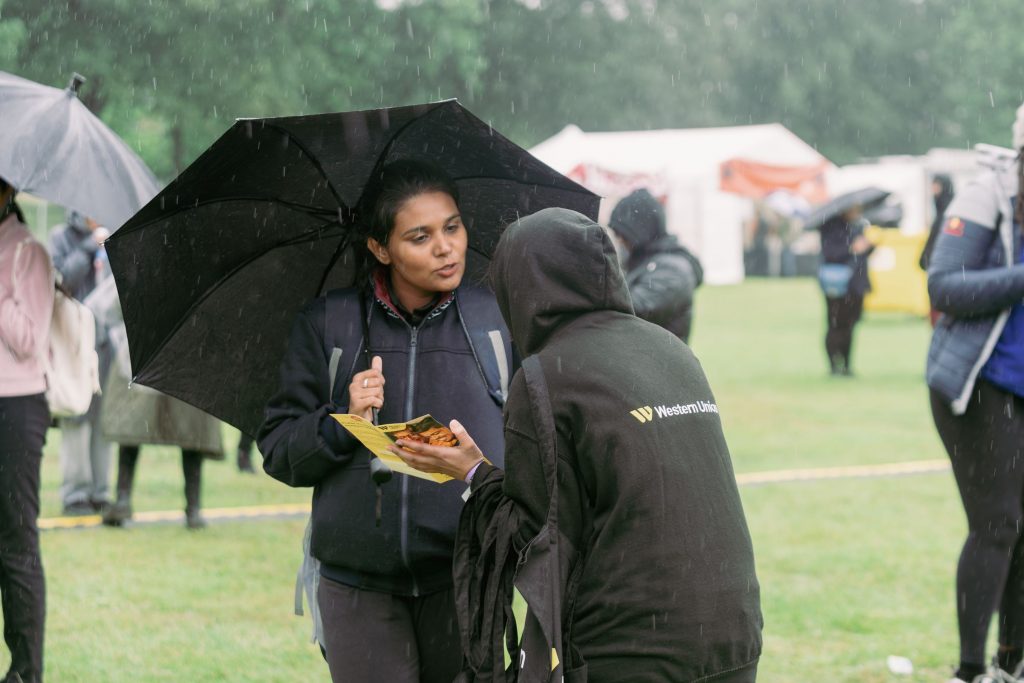 FMBE's Frank Wainwright spoke to GottaBe's Tomasz Dyl after his agency delivered a trio of activations at the festival
As a celebration of Southeast Asia, Birmingham Mela's musical and culinary celebration of the region and its influences is a joyful must on the calendar for many.
This year's headline sponsorship from Spotify marked the growing status of an event that is building a broad following whilst retaining a high proportion of attendees with Asian ethnicity.
It came as little surprise to hear that agency GottaBe! Was out in force at the festival. GottaBe!, like the festival, has mainstream appeal, but has always thrived by helping brands to make a genuine and effective connection with ethnic minority groups.
At Birmingham Mela Gottabe! was flexing its multicultural muscle for three brand promotions:
Western Union
Ding
Severn Trent
The event itself wasn't all plain sailing as  the weather took against with enough rain on the opening Saturday to dissuade the vast majority leaving Gottabe! with three sets of client expectation to manage:
"When you are setting up in torrential rain" says GottaBe! MD Tomasz Dyl, "you look for a plan B." GottaBe! mitigated the very low Saturday attendance by turning their focus to engaging with traders.
Plan A returned to favour on the Sunday, when the rain relented a bit and determination for a good Mela took over. Suddenly the event was transformed from slim pickings to an abundance of enthusiasm. Says Dyl, Sunday was "packed with people the point where there was no phone signal because of the volume of people connecting and streaming."
That in itself was a challenge for Gottabe! who were using app download as a core part of the connection strategy for Western Union and Ding, but Dyl's teams were unphased. The proactive brand ambassadors of Saturday became the patient ones of Sunday, carefully steering stand visitors through their moment of engagement and making sure that their visitors took away the key brand and product messages along with participation rewards. Reflecting on a challenging but ultimately rewarding weekend, Tomasz Dyl told me, "All clients acknowledge we didn't give up. We constantly think on our feet to deliver a positive ROI."
Western Union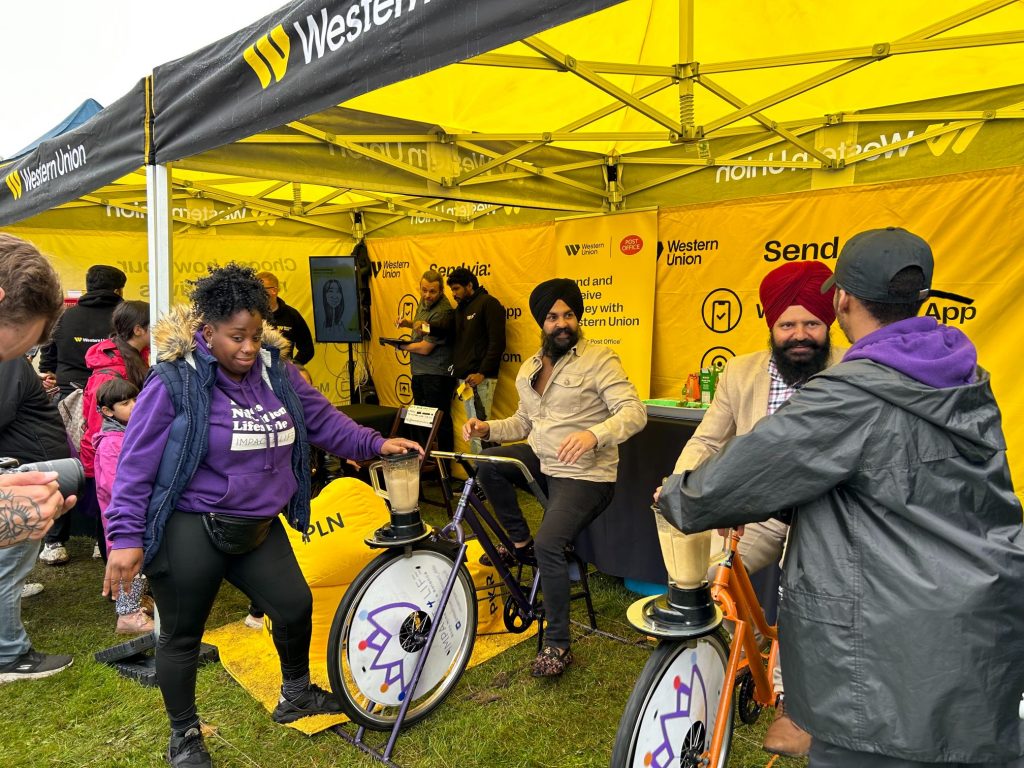 Gottabe! has worked with Western Union over a period of years and the brand and agency have learnt from experience that on a busy festival day there is a sweet spot between quantity and quality to make each engagement as likely as possible to provide Western Union with a positive result.
Western Union needs GottaBe! to educate, inform and entertain and the way that they do that mixes engagement and competition, and merchandise rewards for app downloads. Mechanisms used at Mela included a ready to send postcard from Birmingham Mela with letterbox (as demonstrated by Tomasz Dyl himself in the picture), giant dice to roll for educational currency trivia questions and smoothie bike racing with riders pedaling against each other to make Nimba Pani, an Indian lemonade. With 45,000 people attending Western Union knows it can't reach everyone and that matches GottaBe's philosophy – "As a company we stand for quality over quantity", says Dyl.
He also tells me that GottaBe! selects the tokens, prizes and giveaways for the promotion. At Mela app downloads were supported by a digital caricaturist on the stand, with giveaways including padlocks to represent security, and travel adaptors – items this audience would be likely to keep and use.
Western Union and GottaBe! had been at Birmingham Mela before and it is regarded as a great visitor profile. ""We definitely wanted to be back at Birmingham Mela – having had success there last year, " says Dyl.
Ding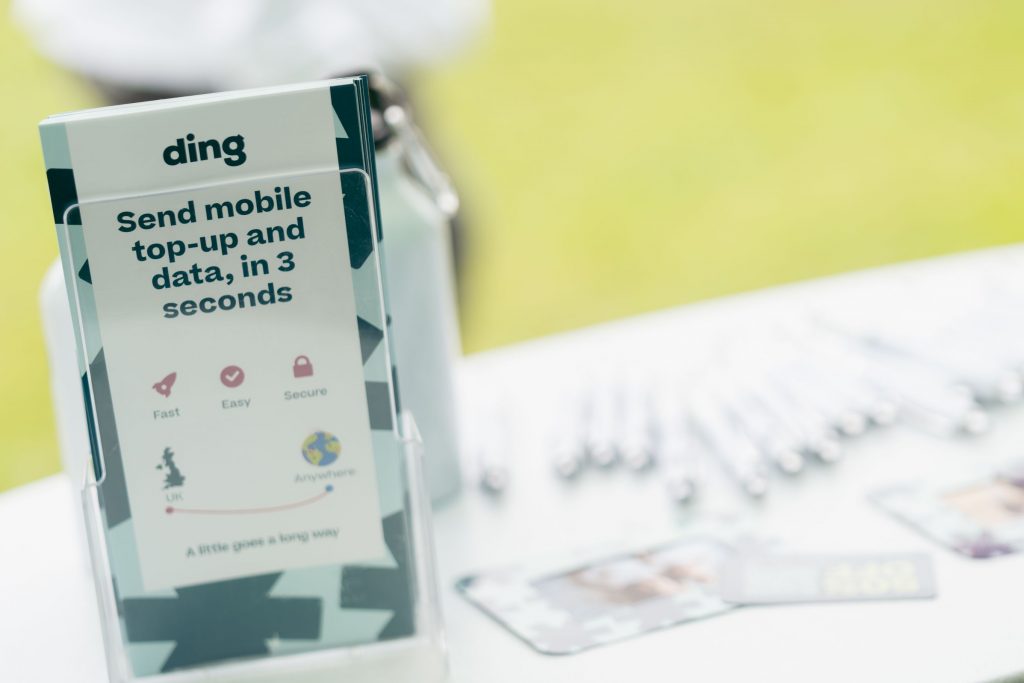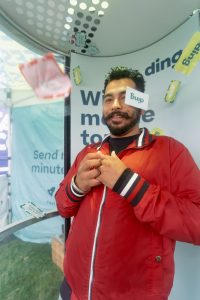 Ding is a new brand to me, and whilst probably better known to the families with a large geographical spread there is still an education piece to deliver so that familiarity and trust can be built. The brand is "The fastest way to send mobile top up worldwide", a concept that GottaBe! tackled by filming a video TV ad for its client. The video shows a man connecting on a data call with his mum, sorting a recipe when her data runs out mid chat. He is able to restore the call in moments by sending a data top up using Ding.
At Birmingham Mela the GottaBe! team had already learnt a bit about working with Ding as they had done the London Eid Festival at Westfield Shopping Centre together. The World Halal Food Festival, London Stadium will be the third and final stop for this summer's tour.
Whilst Ding is a less familiar name to Western Union, the educate and entertain mix was strategically similar. On the Ding stand brand ambassadors engaged stand visitors with magnetic picture frame giveaways for downloading the app and a money grabber game to try and pick up top up tokens, underlining Ding's message that  a little goes a long way.
As is typical for GottaBe! the brand ambassadors selected for Ding are bilingual with language ability that matches the event profile.
Gottabe! also makes radio advertising for Ding, in languages matched to the radio stations chosen.
Severn Trent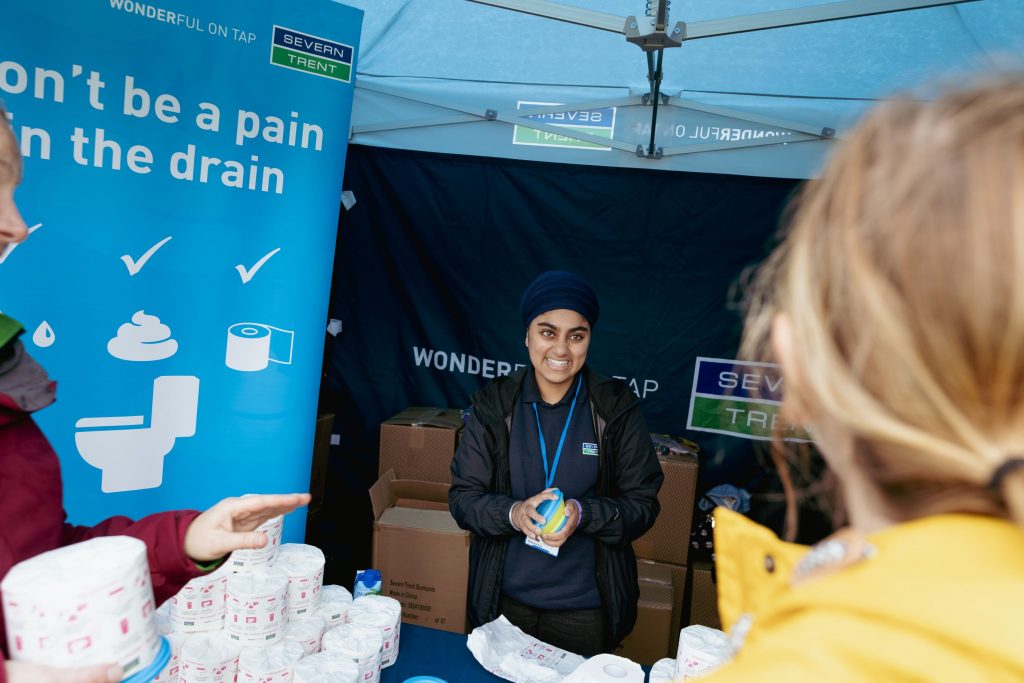 "It started in the middle of the pandemic. They came to us with the brief to reach people in Walsall and Wolverhampton…" Tomasz Dyl told me. He's talking about the call to GottaBe! that started the agency's relationship with Severn Trent water. The water company had realized it had an issue  – essential communication of the problem it has dealing with fatbergs. It's a sensitive topic in which a little bit of knowledge goes a long way.
Communicating the message of what should or should not be flushed or drained makes a better impact face to face. As Dyl says, "Engaging with a human being" is really the number one purpose of a company that could otherwise seem hard to approach.
The promotional team keep it simple with bamboo toilet paper and GunkPots to hand, the toilet paper lacking the plastics that are in some brands and so harder to break down in the sewers, the GunkPots being little containers to drain cooking fats into, where they can cool and solidify.
I asked Tomasz Dyl what the rewards were for Severn Trent stand visitors, and he told me that the reward was the consequence of understanding. Some ethnic minorities, he explained, come to Britain with a vision of a modern society without knowledge of the embattled Victoria infrastructure that still underpins much of our sewerage.
Once this is communicated the messaging is community focused with landlords keen to glean as much shareable information as possible. No one wants to be the inadvertent cause of a neighbour's blocked drain, and this campaign taps into community spirit and the desire to care for each other with small considerations.
It strikes me that community and ethnic minority marketing are quite similar strategies. By reaching a small number of group influencers these campaigns create conversations that spread through the group to the lasting benefit of the brand.