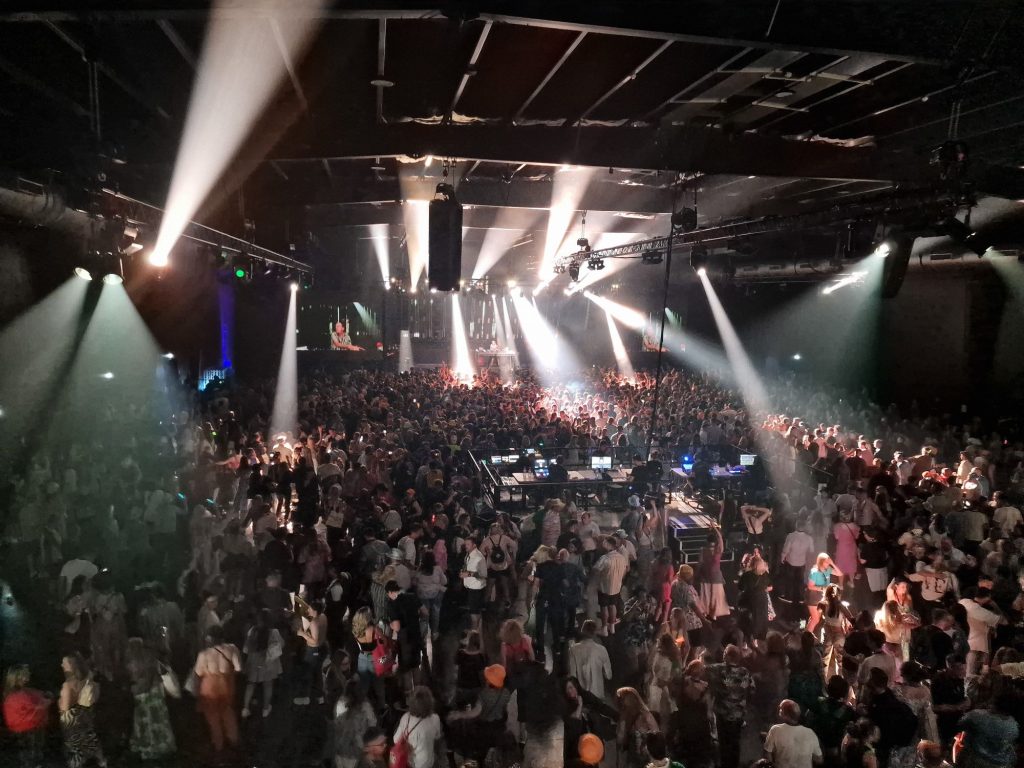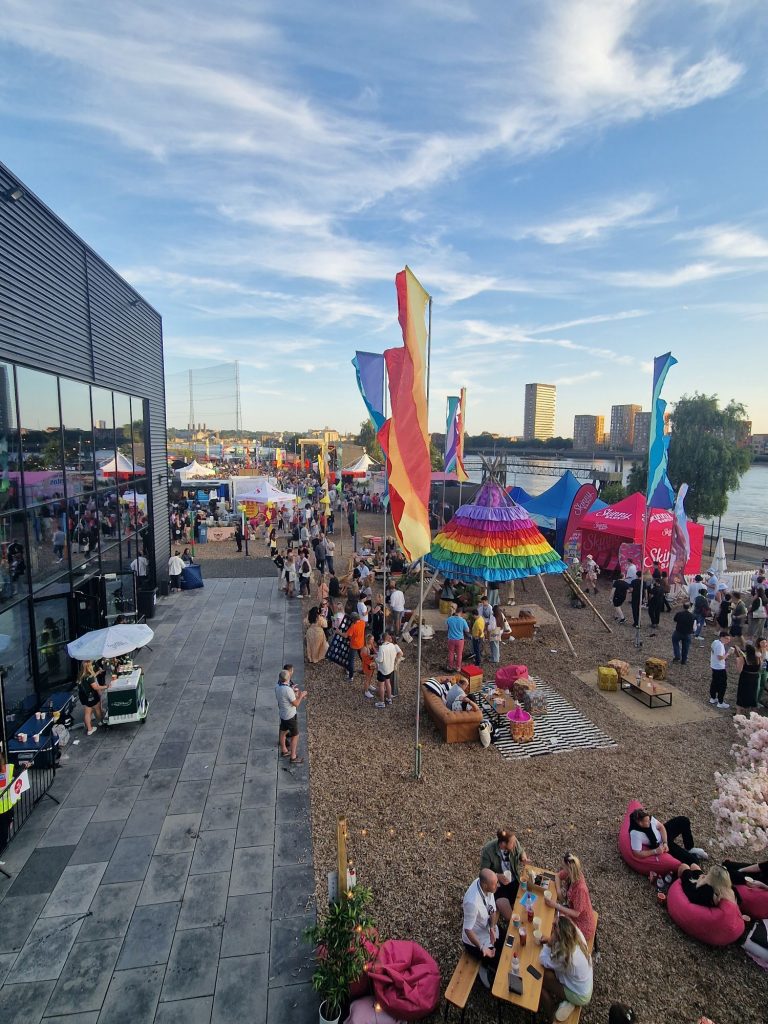 Words and Pictures: Frank Wainwright
Frank Wainwright and Victoria Lloyd went to this summer's Barcode Festival. Frank heard about the serious side of this wonderful event with GroceryAid's Welfare Director Mandi Leonard, and was then challenged to sample the work of 30 different promotional teams in 3 hours between arrival and the main stage starting. Could he do it?
This was my FMBE's first visit to GroceryAid's Barcode Festival. On arrival, on one of those glorious days in Greenwich, at Magazine London, just across from the O2, it felt like we had been many times before, not because it all looked predictable, but because we were immediately surrounded by old friends who assumed we had been before. And also, because each year this event gets a glowing report from around the FMCG and grocery world.
So, spoiler alert, we had a great time, and that'll be obvious from the pictures. But we did know that this fun was created with a lot of hard work on behalf of a charity that works really hard.
GroceryAid
At the heart of such a hearty celebration, the cause. The Barcode Festival raised an astonishing £1M for GroceryAid, and on the day itself I was lucky enough to sit down with one of the key members of the team that makes sure that money goes where it is most needed, Mandi Leonard, Welfare Director, GroceryAid.
Mandi has been in the role now for 6.5 years and has the broadest possible remit: "to support the whole industry."
Meeting Mandi, I was immediately impressed with the sense of 'now' she gave me. When many directors are asked about their work, they will tell you about their CV. Mandi's impressive past achievements would certainly show up as worthy credentials, but instead she plunged into her team and the financial grant programme they oversee. She wanted me to understand how it continually moves with the times. "We look for new ideas, new plans, as the work environment changes. The cost-of-living crisis is having consequences, and creating new challenges across the industry", she says.
GroceryAid is a large and well-funded charity and is expected to deliver a huge range of solutions. Anybody connected with the grocery industry can seek out the charities' help and it is clear from the numbers that they call upon it.
Alongside the cost-of-living crisis, Mandi told me that the rise in understanding and openness in mental health and wellbeing issues through recent years had seen the charity respond in kind, using its 24/7 free and confidential helpline.
GroceryAid offers support through all channels, including phone and online.
"Last year there were 44,000 incidences of support" she told me. Would that be 44,000 separate individuals? "As many of the incidences are anonymous, it's impossible to know how many individuals have been supported", she said, whilst at the same time confirming my assumption that nevertheless it would have to be a very large number of individuals.
Mandi was quick to illustrate this using the part of the grocery industry that I represented, Field Marketing. Any field marketer representing a grocery brand counts as 'industry' under GroceryAid's aforementioned broad remit. Mandi said that the 24/7 helpline is a useful support to field team members who often work lonely hours on the road. Whilst field marketing agencies have built up strong supportive and accountable wellbeing processes for their field teams, it can only be beneficial for field team members to know that a confidential call to someone who knows and understands their challenges can be made 24/7 – and that the person answering their call can direct them to further support. For instance, GroceryAid works with Relate counselling to support members through relationship challenges and break ups. It works with family too, offering Kooth, the charity that provides online counsel and support for 11–25-year-olds.
Given the size of the grocery sector, it should come as no surprise that the charity's reach needs to be extensive and diverse. "It is the whole breadth of humankind", says Mandi.
She highlights too that a number of people work part-time out of choice in the grocery sector, many because they have to combine work with care responsibilities.  So, GroceryAid can be a backup team, caring for carers.
At this point it had become clear to me that we would not be doing justice to GroceryAid to try to encompass its full range of support in one interview. It was enough, for now, for me to know that this charity was delivering support right now across immediate, short term and long-term need, and finding solutions for individuals and their families across a massive landscape of retailers, suppliers, manufacturers, brands, agencies and more.
Sampling the samplers
From the quiet space where we were sitting and chatting, a growing melee was building up as the party was downstairs and outside Magazine London was cranking through the gears. This party is for the industry and a large part of it is made by the industry with engaging support from the vigorous life blood of grocery, the jamboree and tastes, textures, flavours and new concepts that is the brand experience and sampling sector, together with its most engaging communicators.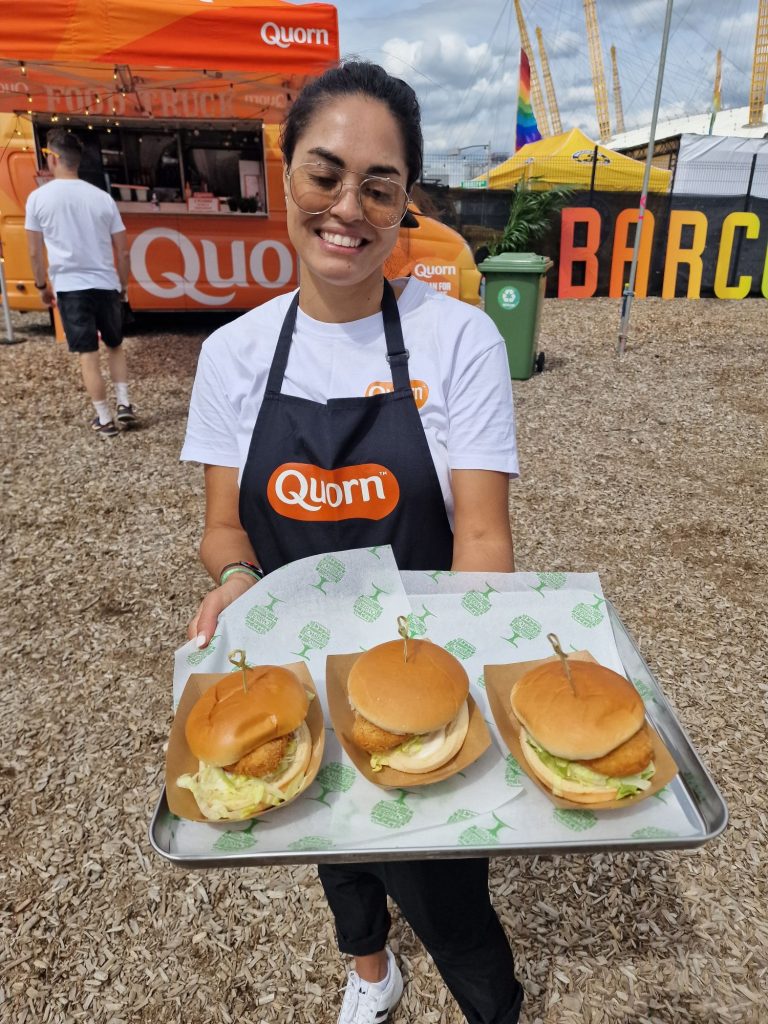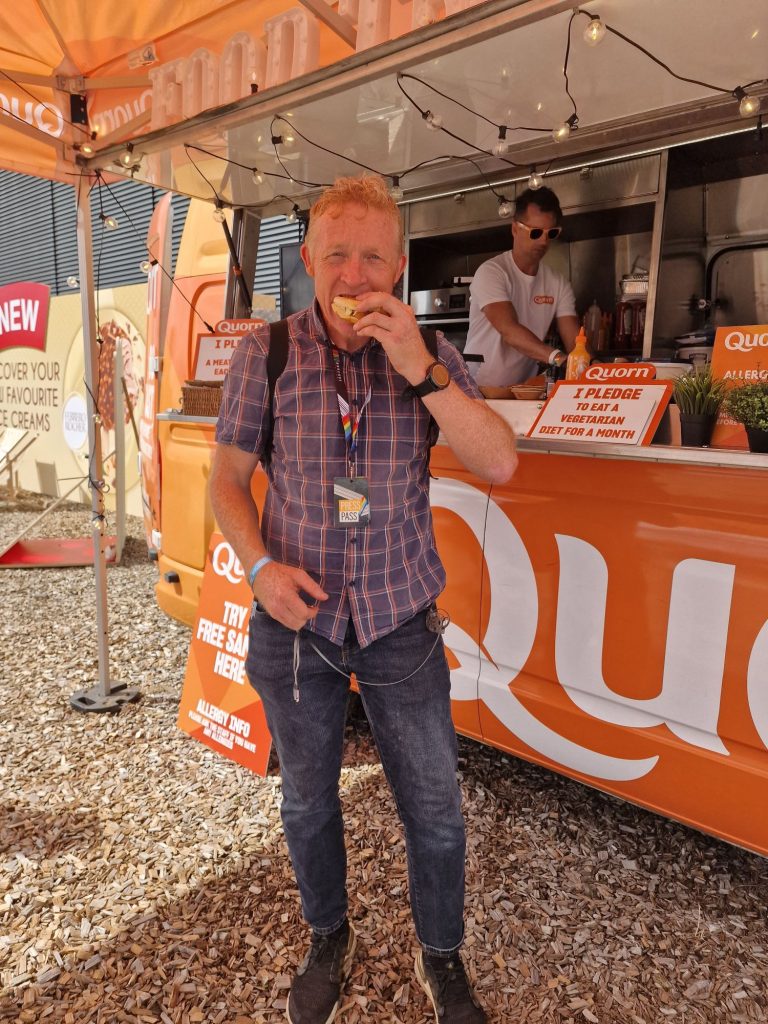 I started, as any 'sensible' person should, with a stomach settling Quorn burger. The van promotional space was being run and staffed by Link Communication and you absolutely could not question the quality of either the engagement or the perfect serve of a warm sample that came in a beautiful soft bun with a lovely balance of salad, sauce and crunch. First sample sampled and I was off to a great start.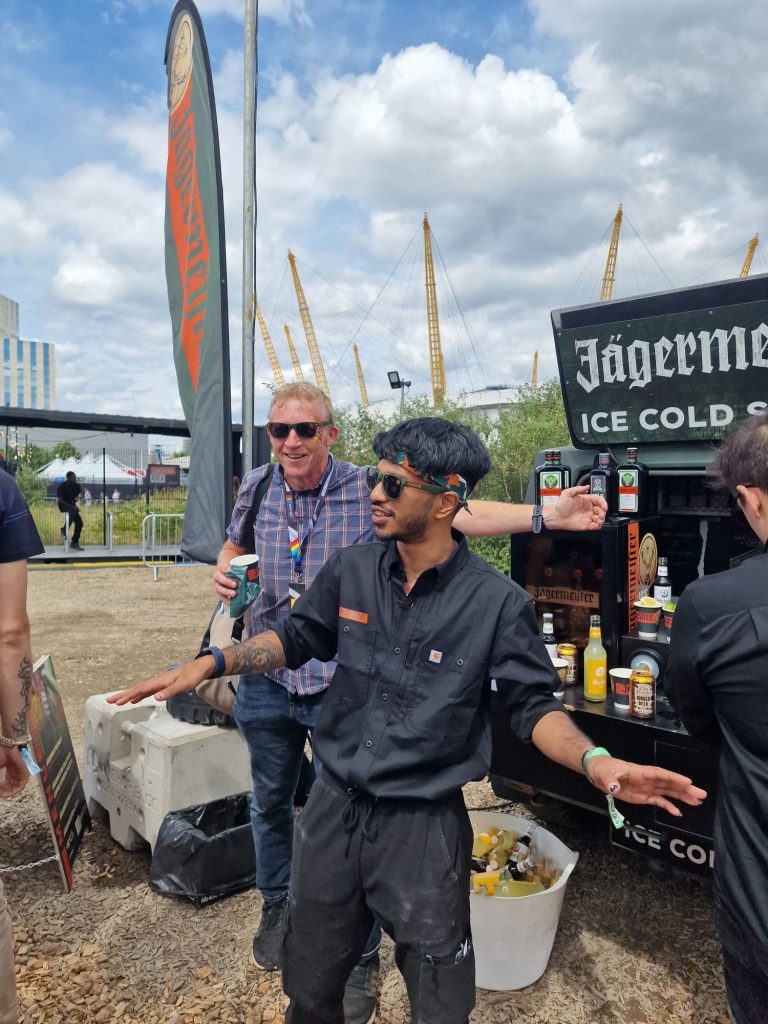 Next up, of course, a Jägermeister cocktail. Jägermeister is such an experiential brand and in 2019 they helped us with our guests at FMBE Awards. The promotional team has taken a bit of a dip since then. The guy staffing their small cocktail bar was lovely and engaging, but only once engaged. There's a difference. The best promotional teams swim through the crowds to meet you, have eagle eyes for the most enthused visitors, whilst the less effective ones wait to be met. This chap made me a glorious ginger cocktail and was so charming once warmed up.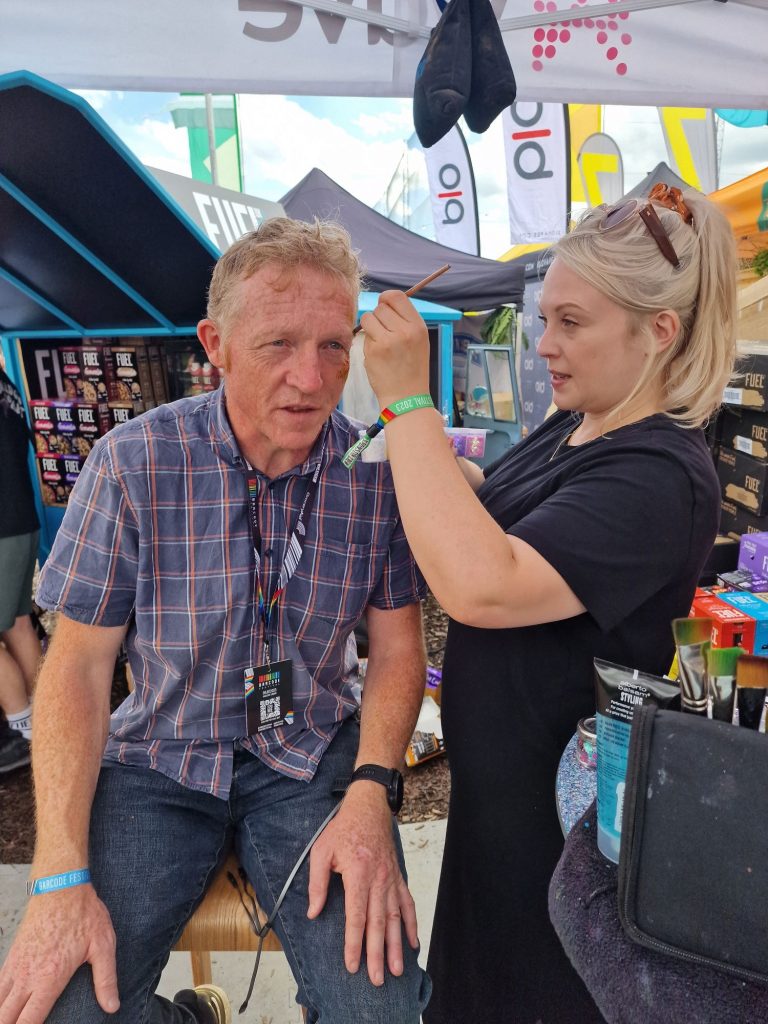 Stop three was with the promotional staff provider and experience campaigns organiser Wave, for the necessary glitterover. Wave were, very sensibly in my view, here to promote themselves rather than a brand they work on. And they certainly knew how to work a festival crowd with beams of enthusiasm and spirit. Their overt desire to promote their agency this way certainly worked on me, so I extended my connection post-event to interview MD Linda Gallagher for a catch-up piece. Scroll down for it.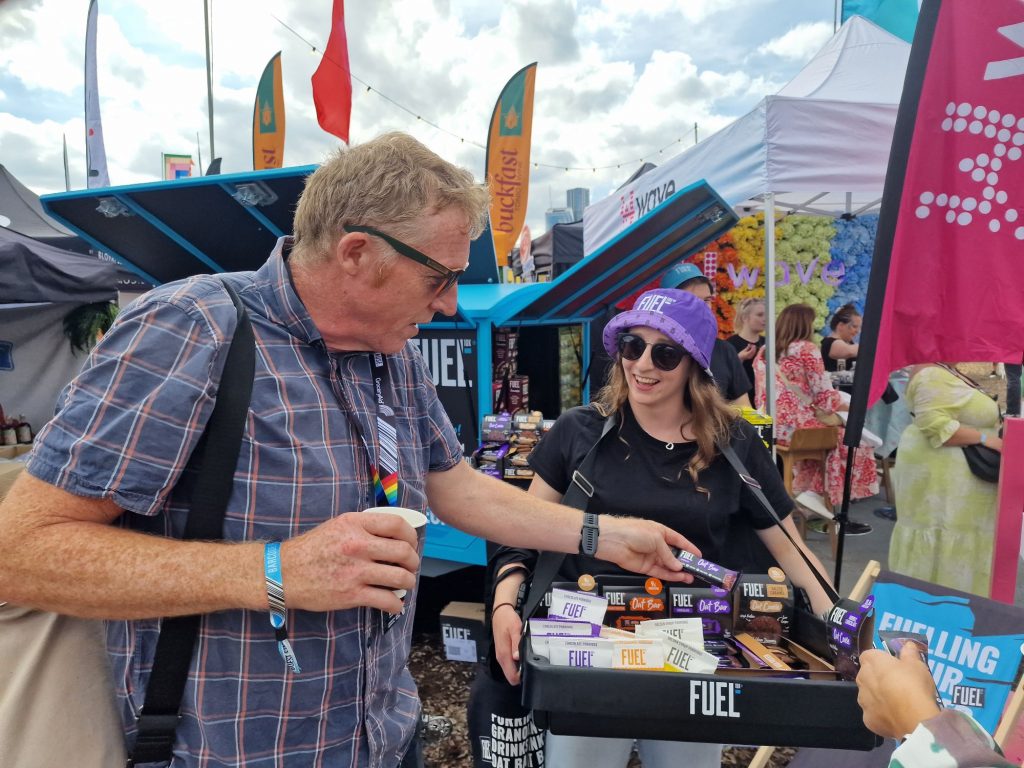 My next visit was to Fuel and another winner. I'm a bit predisposed to like Fuel as I'm also a runner-writer. I take their porridge to replace hotel breakfasts because my ultra events start too early, and Fuel is a popular brand with ultra runners in general. Fuel's protein oat double chocolate cookie is a good post-run re-energiser, so I was pleased to get a sample whilst discussing energy, and the Oat Bar I am holding,  with the well-informed sampling team.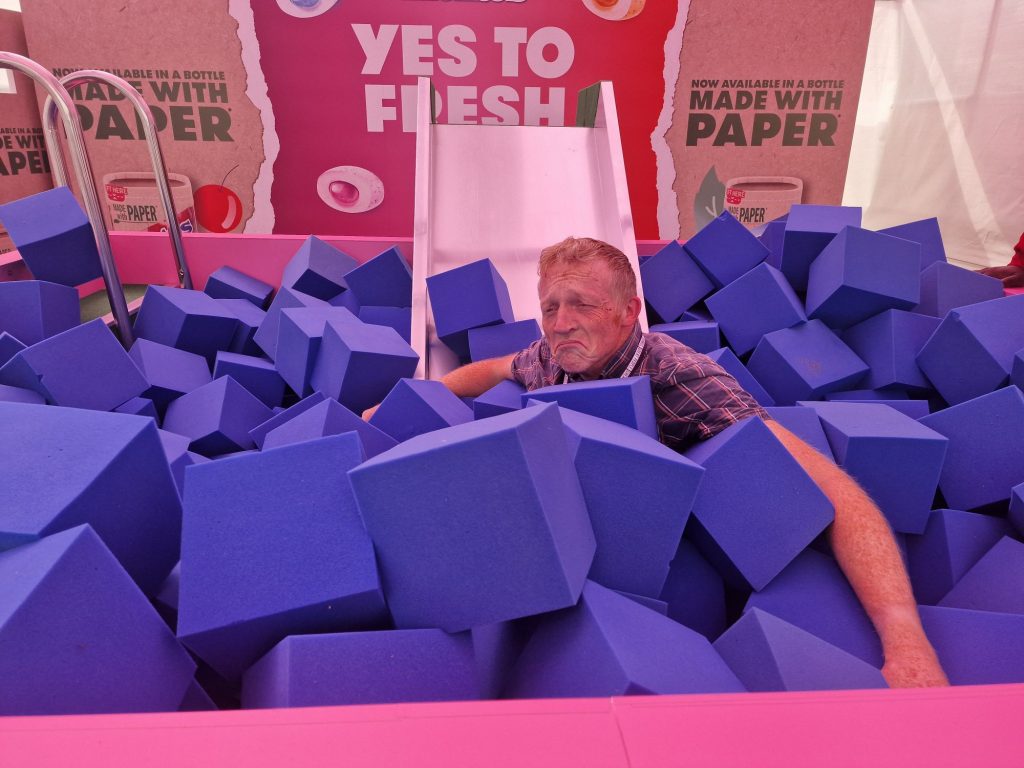 From eating for energy to a very energetic experience. Mentos used Barcode to celebrate their responsibly packaged new paper-board Gum skus with a game that plunged hunters of giant Mentos cushions into sponge block pool, with a time limit to find them in. It was a frantic and tiring game that I played with a decent audience watching, but failing to find all five in my allotted minute. We still somehow came away with a coveted Mentos' tropical fruit bucket hat though, a hat I later wore to acclaim at Snowdon Ultramarathon. The staff team for this one were brilliant and had come from N2O.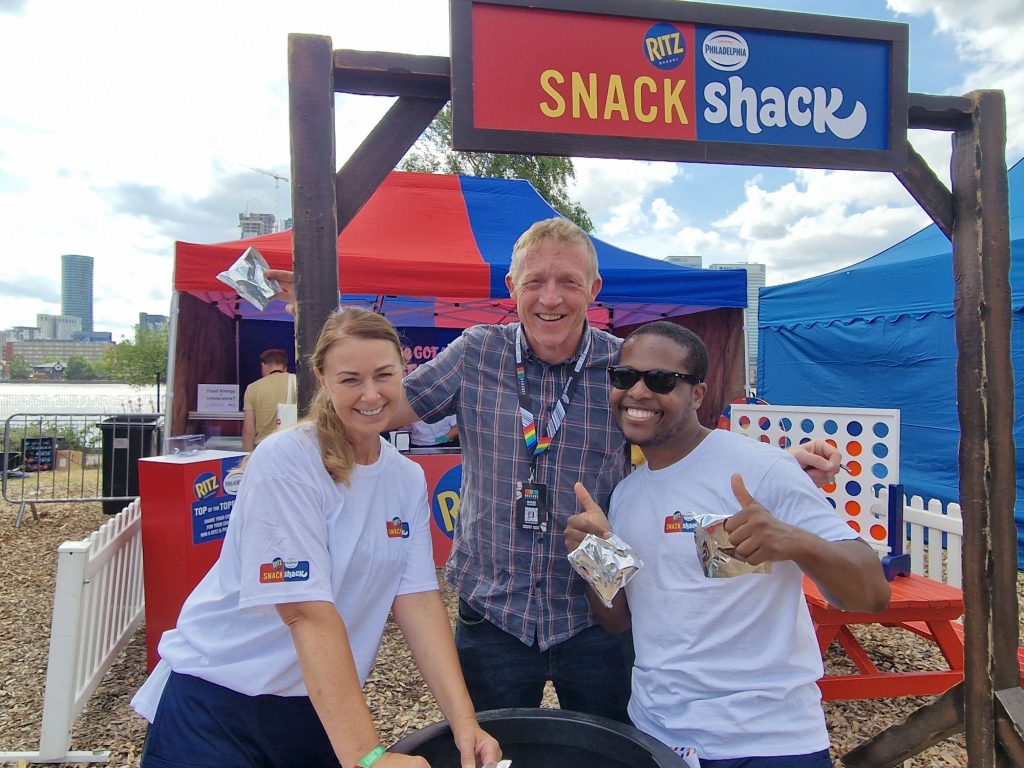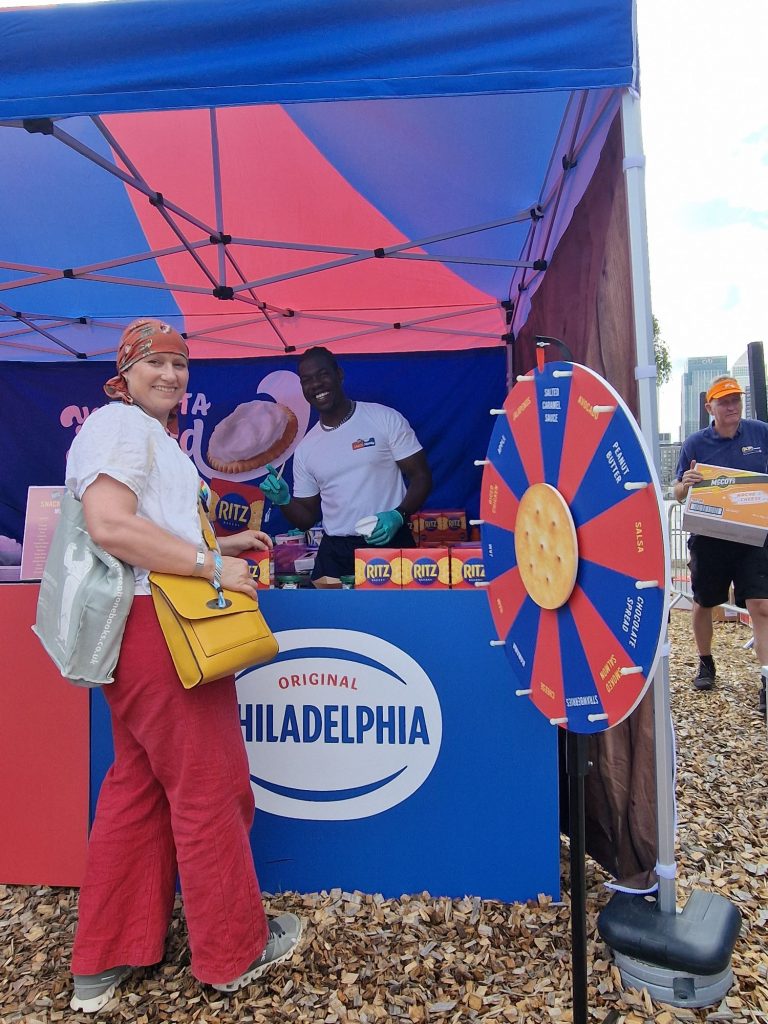 Next up was the Ritz snack shack with The Staff Room promotional team from BD Network who just wouldn't let us miss the excellent pairing of Ritz and Philadelphia with a spin to choose your topping device to hand. This was lovely and the team really worked to hero the product.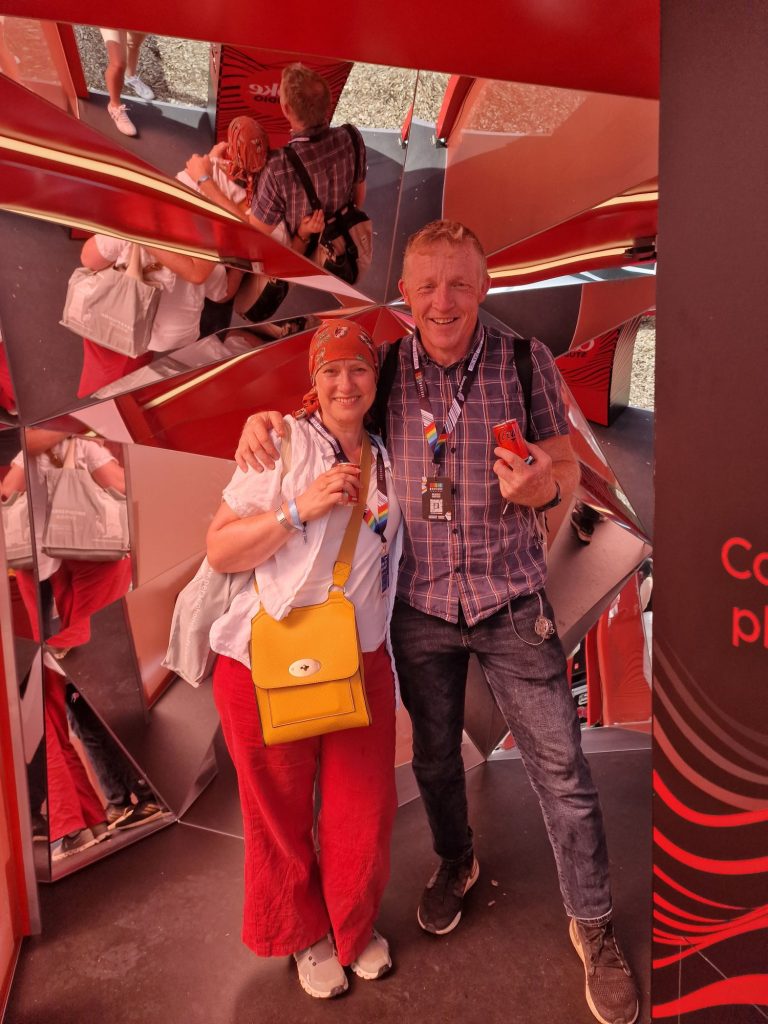 Coca-Cola next. This team is one of the best established with N2O providing the staff and activation. At the time of writing the agency and brand have just been brilliantly lighting up Brighton Pride. The same team were also the one who, just before Barcode, were the activation that met the activists when Just Stop Oil sat themselves in front of the float at the London Pride parade. The team were ready and able to answer questions about the experience without being corporate or guarded, something that was as refreshing as my sample can. The stand itself felt a little lacklustre given its lustrous heritage with a spin to win iPad game feeling a little tired and the lanyard that I consequently 'won' was hard to value. Post-event I did discover that it a fully recycled item.  The mirrored areas for photos were a positive, providing easy and accessible photo fun. Can crushing and recycling was also available on the stand.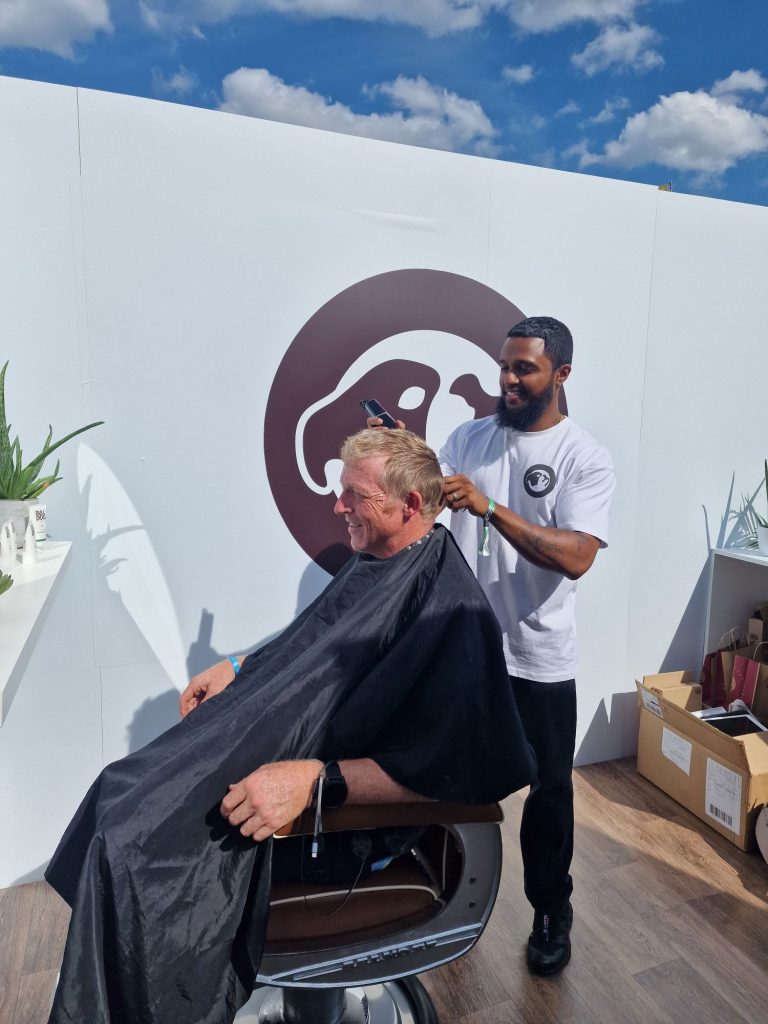 Experience eight was with Bulldog – and N2O again. The team here were suffering from the very popular Hawaiian Tropic give away – N2O again – next door. By the time they realised we were coming to them not heading for the sunscreen queue they were primed for trimming my non-beard. They talked me through the experience whilst I posed for the picture in their barber's chair, and it was nice to learn about the brand.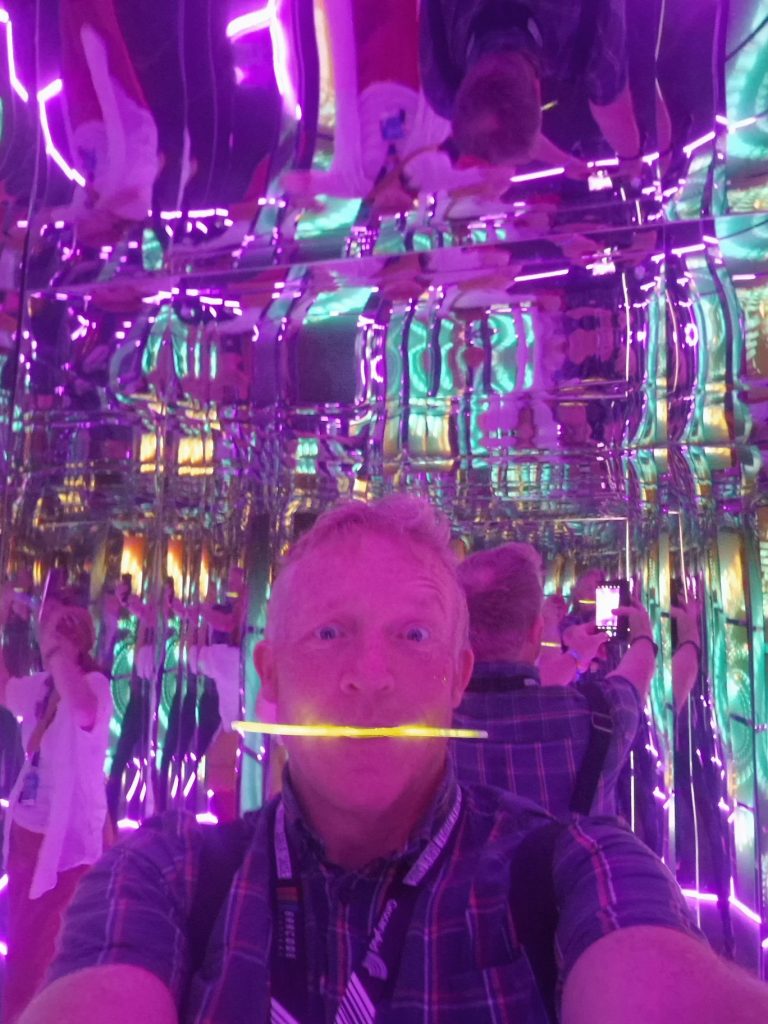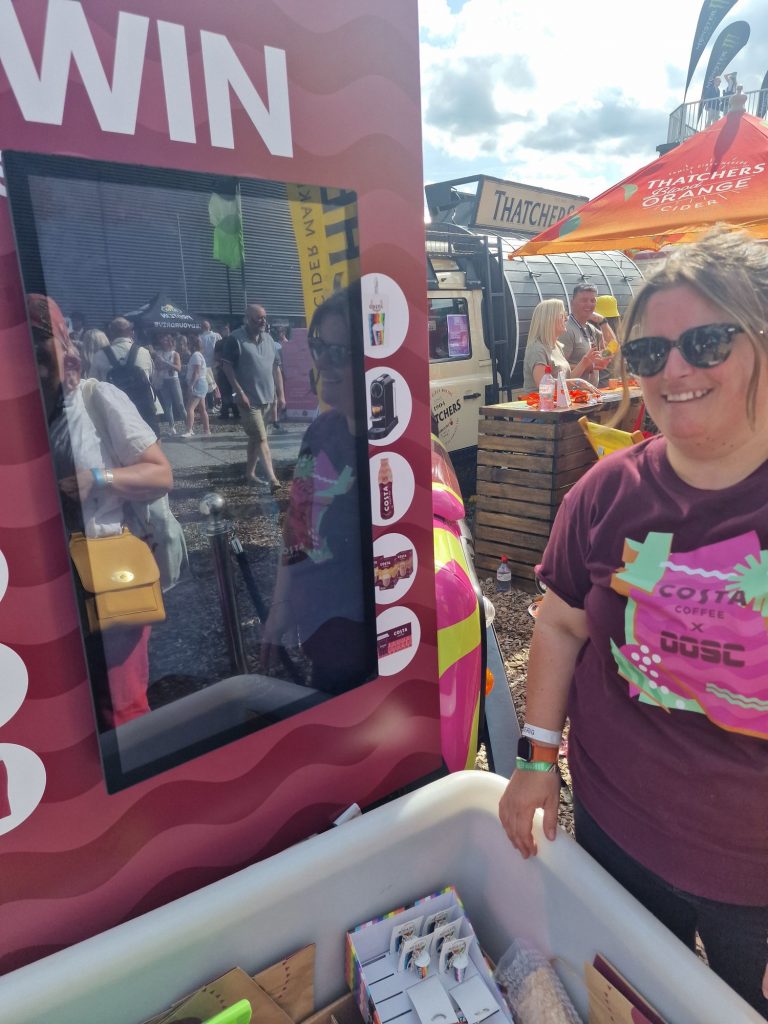 Costa, with a Circle Agency created experience came next. Some great cold coffee sample cans were very welcome and the stand itself proved a slow reveal winning fictional 'most immersive' award. A central chamber turned out to be a kind of mirrored party booth with different settings dependent on how chilled or exciting you wanted your experience to be. We asked for a party that changed it up from chilled to full on and it was really invigorating. Vicki also won a reusable coffee mug, something we both really liked.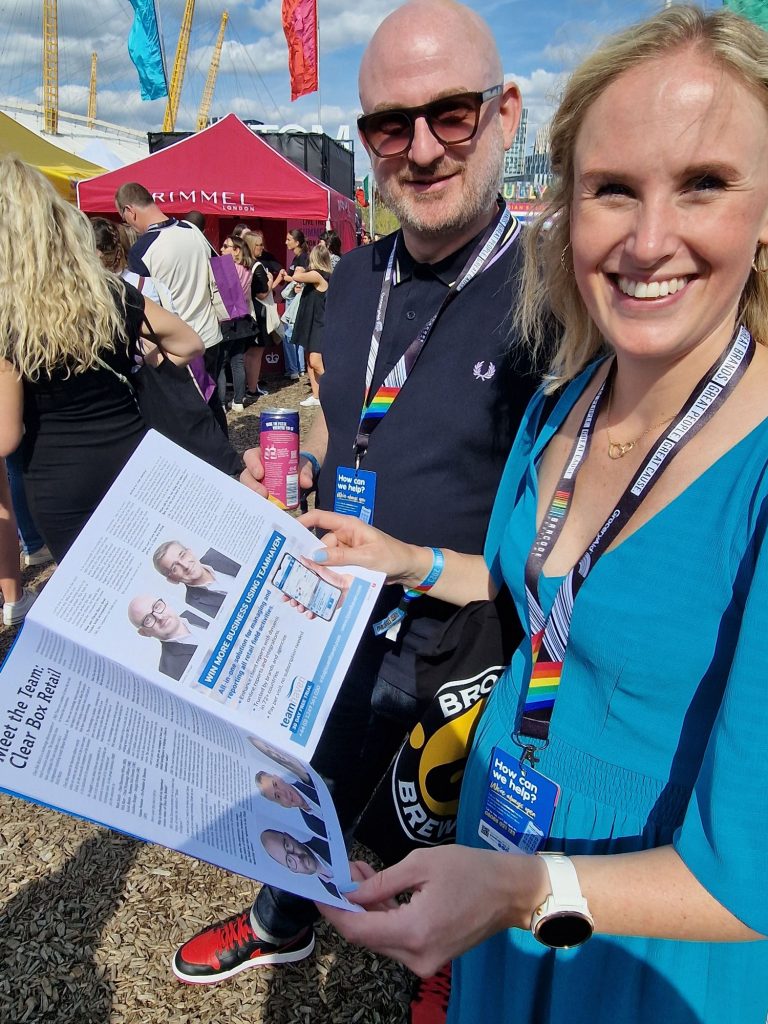 On our way to experience 10 we ran into Sarah Morris and Jonathan Monger from Clear Box Retail, both of whom were featured in FMBE Magazine that came out that day! Clear Box Retail CEO, Mark Smith is also chairman of the Barcode event, so it wasn't an out of the blue coincidence, but it was great to capture us looking at them, reading about themselves moment!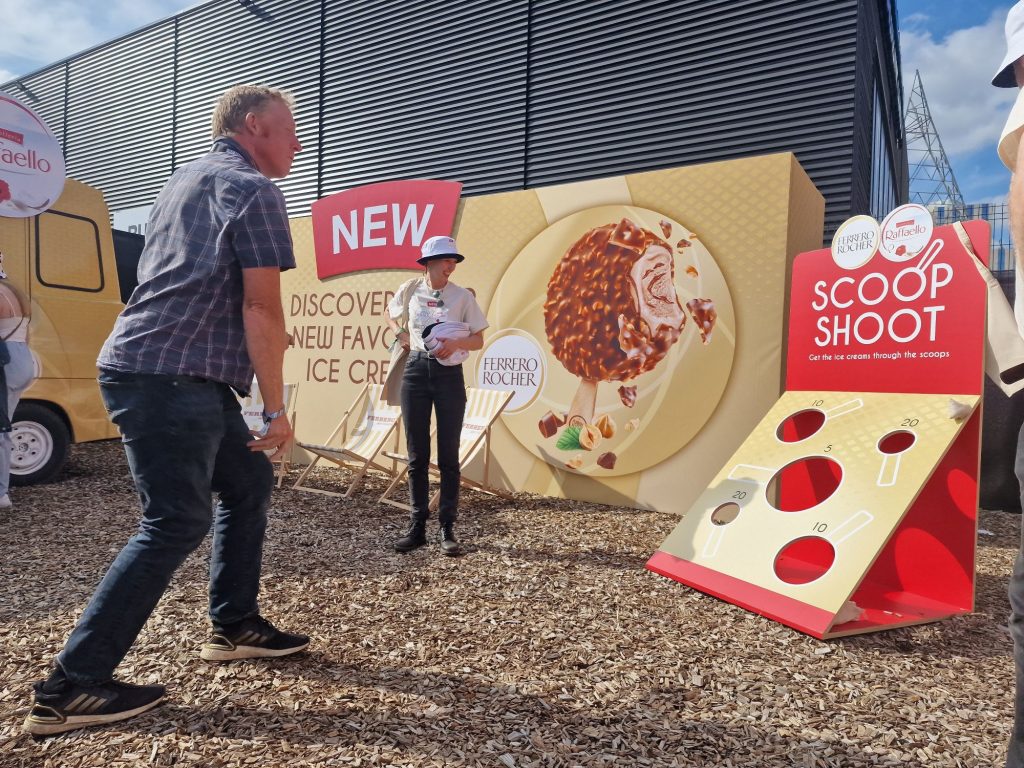 Experience number 10 was an ice cream stop for us and we watched the Scoop Shoot game from Ferrero Rocher deckchairs before I had a badly co-ordinated go myself, failing to score enough points for a win. The activation was by Sense, a team who are never far from our news this summer. The stand managed to be accessible, relaxing, have some tasty samples and the engagement from the team also hit the spot much better than my throwing arm.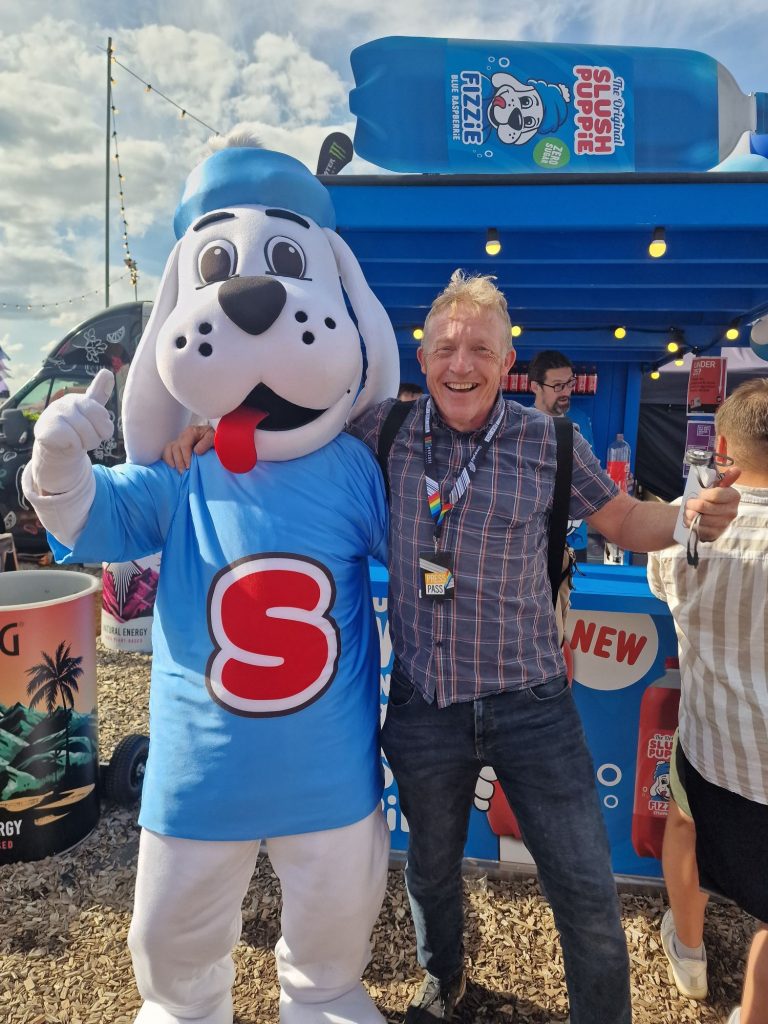 Who wouldn't want to meet Slush Puppie himself (for that was his pronoun)? I sidestepped the alluring prospect of a Slush Puppie cocktail drink and anyway – boo! – the icemakers were struggling. But I did give my mixed up stomach the benefit of some grape flavour fizz. Vibration Production were the team behind this.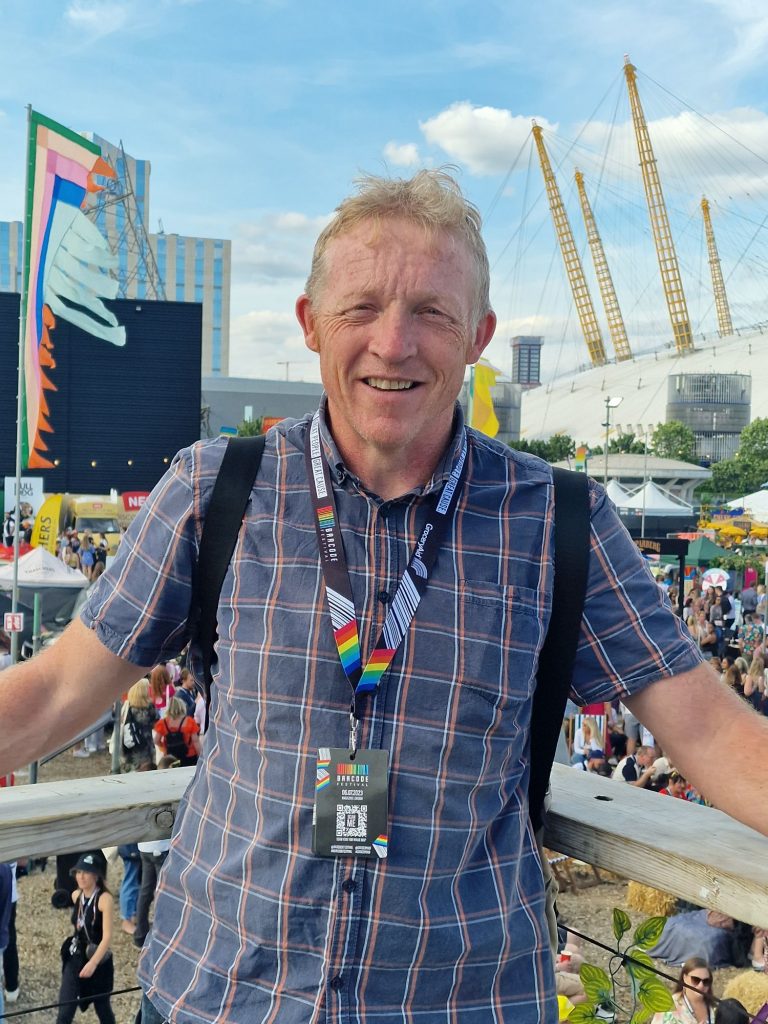 The next stop was really easy and we were able to play Monster off vs Red Bull as both had music and a second storey viewing platform. Monster was the bigger and bolder of the two and Red Bull was a spiral staircase squeeze. Red Bull won the day though as the Monster roof closed for a rest just as we got there, The Red Bull view of both the festival and of the O2 was worth the elevation.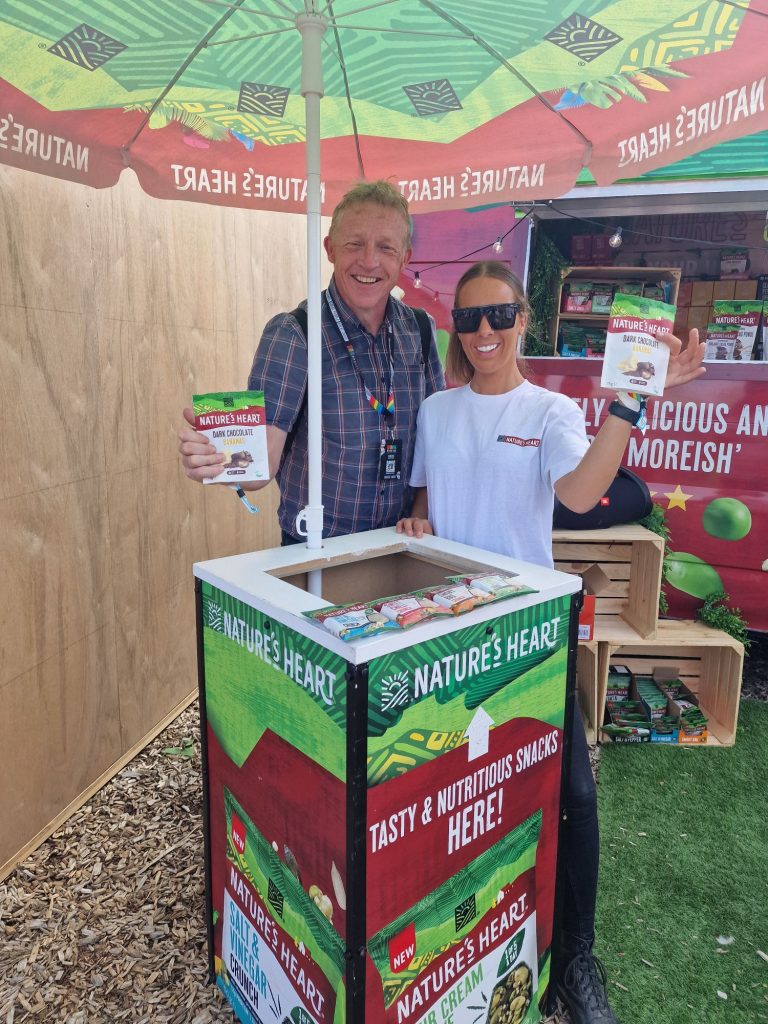 Nature's Heart was a very upbeat sampler supplied by Link Communication. I took a full bag sample of dark chocolate banana to take home and it was very tasty. This family business, now owned by Nestle, has managed to innovate in quite a congested healthy snacking sector and you would think sampling would be a core part of its marketing strategy.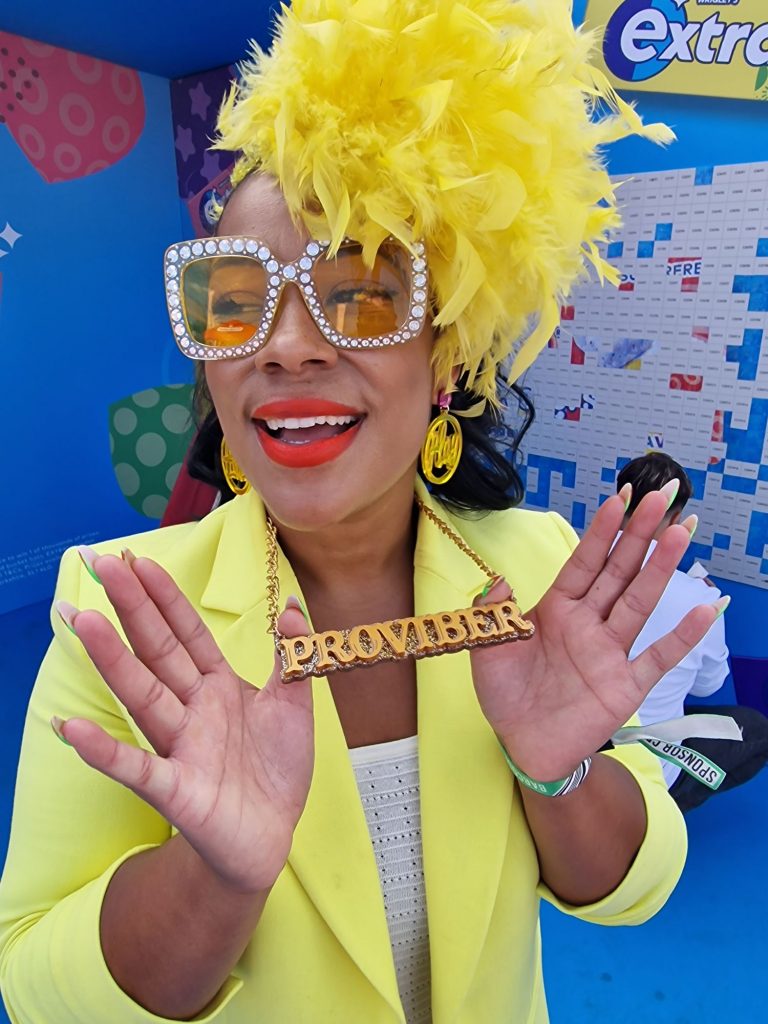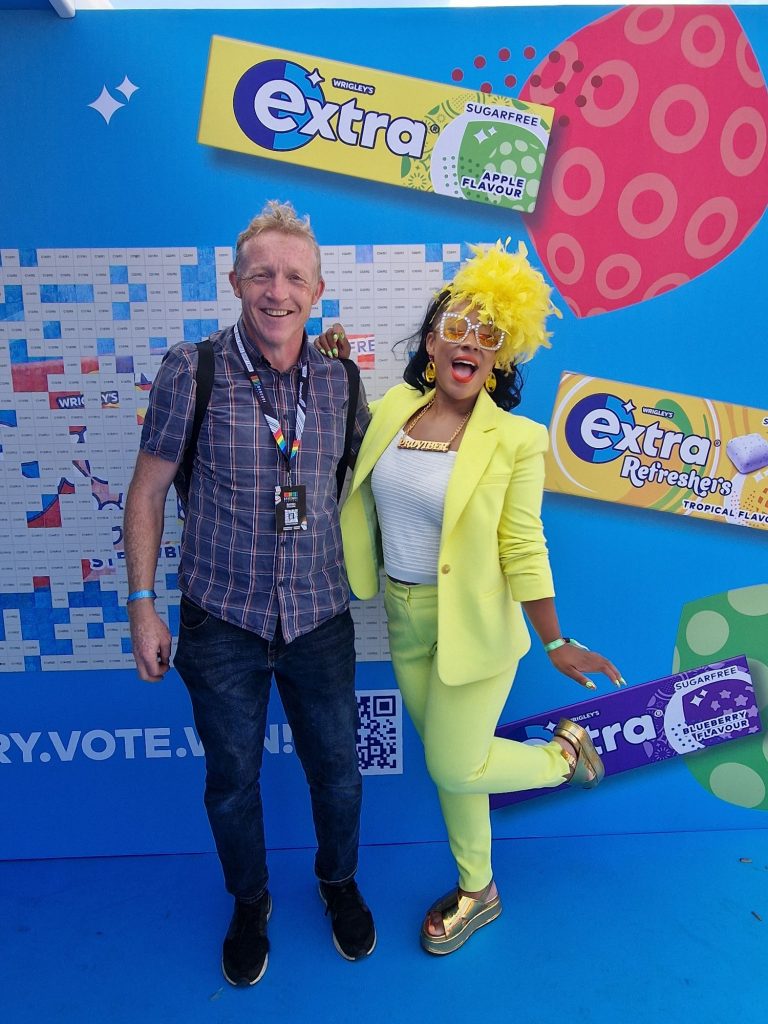 Wrigley's Extra was experience number 14 with a stand offering a photo booth plus theatrical engagement courtesy for fun loving talent agency Proviber.  It was a nice enough experience, chatty and upbeat, but the product messaging itself was a little lost even though the stand featured bright visuals.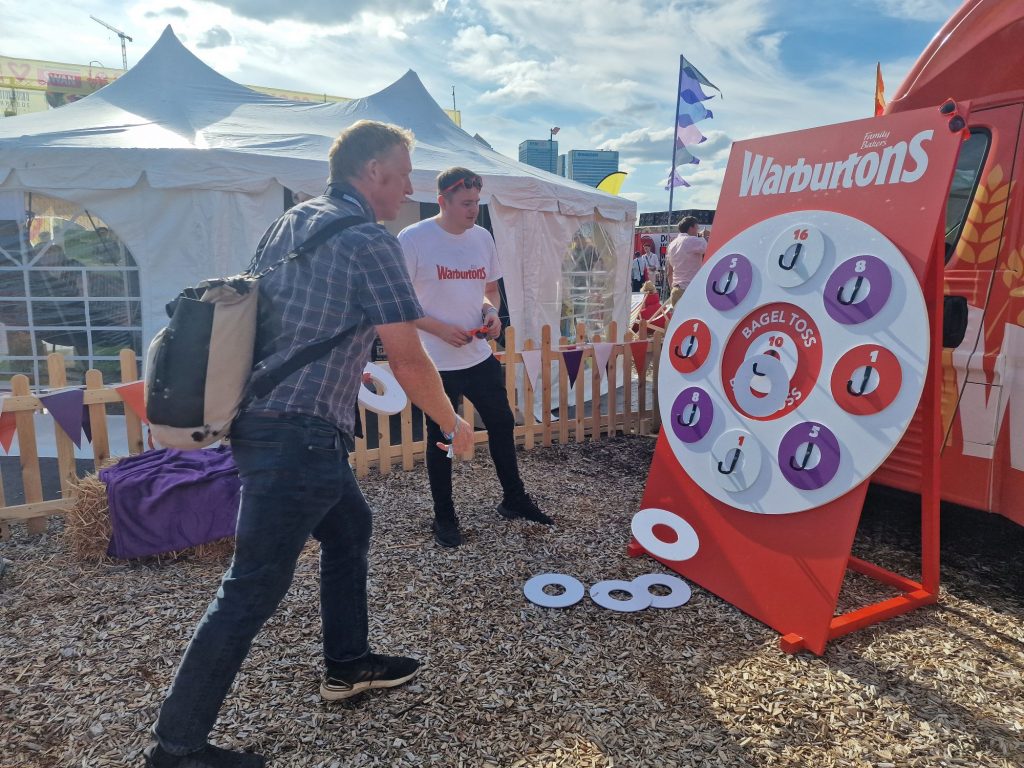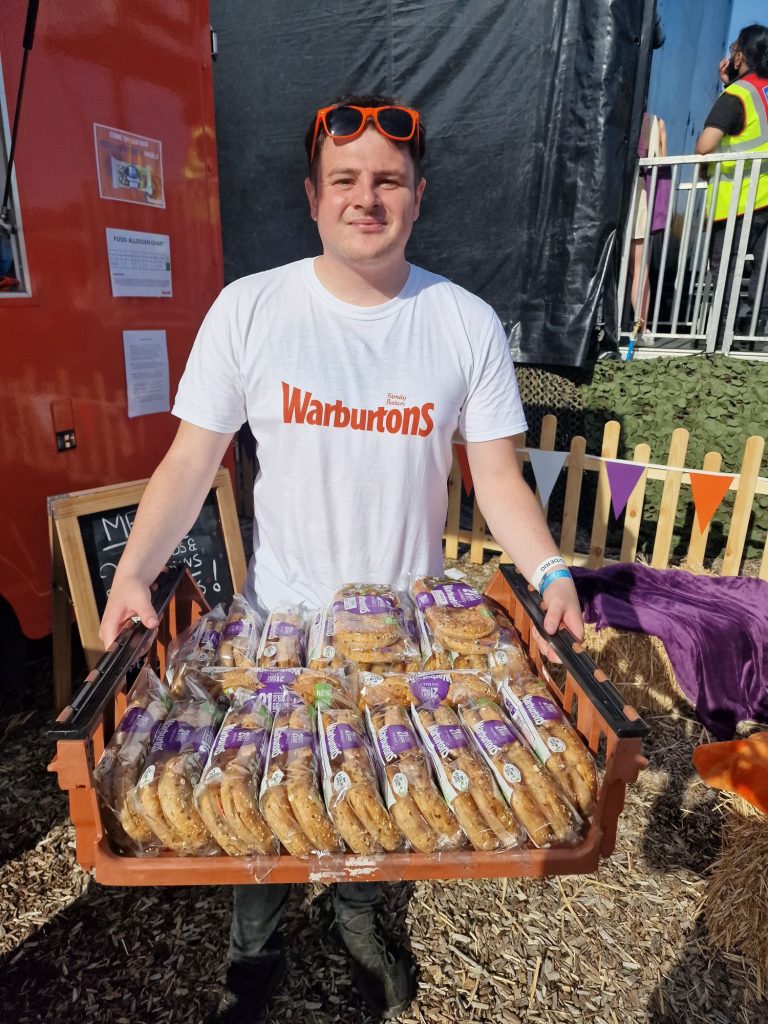 Warburton's were a little quiet when we called in, with no one playing the bagel/hoop-la game.  It gave me a chance to redeem myself after the Ferrero throwing fail as I hit form with my bagels going the top of the leader board. The staff on this one declared themselves to be Warburton's though we also spotted an online social link to N2O. Apparently I won the full tray of bagels (pictured) so I asked for them to be donated.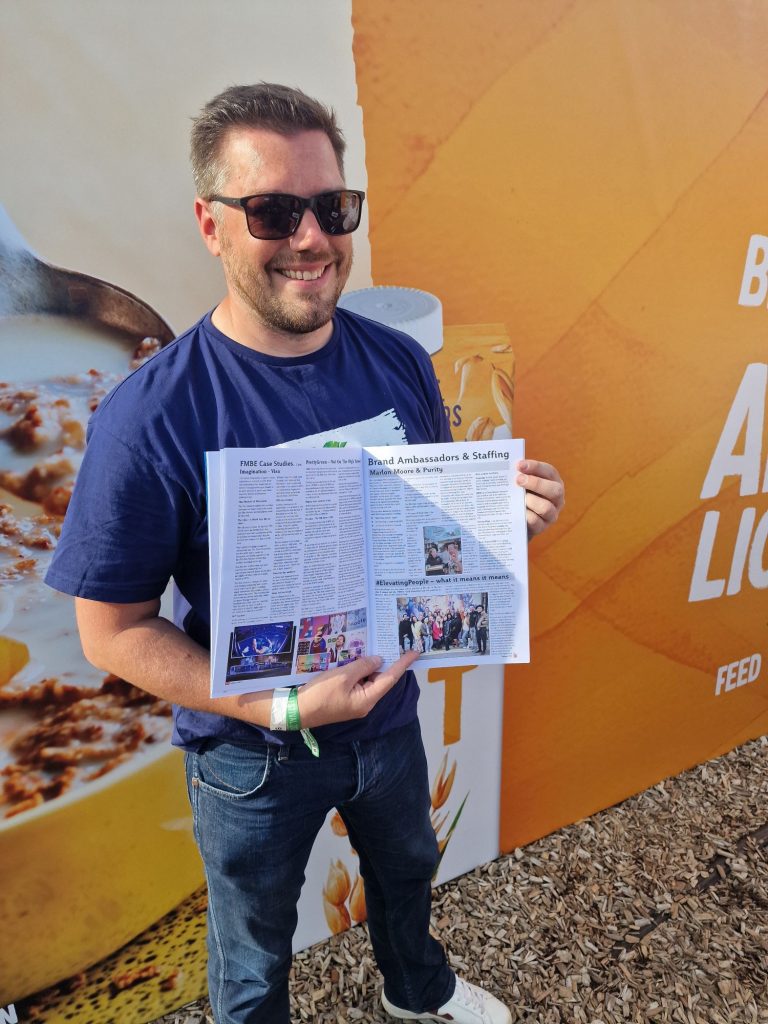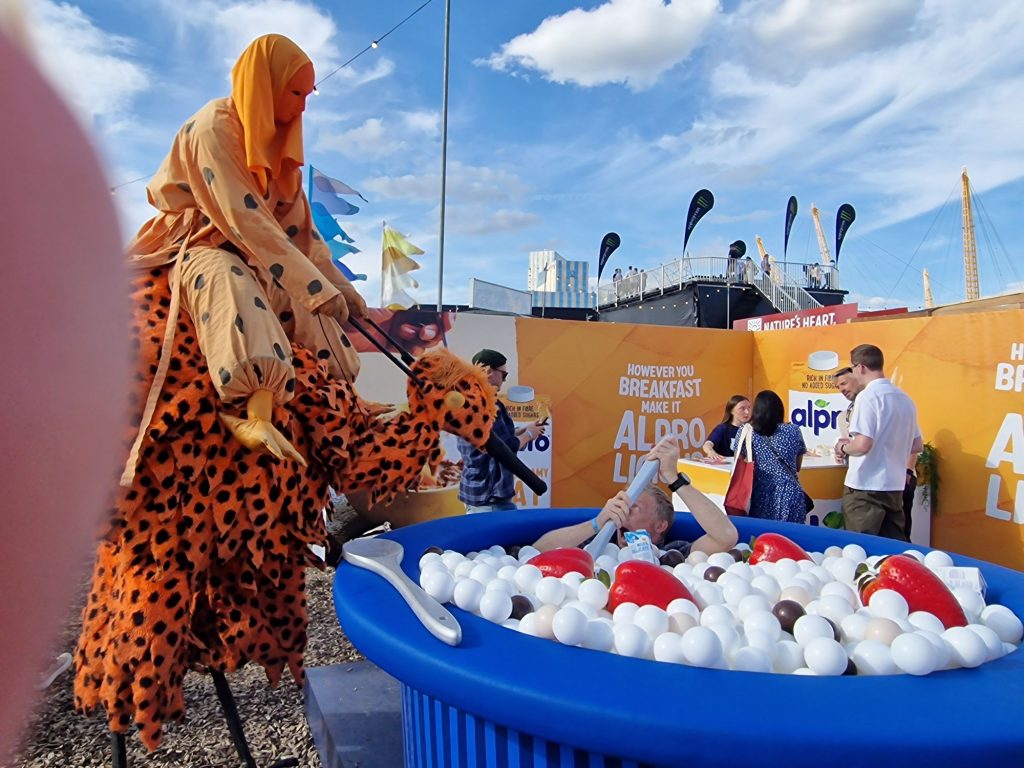 I went to Alpro next and met another person who had been in our magazine in the shape of Purity's supreme brand ambassador Marlon Moore, standing over his ball pit cereal bowl game. We had been past this one a few times and it was always busy, with the brand ambassadors working hard to make every engagement count. Marlon fed me with new product knowledge as I participated. The circus bird that came to attack me was a passer-by rather than a planned part of the stand, but it definitely added something.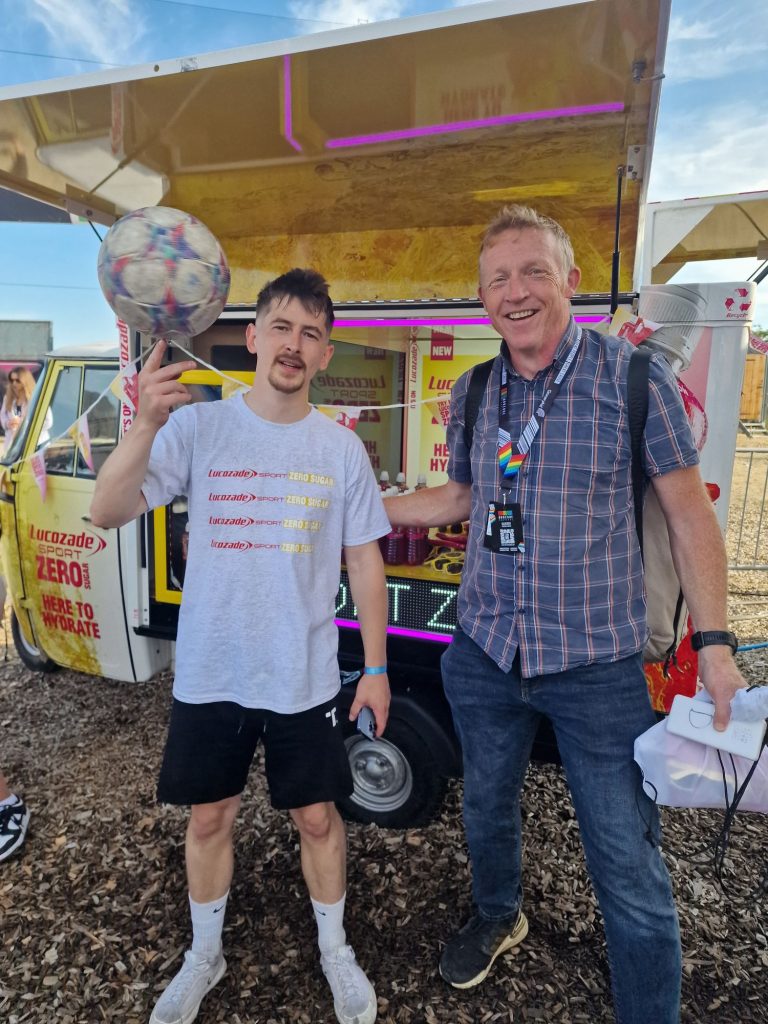 For Lucozade Sport there was a bar hang to survive as a sporting challenge and some really nice sample bags with retro headbands, sunglasses and drinks all colour co-ordinated. I had the red Raspberry and Passion Fruit, Zero Sugar. The staff team from Pod turned out to be skilled freestyle footballers.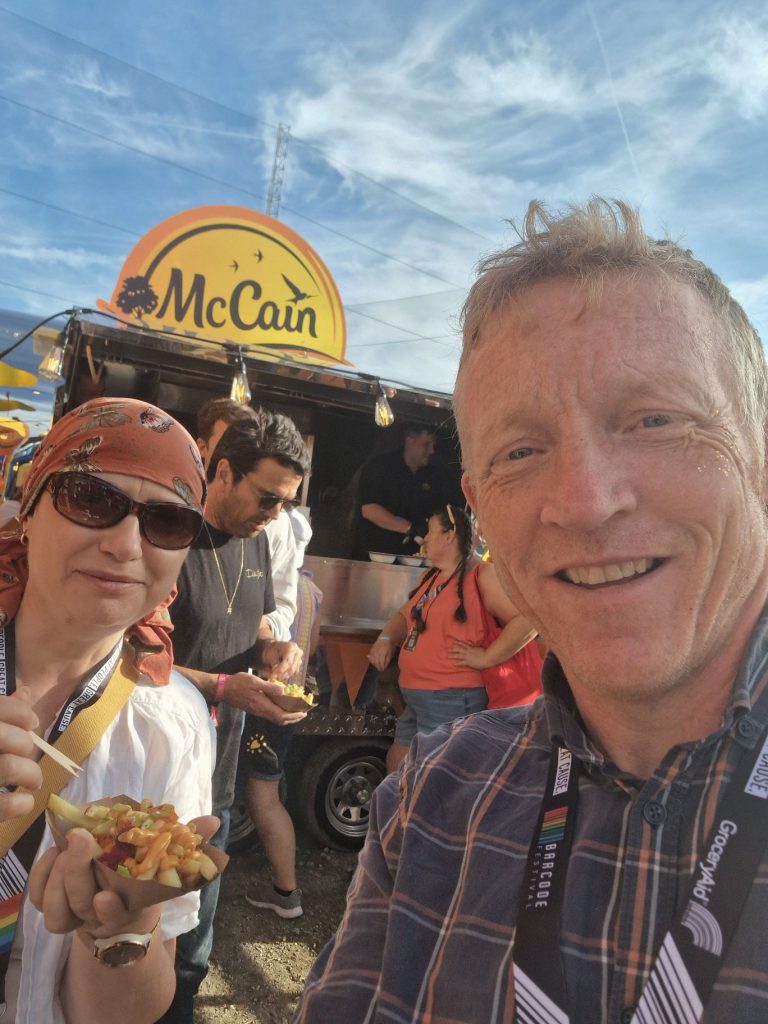 McCain's hot sample oven chips were a huge success, although the hard-pressed sampling team were finding it hard to keep up with the empties that were stacking up. The team were certainly too busy feeding the festivalgoers to stop for a chat!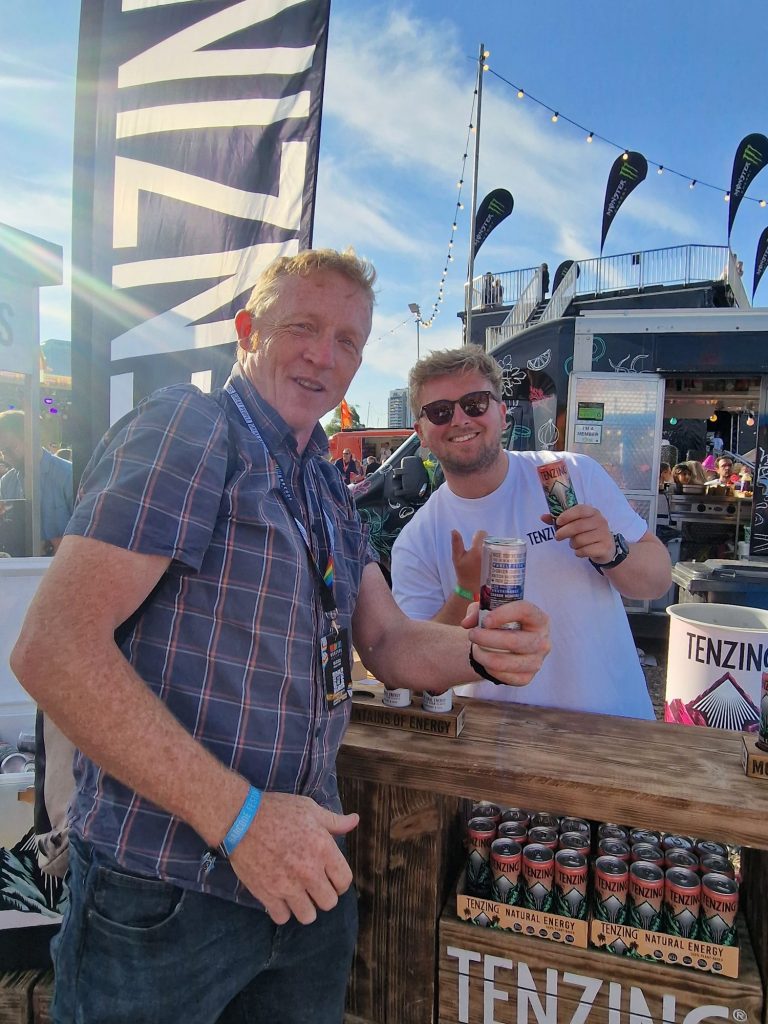 Tenzing is a product with a great story behind it as my lockdown-era interview with the brand's creator Huib van Bockel explained. This sampler was from Tenzing and he was brilliant – full of brand insight. He also held his can the right way around for the photo, unlike me!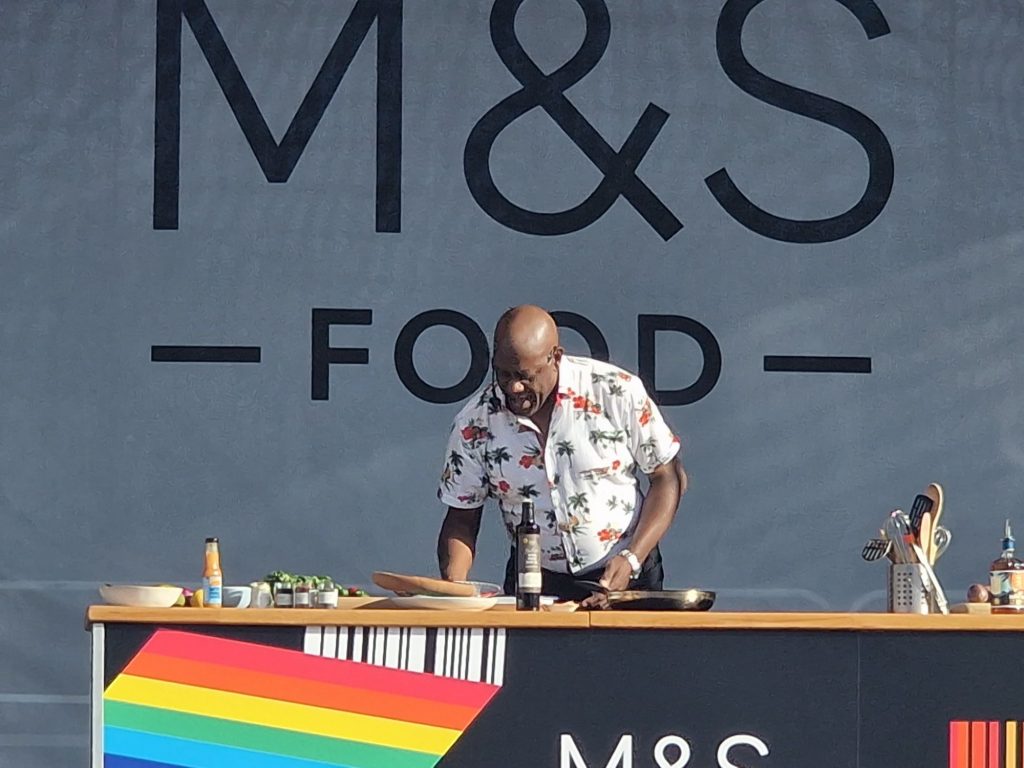 Ainsley Harriott presenting from the M&S Food Kitchen Demo stage. He's certainly an engaging presenter though he was aiming to outswear Gordon Ramsey for this show.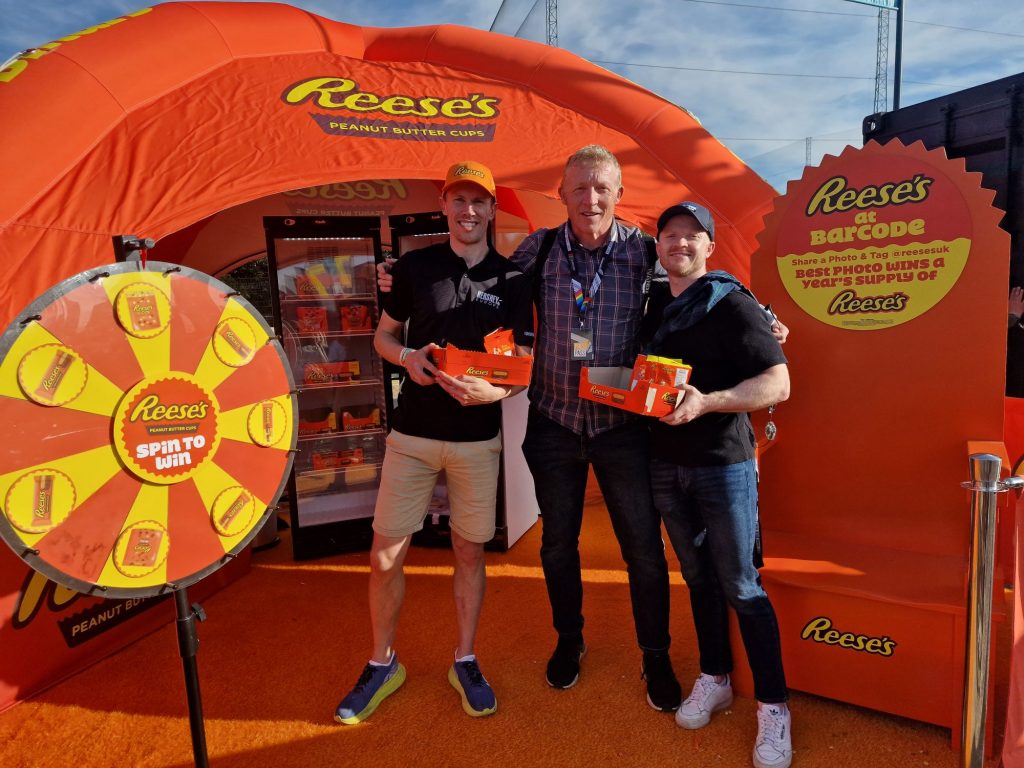 Reese's had an unmissable stand which really stood out in a busy marketplace. The spin win was nothing new of course, but the staff made it click along well.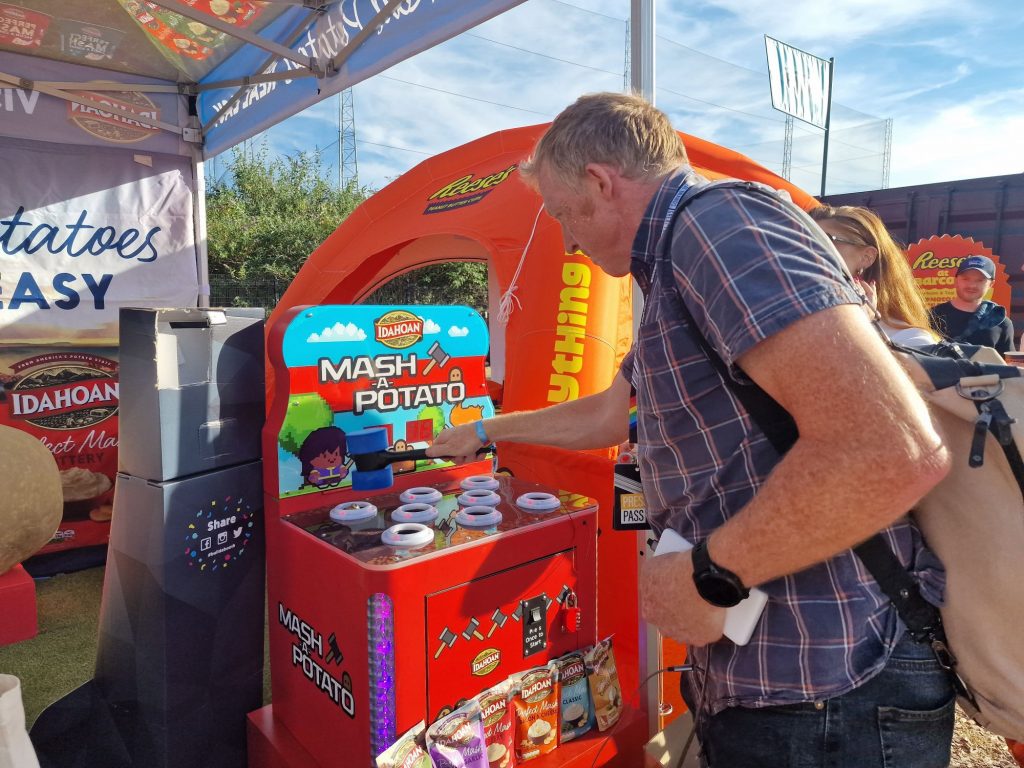 Playing the mashing game with Idahoan. I was very interested in these as some of my running events need rapid carb refuelling and I'm looking for a savoury option. The stand worked fairly well, and the Idahoan team were great to chat to.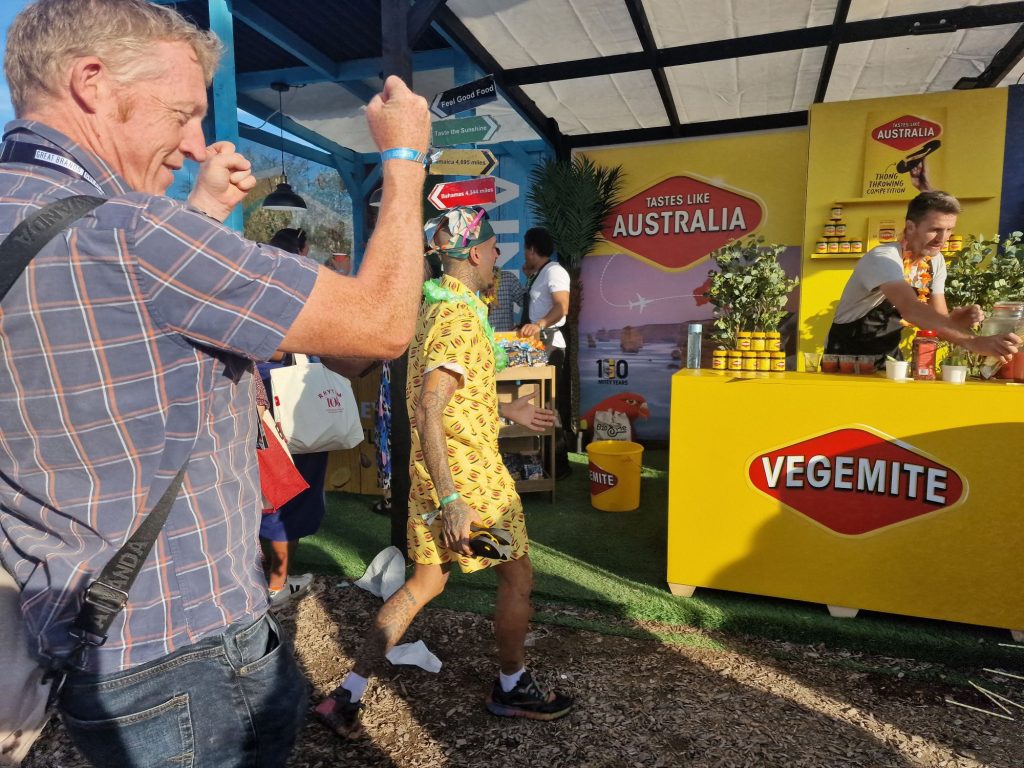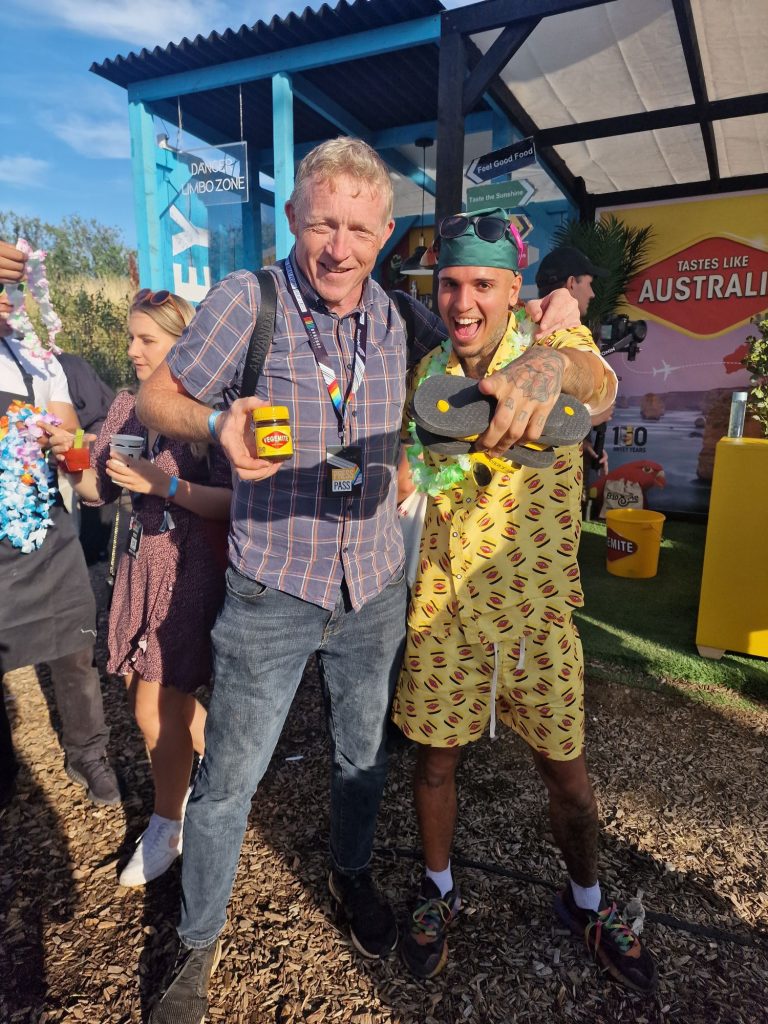 With promoters looking for quick and accessible engagements to suit a fast-moving festival crowd, it would be hard to imagine a more straightforward beach game than flip the flip flop into the empty Vegemite bucket. I was quite good at it. The BA from Yes Promo People was excellent.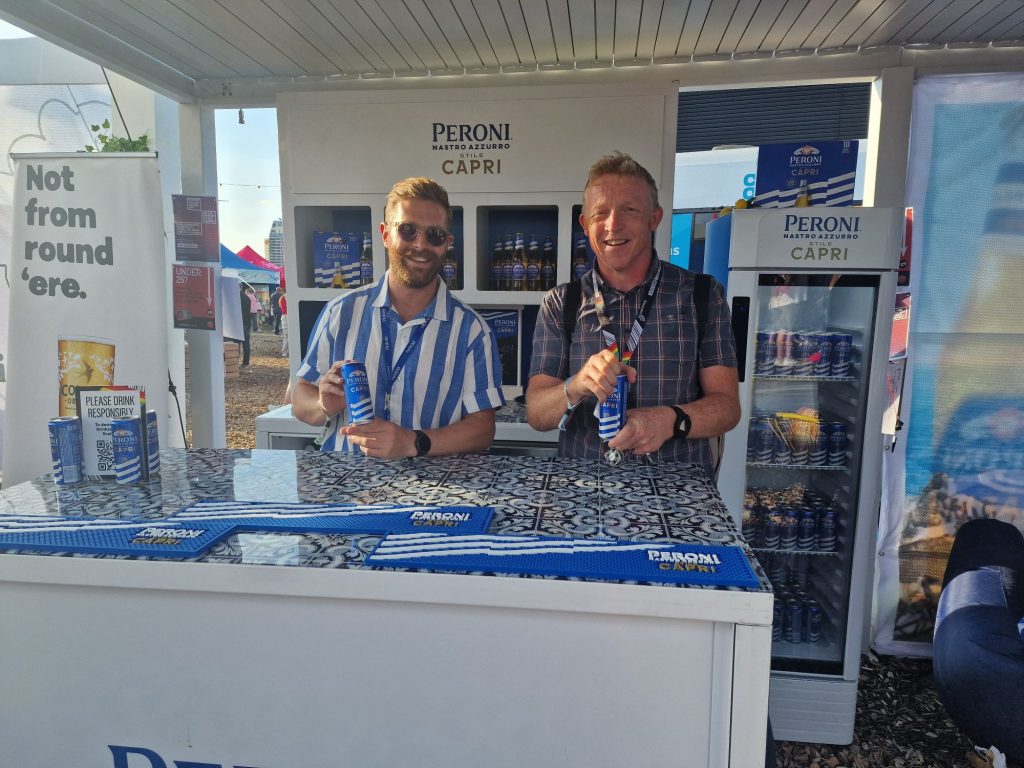 At the Peroni Capri sampling promotion. The BA was quite hard to engage with although a previous visitor was departing saying how impressed he was with the flavour.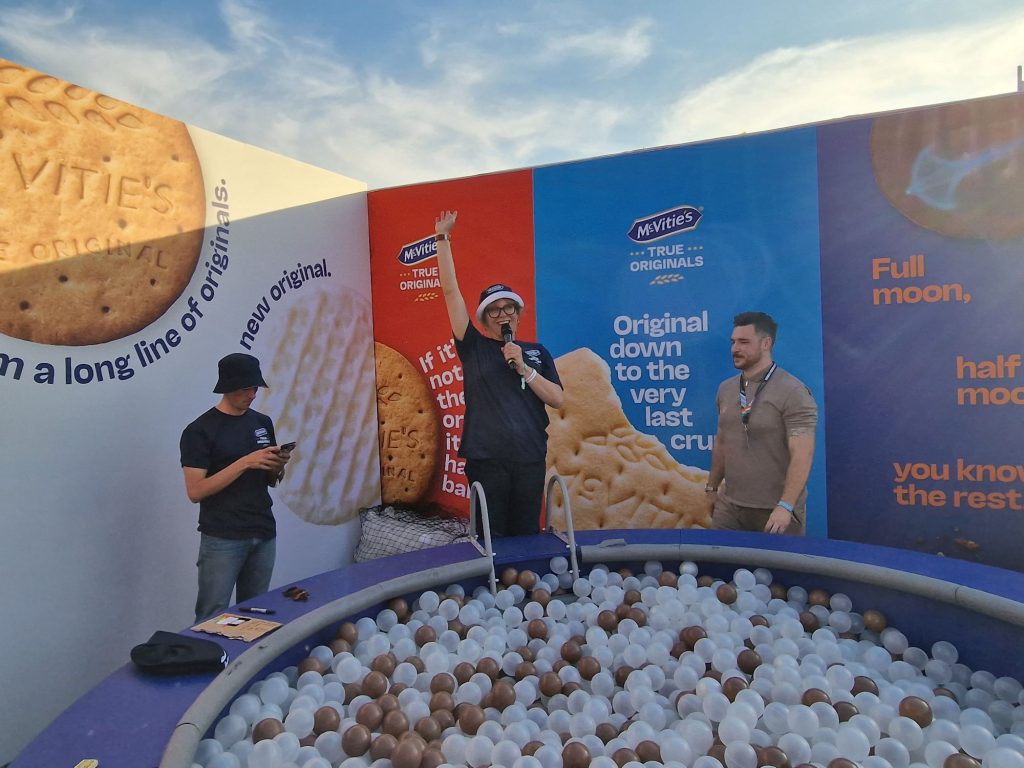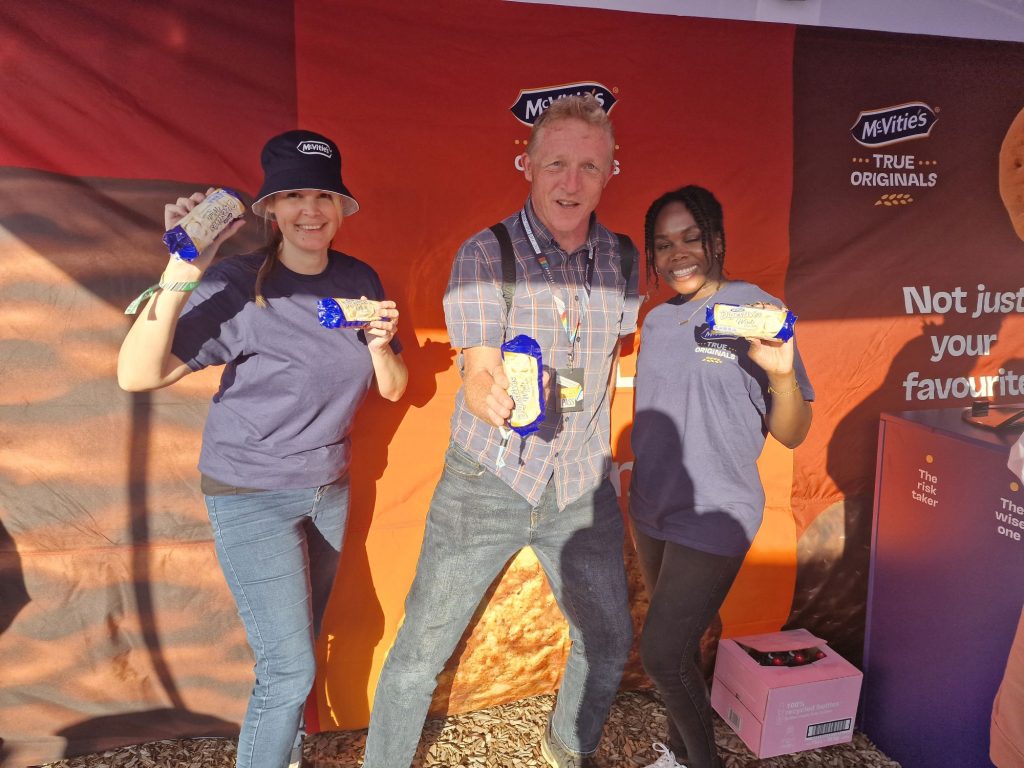 McVities had a very popular ball pit competition happening and an engaging staff team. The white chocolate digestives were very popular when I got them home!
Finally, Crumpton Oaks cider has a fun video activation going on. It was great fun and very engaging. Unfortunately, we hit the promotion when no one was around to discuss or sample the product though, so I have looked it up. It is made by Aston Manor, a cider company with e French owner, the co-operative Agrial. The only thing I can tell you about these ciders is their promise that they are 'made using the finest fruits.'
So, for those that have good counting, I failed to get through 30 of these promotions. I had a couple of near misses, sampling Strongbow with nice engaging staff from Carmella Terrana Agency (CTA), but no picture as they had a stand issue to deal with, and had a few mistimed visits to Buckfast, another brand that was working with Link Communication. But I think 26 brand experiences in 3 hours is still something of a record, and we were able to head to the music energised, fed and with a great positive buzz about many innovative products.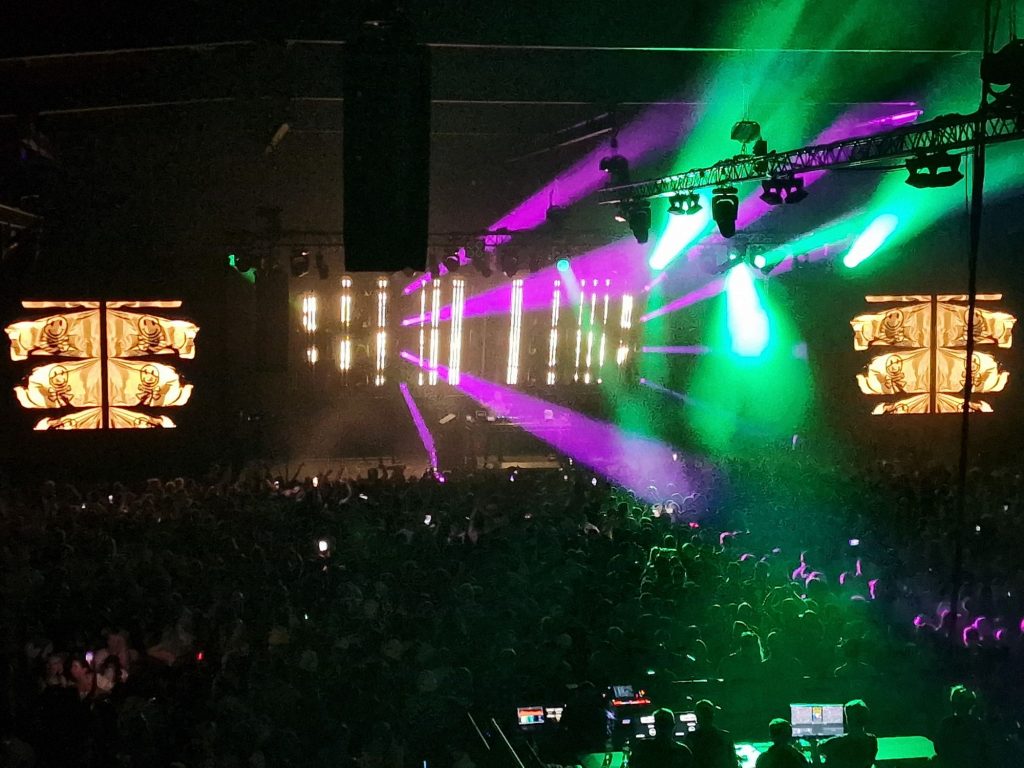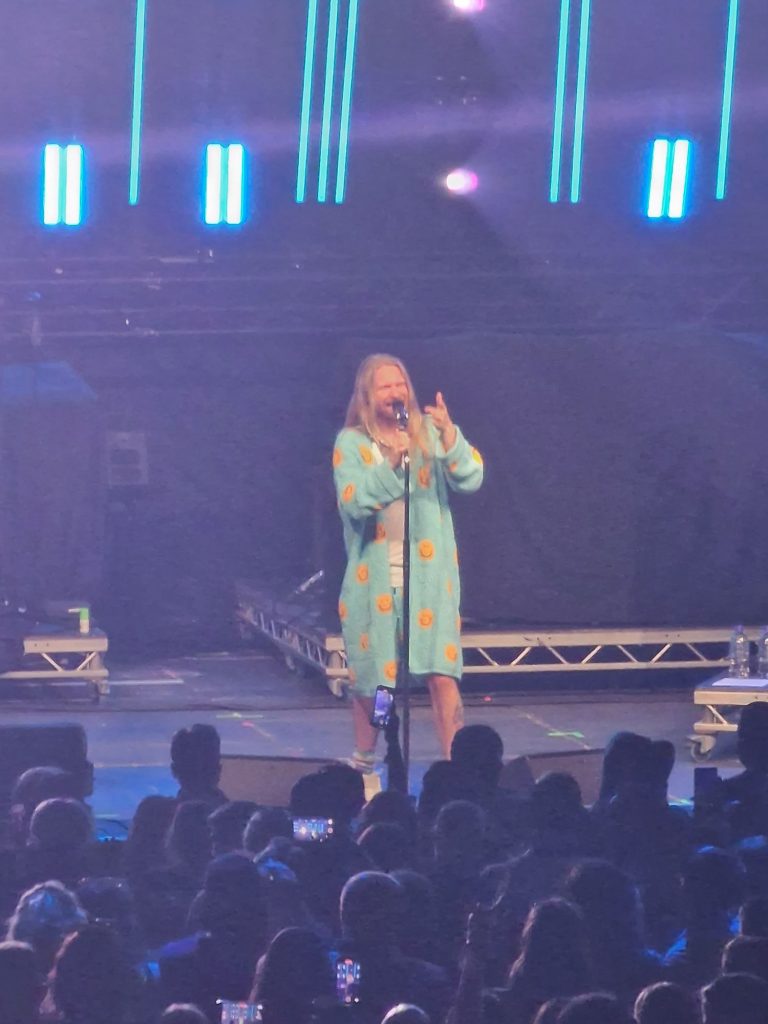 The mood was very buoyant as Sam Ryder, The Sugababes and Fat Boy Slim took their turn at the main stage, all 3 delivering energised performances to make Magazine London really buzz. I was really impressed with the sound quality, lighting and staging, the mid performance clean ups and the excellent crowd release at the end of the night. As an event organiser myself it is hard not to take note when an event gets these things right. The staging allowed the stars on it to shine.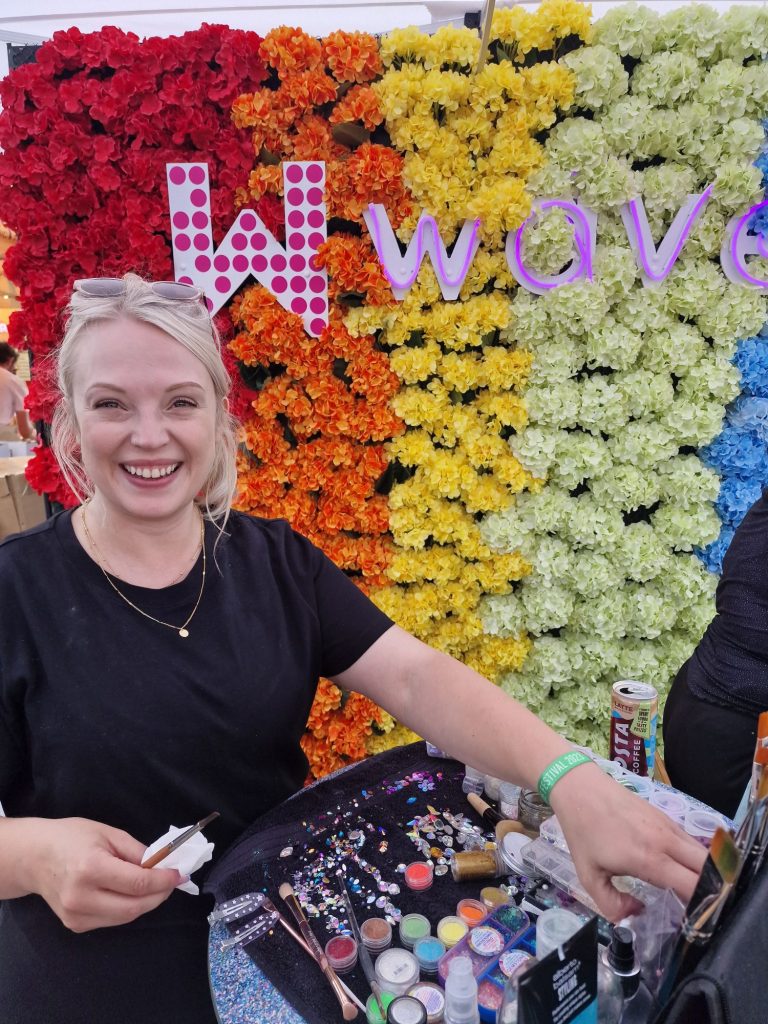 Wave at Barcode – A catch up with Wave's MD, Linda Gallagher (photo: Wave at Barcode)
Rather than represent a consumer brand at Barcode, Wave chose to represent themselves with what I thought was a savvy move. With an audience from across the grocery sector attending there will have been some very handy people there to impress. Wave did so by showing visitors exactly how their team can add upbeat personality to meet the festival vibe head on with glitterover interactions.
The stand was a great conversation starter, and acted as a reminder to me that this agency also shares a note in FMBE history, using our Awards event to support its launch a few years ago.
Using Barcode as the ice breaker it was intended to be, I caught up with MD Linda Gallagher following to see how the agency philosophy is stated and what Wave has been working on recently:
"Wave exist to boost brand performance at the moment of truth through flawless execution and engaging consumer experiences. When it comes to experiences, we focus on making sure we engage the desired audience with the right person for the job, in the right place at the right time," she told me. "Our consumer facing offering includes a lot more than just sampling – we believe in helping brands recruit long-lasting consumers, driving mass trial and creating brand advocates through three clearly defined services."
Wave, Linda noted, as had a busy and intriguing portfolio of work. The work they do with luxury coffee brand, Nespresso brings out the skills of its brand communicators through their team of coffee advisors in stores across the UK and Ireland. And as an example of being more than just a retail agency, Linda mentioned British Ski Club who employed Wave this summer to recruit new members at snow centres and the Eurotunnel. As Linda noted, if you find "the right locations and people to meet your audience at a time that will make the biggest impact to any brand's campaign, whatever the goal", then you will generate great conversations and results.
Linda concludes: "Wave make it our mission to create memorable occasions and fun experiences wherever we go and our stand at Barcode this year was no different. Our free glam stand was designed to immerse the audience in the festival vibe and encourage viral interactions and social activity linked to supporting our favourite charity GroceryAid, one glitter swipe at a time."
Next year's Barcode Festival is set for 4th July. The event website also details the costs of getting involved with a stand or promotional space.