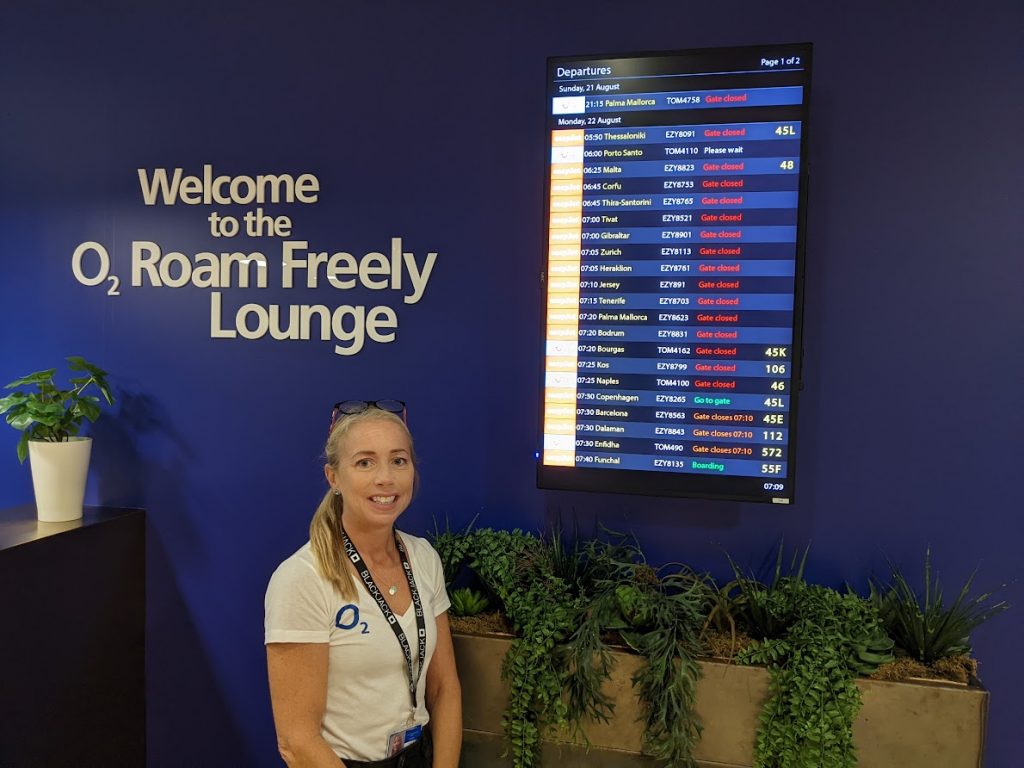 FMBE's Frank Wainwright visited the O2 Roam Freely Lounge and chatted to Blackjack Promotion's Andy de Vito about his pivotal role in resourcing this brand experience.  (Pictured above – our welcoming host, Caeti, Blackjack Promotions)
Let's make a dangerous assumption for a moment and guess that a high percentage of this summer's visitors to Europe were not amongst the most extreme voices demanding a radical Brexit.
Most travelers dislike security borders, passport queues and the petty red tape that makes a cheese sandwich something you should declare.
The British public is also not, largely speaking,currently in the mood to pay extra for utilities and services without justification.
On my Vodafone contract my phone proudly tells me "You're probably expecting a text about roaming charges – but no! You're in a Roam-free destination," and it annoys me every time because this is my bare minimum expectation, and the tone is as if they have done me a favour.
On reflection, that annoyance is a little misplaced. The message is pretty much a necessity for the reassurance that it brings. The smug tone is at least partially cooked up by my imagination, layering emotion onto the automated words of a faceless corporation.
Nevertheless, when I heard a rumour that O2 would attempt to communicate its Roam Freely messaging to Priority customers (and their guests) and, in the process, put a face to its corporate entity via real people in a real airport Lounge at Gatwick North this summer, I was keen to check it out.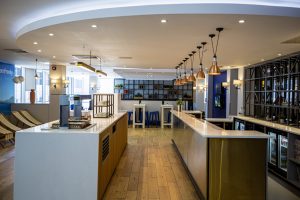 The 'O2 Roam Freely Lounge' is located in Gatwick North Terminal and offers O2 customers, their friends and family a haven to relax in before setting off on holiday, ensuring that the holiday magic starts right at the airport.
The activation forms part of O2's summer brand platform 'Roam Freely' which seeks to remind people that O2 is the only major network to maintain inclusive roaming while in the EU, using data, calls, and texts just as they would in the UK.
The Lounge has been anchored by Blackjack Promotions. Blackjack worked alongside a number of partners including Grand Visual, VCCP and Havas Media to deliver the brief in just five weeks.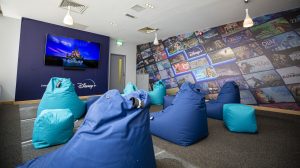 Blackjack Promotions secured the 4400 square feet of space at Gatwick Airport for the O2 'Roam Freely Lounge'; offering holidaymakers the first drink of their holiday, snap-worthy scenery, and travel-themed decor to hint at all the adventures ahead. Parents travelling with children are able to use the Disney+ room which includes movies for everyone to enjoy and turn any delays into a world of entertainment. For those who want to keep streaming beyond the lounge, O2 also offers new and upgrading customers six months of Disney+ on O2. Comfortable seating to relax, free WiFi, and device charging points, as well as special holiday deals such as Duolingo and hire car discounts via Priority have also been available.  
To gain entry, O2 Priority members can download a valid QR code available through Priority which will then be validated at the 'Welcome Desk' in the Lounge. The lounge is open until the middle of October, with access available to O2 customers and any friends and family they are travelling with. Lounge guests will also be able to get a pre-loaded O2 SIM card so they can also benefit from free EU roaming while they're away, even if they are on a different network.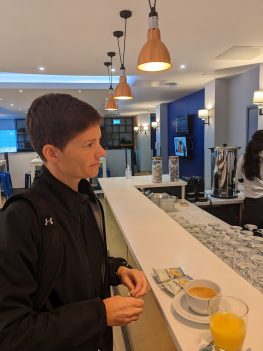 I arrived at the Lounge, not as the typical targeted beleaguered family, seeking an eddy of respite into which to trundle the Trunki and relax with a drink. I did so along with fellow extreme ultrarunner Karen Hacker (pictured) as we awaited our gateway to Mont Blanc Geneva flight.
We were not core the target market so, given a tour by Blackjack Promotion's welcoming host Caeti, we admired but did not slump into the popular Disney zone and instead enjoyed the lack of bustle, a charging point and the simple joy of free coffee and biscuits.
It was a very pleasing experience, nothing radical, just delivering on a promise to provide a service where it is likely to be appreciated. This kind of seamless anti-stress brand experience would give me a genuine feeling that O2 cared about my life more than its rivals do.
O2 has been a successful profitable business in recent years with customers rating its openness and transparency. Financial statements coming out of O2 often emphasize the low customer churn, and the brand enjoys a reputation for its flexible handling of customer contracts.
The Roam Freely message and its attendant Lounge looks a strong proposal that is in keeping with established brand values.
This was therefore an important project to get right and the practical and logistical vision for that had to match the established creative alongside the support of O2's long-term brand guardians, VCCP.
It was Blackjack Promotion's creative solutions director, Andy de Vito who received the basis of the 'make it happen' brief as recently as June this year, leaning upon his long-established expertise in facilitating airport experiences and finding the available and unoccupied Lounge at Gatwick Airport.
Locating the Lounge was a breakthrough for the campaign that he calls "a once in a lifetime opportunity."
Once the notion of a Lounge (vs a more typical promotional space) had taken hold, the project played to Blackjack's expertise. "It showcased our full service," Andy says, reflecting on Blackjack's creative solutions, airport facilitation and ready-to-go knowledgeable staff.
Certainly, the brand ambassadors that Karen and I met were very capable of presenting the Lounge to its best advantage.
So, was there a downside? Well, whilst I understand that vacant lounges at Airports are no easy find, I'd love to think that the Roam Freely Lounge was something of a test pilot. A brand that is as committed to customer advocacy as O2 should be searching the budget justification, and the right potential partnerships, to make pop-ups such as these, stay-ups. O2 Priority's reputation amongst music fans is one of the great success stories of brand experience and has been built through waves of investment in real world facilities. Extending the brand's reach out to travelers and holidaymakers should add extra value to O2's brand advocacy and retention KPIs.
I think O2 is on the runway to something relevant and authentic in the travel sector and hope the strategy takes off.