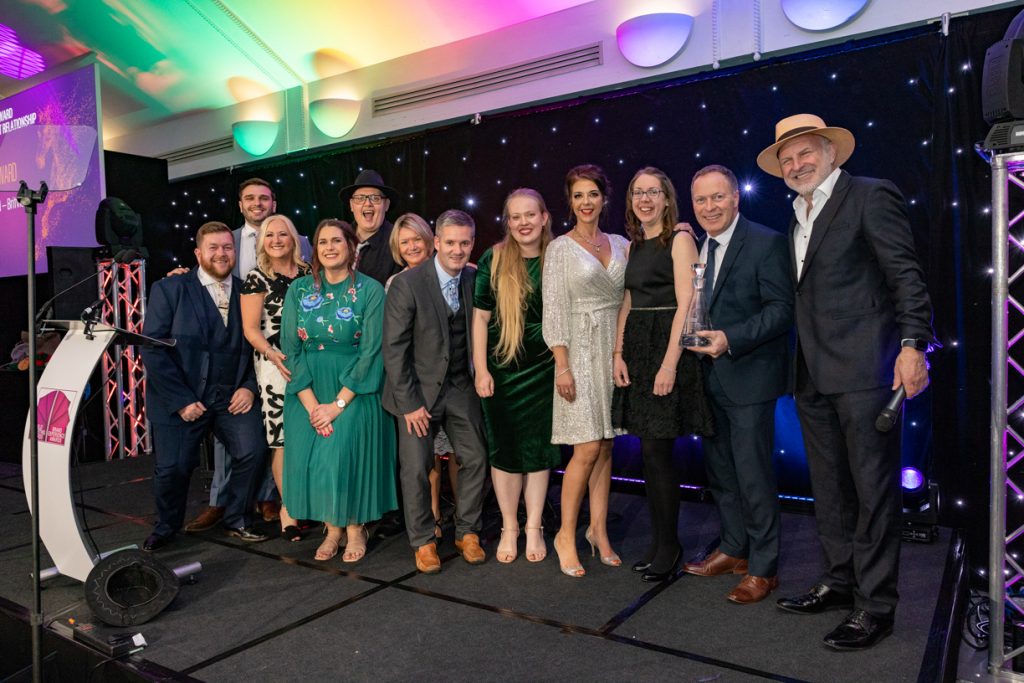 Its our belief that having a special award for sustainability tokenises an area that should be held accountable on every campaign. Most of our categories allow for, and merit, sustainability kpis. This special award though was to recognise changing behaviour and celebrate agency and brand teams that are moving forwards year on year with more sustainable goals.
SILVER Green Field Marketing – KP Snacks
The agency's transition in 2021 to a new name, Green Field Marketing, after management buyout was a clear enough statement of intent. Now the agency works with Ecologi for carbon positive practice and is building an electric fleet, starting with KP Snacks, for whom Kia E-Nero cars have replaced caddy vans, which have been adopted by the team with minimal capacity loss – even though smaller in size.
Ricky Watts, Northern Ireland Business Manager, KP Snacks: "Sustainability has been an active focus for KP Snacks for over 5 years. As a company we've made wholesale changes in our packaging processes to drive carbon reductions. We've also educated our personnel through annual CSR days, where best in class examples are shared business wide.  One challenge we have had however, is how to drive improvements in sustainability into our Field Teams. 
We have always encouraged our outsourced partners in NI to drive improvements, and had some success historically, but it wasn't until Green Field Marketing launched in 2021 that we saw genuine innovation. I truly believe they are best in class at sustainable practices and have no doubt that their model of Carbon offset through Ecologi and EV's will become the norm over the coming years.  Not only have these changes helped the team operate in a carbon positive manner, but it has done so by increasing productivity rather than having an impact. I'm genuinely excited to take the next step in KP Snack's sustainability journey with our partners Green Field Marketing."   
GOLD Logobrand – Britvic
Logobrand partners with EcoVadis to collaborate on sustainability, and to date has received the EcoVadis Sustainability Recognition Silver Medal. "We recognise that our business has an important role to play in protecting and enhancing the environment for future generations" says Sally Abraham, Logobrand Managing Director.
Having already partnered with Logobrand in grocery, convenience, and discounters for over 10 years, Britvic knew that Logobrand is committed to its sustainability targets, including aiming to reduce energy consumption and carbon emissions; this made Logobrand the chosen partner to get a new Britvic FDSU trial on track.
The trial – of semi-permanent displays in 500 Co-op stores – is also written about in the most effective display category. The success of these units had fallen away through lack of vigilance before Logobrand became involved to make sure that they were being correctly used and maintained in store. Logobrand were able to check these FSDUs without adding travel mileage, creating extra jobs for reps who were already in stores.
It is the big picture behind this campaign that impresses because there is a benchmark put down through it that points towards future norms, established by Britvic and Logobrand's determination to make it happen.
With 4.4 tonnes of cardboard waste saved in just 3 cycles of activity the retailer is also openly supportive:
Jonathan Buckley, Category Buying Manager –Drinks, Co-operative Group stated:
"The permanent Co-op and Britvic drinks promotional FSDU is a great example of a collaborative piece of work that has enhanced our retail proposition and delivered against our sustainability, marketing, and sales objectives. We've already seen a positive impact to the customer offer and sales, and store colleagues are pleased with the savings to both store hours and cardboard waste."