Founder, Urban Nerds Collective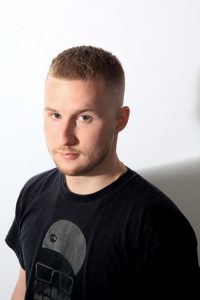 Published on 20/07/2017
How did Urban Nerds Collective come about?
Having seven years of experience building our brand at the forefront of underground music culture through parties, festivals, content and merchandise, and having worked with brands along the way, we knew there was room to improve the role of brands in engaging and working with youth and culture. Three years ago we re-structured what we do to offer a service to brands and other commercial partners that would allow us to continue applying our passion to create value at the crossroads of brands and culture whilst assisting brands on their respective missions. That is Urban Nerds Collective.
What makes your job exciting?
Getting to work with exciting talent and the creatively expressive young people that are shaping and defining culture in these fast moving, globally connected times. That is exciting.
Also the pace of change in this and the energy this creates drives us every day as it means we have to keep thinking one step ahead to ensure our ideas are equipped to unlock opportunities and fulfill the ambitions of our partners.
What work do you do within the brand experience industry?
Whilst mobile and digital in general has an increasingly strong hold on young people's attentions, the thirst for experience that feeds content creation opportunities and underpins their commitment to a particular passion point comes from physical moments. With this in mind we work with many of our clients to build physical moments into many of our projects as we know these are an important part of genuine engagement. From grassroots cultural showcases of photography, film and fashion that form the backbone of our cultural engagement strategy for Converse, through to campaign launch experiences such as the Puma 'DO YOU' hub and more recently our delivery of Estrella's 'The Little Things' London launch, Urban Nerds are delivering some of our clients best brand experiences to date.
What has been the highlight over the last 12 months?
Being able to grow the team so rapidly, recruiting outside of the box, taking on some of the most exciting talent from real cultural event production and management roles. That has been amazing, and the fact we are continuing to unlock opportunities with some of the most globally recognised brands is a testament to the effort and consistent delivery of the team.
What can we expect to see from Urban Nerds over the next 12 months?
More leading edge thinking and doing in our area of expertise. The continued development and growth of the team, plus some exciting announcements involving some Nerds branded events for both our culturally engaged network of young people and something exciting for our favourite clients and brands. Watch this space.
Are there any brands/agencies you would love to work with?
For us it's about an attitude. We want to work with partners who share our vision for creating genuine value at the crossroads of commerciality and creative culture. We're always open to discuss.
What do you love most about working in this industry?
We come from creative culture. Our DNA is creatively innovating, taking calculated risks and building effective structures to realise our ideas. Being able to point at the moments and experiences we have delivered and say 'we did this' and those projects being something that we ourselves would have loved to have experienced is a major factor in how we judge satisfaction.
Who inspires you?
The mechanics of youth culture, the landscape of creative expression and how this continues to evolve at pace is the root inspiration in everything we do. It's an exciting time in this space and we're privileged to be able to work with an impressive spectrum of young people that are setting the bar for how this generation will be remembered. As a business we are inspired by the non-conformists and change-makers, our peers who blaze a trail for new ideas in how the industry can do things better.