FMBE Awards 2018 are now closed for entry – we wish all our entrants the best of luck. 2019 awards will be announced in November
BUT THIS IS OPEN FOR ENTRY 
SpaceandPeople and Network Rail combine forces with FMBE for a £25,000 prize
EXTENDED DEADLINE TO 12 NOON ON WEDNESDAY 19th. AFTER THEN IT WILL BE TOO LATE – DON'T MISS THIS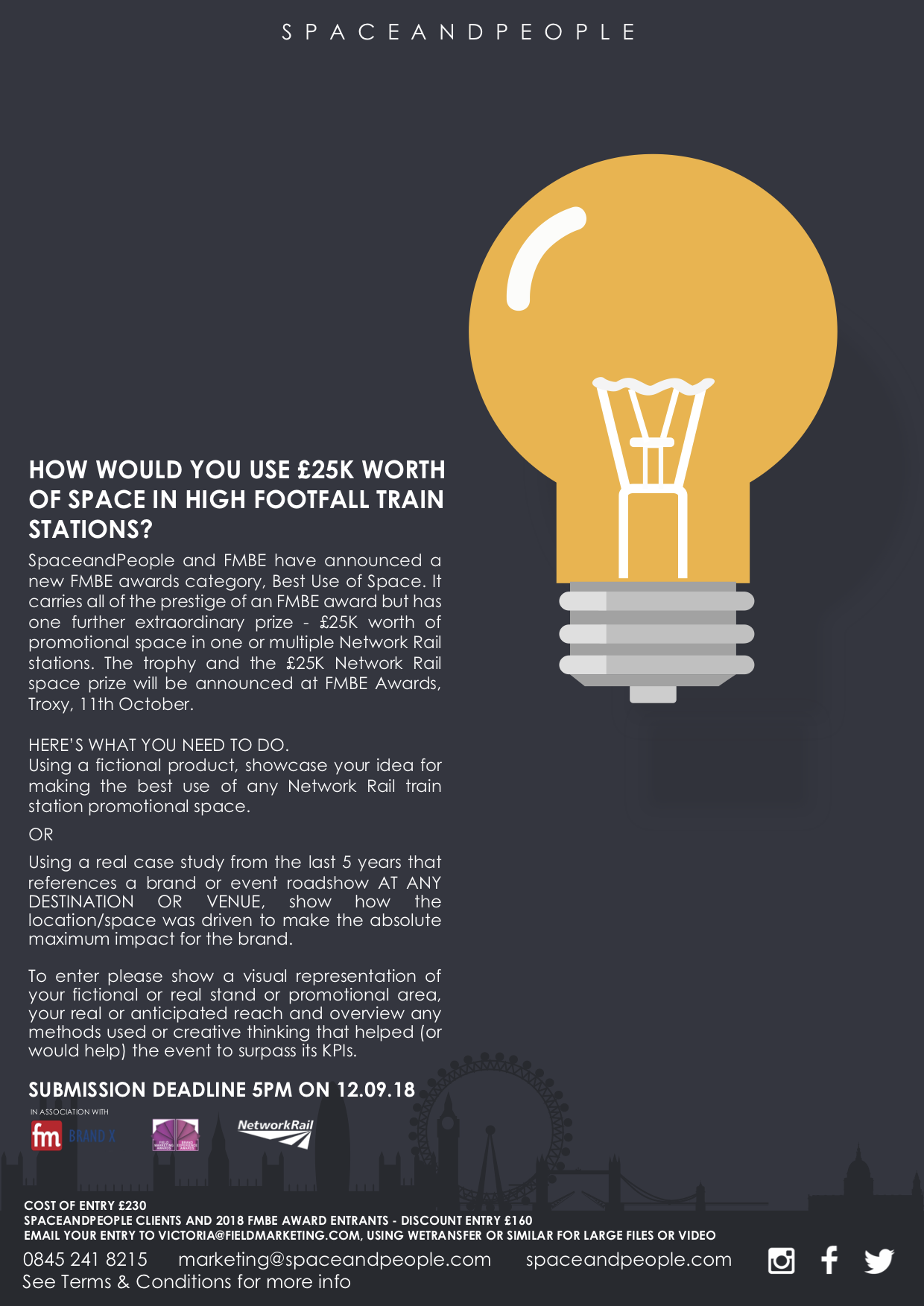 SpaceandPeople, Network Rail and FMBE are proud to announce a new award, Best Use of Space that could see one agency and brand team £25,000 better off, by winning £25K of booking space at Network Rail Train Stations.
The extraordinary prize can be redeemed at a host of Britain's best stations including London Victoria, Waterloo, King's Cross, Euston and Liverpool Street and core central stations at cities and towns nationwide.
Entering this award is simple, just a video/images and 500 words – see How To Enter below.
The SpaceandPeople Best Use of Space award will be presented at the FMBE award ceremony at Troxy on 11th October 2018.
Entrants have until 12 September to get their entries in via email/We Transfer to victoria@fieldmarketing.com. Existing FMBE 2018 entrants and SpaceandPeople customers get a 30% entry discount from the standard FMBE entry fee (£160 to enter reduced from £230)
HOW TO ENTER
What you need to supply to the judges
A jpeg/PDF or video showing either your existing brand event or your visualisation of one
Then write down (on a WORD doc or PDF)
o   The challenge facing the brand (or imagined product) (guide 200 words)
o   Why the venue was chosen (guide 200 words)
o   How you would or have maxxed out the KPIs (guide 100 words)
Entries by email/Wetransfer to victoria@fieldmarketing.com and are billed at £160 per entry for SpaceandPeople customers and 2018 FMBE entrants.
Deadline for entry EXTENDED TO 12 NOON,  19th September. Client Sign off is not required for this award.
ENTRY – BE Connected Awards 2018!
Be Connected Awards are open for late entries if agreed extension with the team
The 2017 awards results can be found here  and the full shortlist can be found here
Photo Gallery of 2017 Winners and Highlights
Book your table!
We look forward to seeing you at Troxy – FMBE Awards 2018 Table booking form