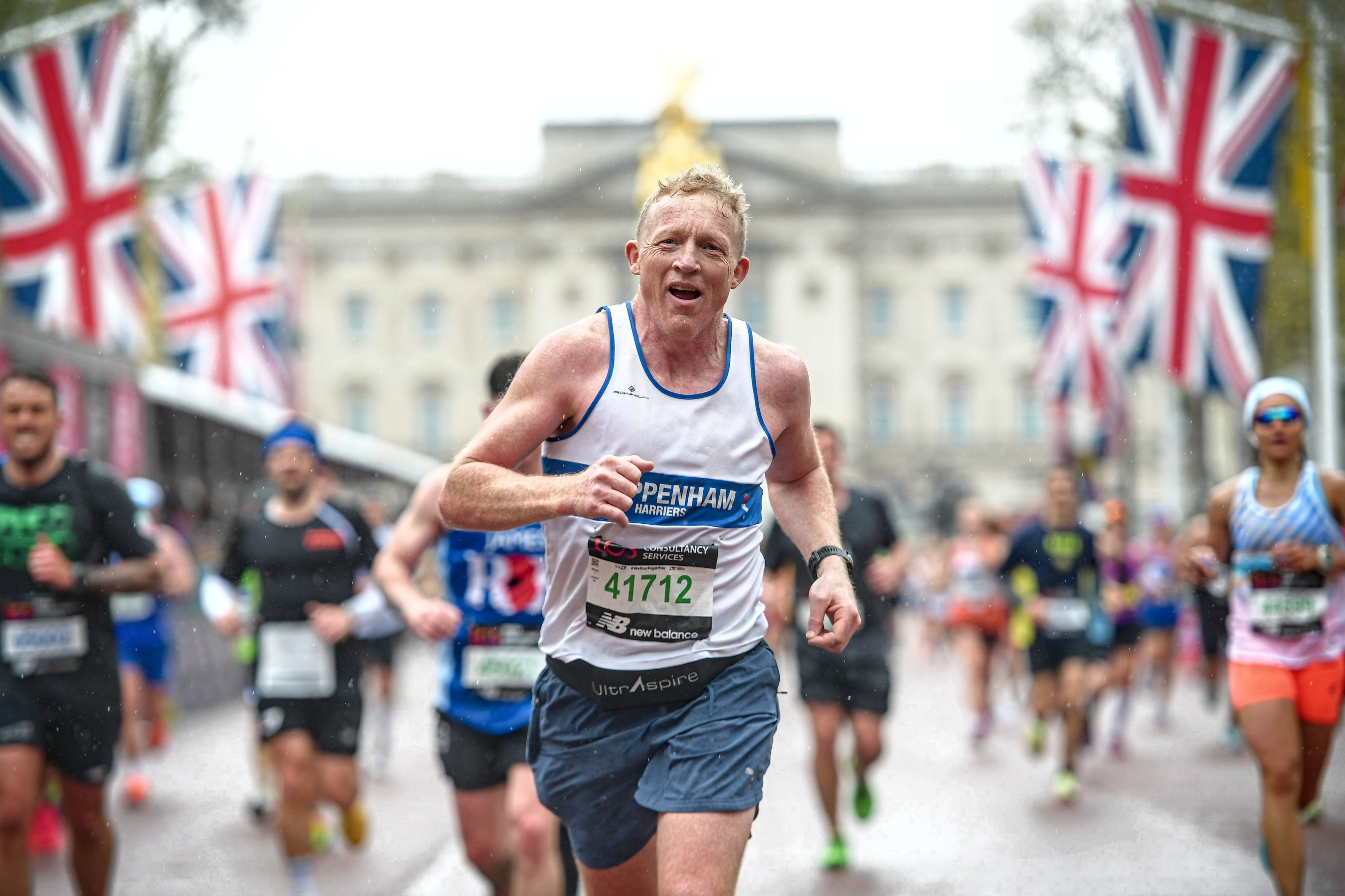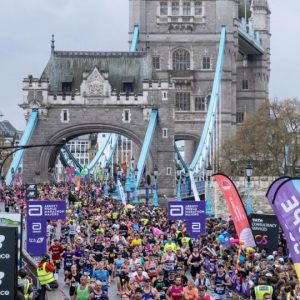 Frank Wainwright went to London Marathon as a runner, friend supporter, event reviewer, environmental awareness protester, photographer and interviewer. It made possible a 360 degree view of the event and its sponsorship activation platform. Here's the result.
At the London Marathon and its Running Show there's plenty to do and to see, many distractions and side shows. The event is incredible, a one-day total city takeover that hits every landmark of one of the world's most popular cities. The opportunity for brands is immense. Runners and supporters travel in from all corners, with emotions on high alert, with family, with friends and many with the rare commodity of dwell time. Sponsorship activation is a major undertaking, and the potential difference between success and failure is massive.
I'm a multiple endurance event participant, but this was my first London Marathon since the naïve event marketing days of 1996, when Flora's finisher medal was a shy little circle that you showed off apologetically.
Whilst I've seen the event as a reporter in between 1996 and 2023, participation gave me the unique opportunity to see the event as a target consumer whilst paying attention to the brand impacts. It was an interesting experience because even though I was looking  for the brand engagements, and had quite a bit of time set aside for the event across three days, I still managed to go without any impact from some brands whilst overwhelmed by others.
Flora was one of the brands I noticed at the event this year, though less prominent than core event suppliers and sponsors that included Abbott, London Pride, Buxton Water, Lucozade Sport, Nissan, BBC Sport, and  TAG Heuer. There were others too, but I have had to check the app to inform you that iFit, Running Imp, Enthuse and South Eastern were also involved. As a participant, they made no connection with me at all. And – just as poor – although I know exactly what the Abbott logo looks like, what the World Marathon Majors series it sponsors are, have also run Berlin marathon and supported friends at others, I still had to look the brand up to remind me what they do (healthcare).
Above and beyond and of these brands though stood two titans, TCS and New Balance.  Their involvement was blatant, unmissable and certainly in my case, appreciated.
Tata Consultancy Services (TCS)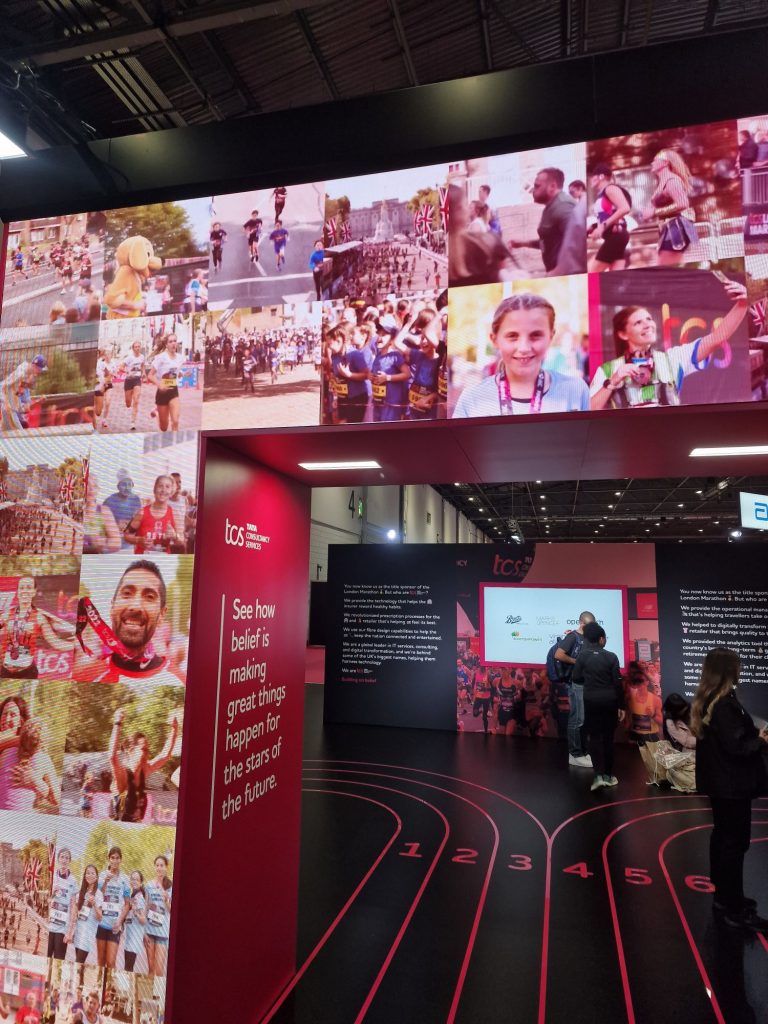 The participant's journey starts with the headline sponsor TCS, the technology-led business solutions provider, because TCS has built the event app.
The marathon app is a good one – for runners it has all the essential information clearly presented, for supporters it delivers the core tracking process very effectively whilst adding a few nice bells and whistles including a Belief Booster runner messaging service and a direct link to the New Balance merchandise shop.
'Belief' is very much a TCS marketing watchword.
Mark Bogaerts, Director Brand & Sponsorship Europe/UK, Tata Consultancy Services told me why the emotion is a key one for the business: "Belief is a positive and strong emotion that's needed to envisage a different, better, more sustainable and greater future for all, this can be reached by innovation and using digital technology. While being a technology company, it is important to humanize the brand and speak with corporates in a different language where we show how we can help them in their belief of creating this future for their company."
The event app was also a key part of the strategy for showcasing TCS, as became evident when I walked through the TCS experience, built for the brand by experiential agency Set Creative, at the Running Show.
Mark adds: "The app is our key technology showcase that helps to connect runners and fans, enhancing the experience for both. At the stand we have created giant phone screens for visitors to engage with in a fun way, making them aware of the features and functionality of the app in a fun way. There are brand ambassadors that help to navigate the menu, explain the features and answer questions on tracking, using the belief booster etc."
At the Running Show it was interesting to see how a serious B2B company like TCS can connect with people in a very consumer-oriented environment. The stand was bright and upbeat, with superb screens and graphics, and yet it managed to convey the serious side of the sponsor-event partnership.
As event participants we were all a little nervous that our much loved event would be targeted by climate protestors. The London Marathon showed its was moving in the right direction and also used the Running Show as a speaker platform for the Green Runners. There was also an environmental pledge to sign. It seems that talks took place behind the scenes with both Just Stop Oil and Extinction Rebellion and the event went ahead without any protests being made. In that sense TCS is a great headline sponsor to have as the company has a very active CSR program.
Mark elaborated: "For TCS, and for that regard for Tata, CSR has been at the heart of the company since it started over 150 years ago. Still, to date, a fair share of each of the groups company profits flow back to communities and societies through school, hospital and charity funding. Through our sponsorships we promote well-being and a healthy lifestyle through running, by raising funds for charities like City Year UK, developing internal running programs, the Rescore sustainability app, GoIt school programs, a Team TCS Teachers program and more. In this climate the public demands any company take responsibility through CSR programs that focus on sustainability, diversity, equity & inclusion etc. At TCS we are already doing this for over 15 years through our running partnerships."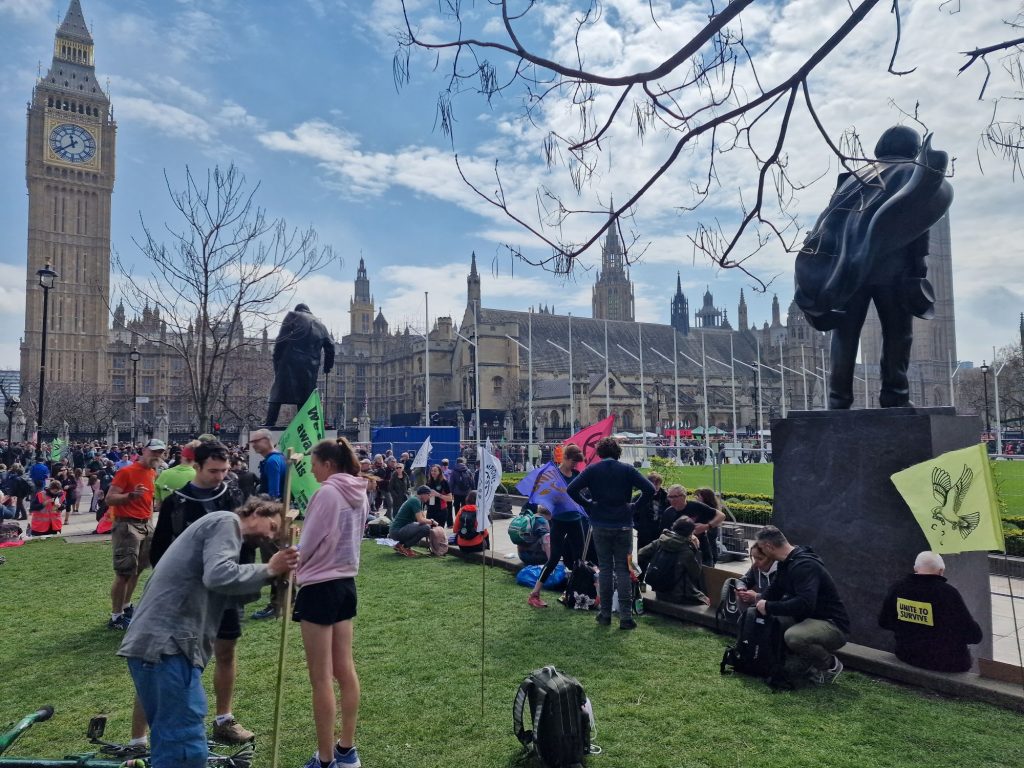 I was especially keen to understand the Rescore app, which is in development for help race event directors improve sustainability. When I later discussed the app with the Green Runners group who organised an environmental awareness run around Parliament Square the day before the marathon, they were aware of the app and excited to see its potential impact. "We think it is the real deal", renowned green ultrarunner and author Damian Hall told me.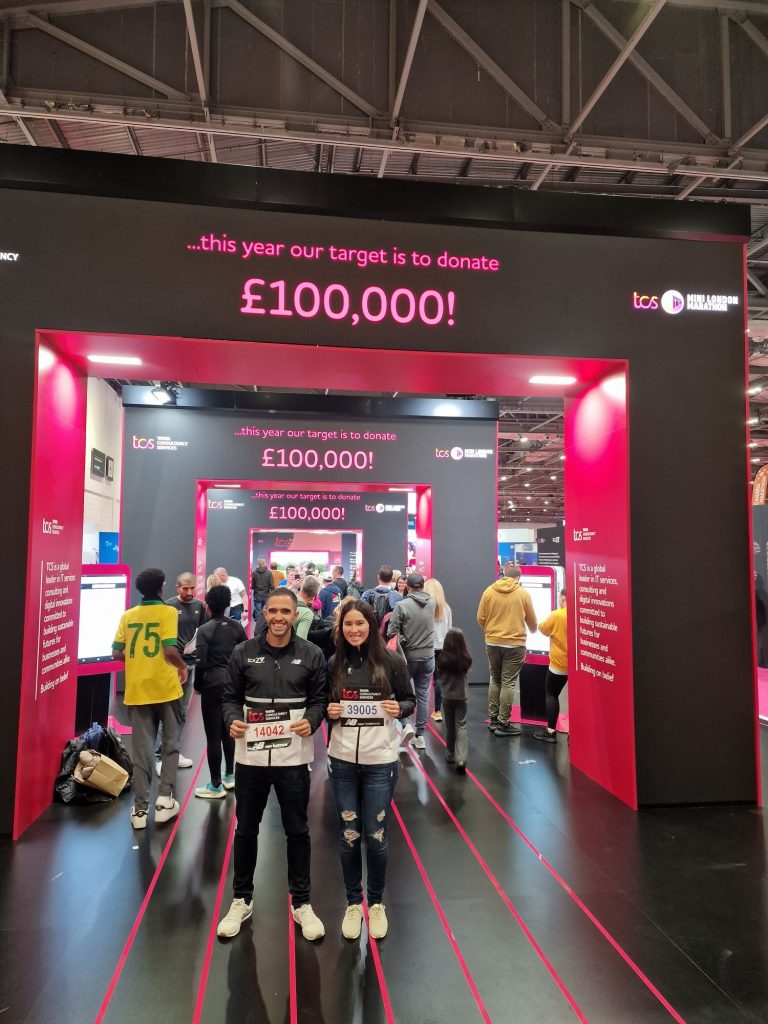 Back at the Running Show on the Saturday, the TCS experience was seeing some heavy footfall.  I asked the team behind the stand to tell me about it the challenges.
Paul Martin, creative director, Set Creative told me: "There is a very fine line to tread between delivering a high-impact, highly engaging experience and ensuring that you aren't a victim of your own success. We know it's human nature to follow the crowd – to want to play with the shiny new thing that others are engaging with. So, we have to mitigate this with highly trained on-stand staff that can manage the crowd, facilitate queuing when needed, and be able to answer our guests' questions quickly and effectively. This paired with robust audience journey planning – pre-agreed with event organisers – means that we can plan for worst-case scenarios, even if they are never to happen."
Apart from being simply robust, the stand provided an exciting and shareable space. Paul explained the strategy:
"When designing a stand like TCS's, it's important to remember that although our audiences all have a love for running in common, that's where a lot of the similarities lie. Different types of audience demand different levels of engagement and are interested in different types of things. To address this, we use a strategic framework called 'paddlers, swimmers and divers', which aligns different levels of audience wants and needs to varying levels of interaction and engagement. For example, most people visiting the event would be classed as paddlers, those with no real intention of engaging with the stand, but can be encouraged to engage. So, we created a visual spectacle that people simply could not avoid – the LED arches. This 'attractor' has been so successful that it became the selfie destination of choice for visitors and has been used for multiple live TV broadcasts, creating organic sharing opportunities. Once they are closer in they can be encouraged to further explore the stand, discovering more to engage with and more to share via social channels."
I couldn't dispute this, having been intrigued by the stand myself and then encouraged to get a selfie with a backdrop that I liked and used as my social media image.
New Balance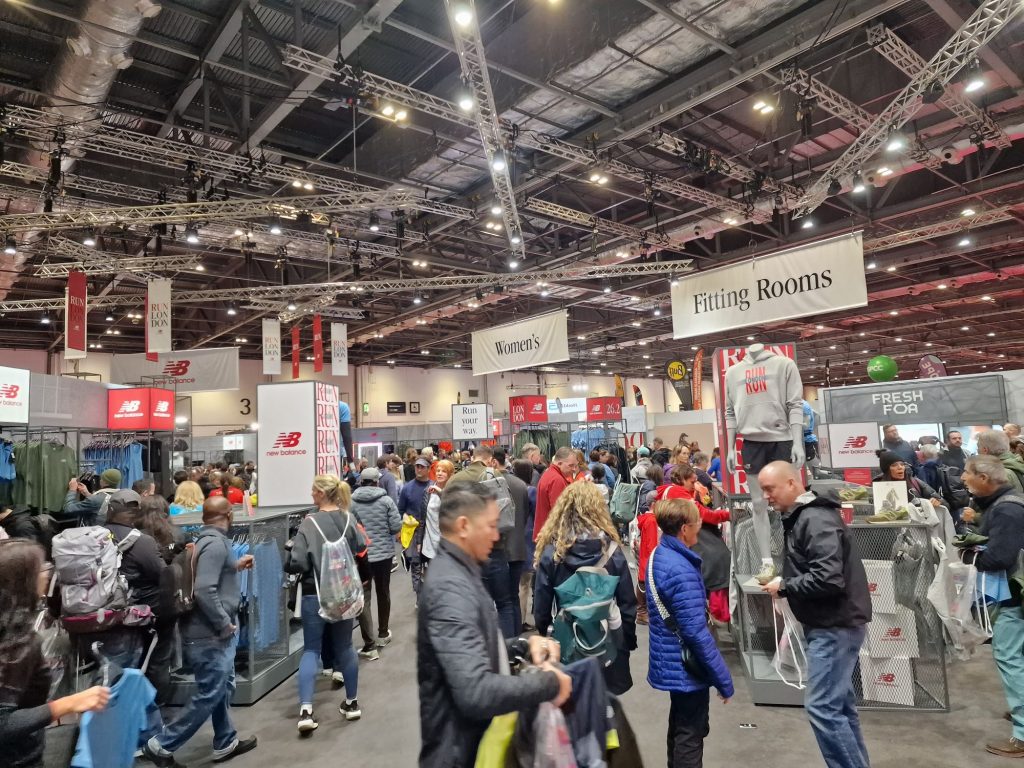 The other unmissable at the Running Show was the somewhat overwhelming New Balance store by RPM, a brand-agency partnership that has been building progressively since New Balance first took up the event apparel sponsorship in 2017.
When I say overwhelming, what I really mean was big and popular. The store is the first bit of the Show that you get to and IKEA style, you have to walk through it to get anywhere else. There are 3000sqm (or ¾ acre) of it and every rack is busy with shoppers sorting out their size, every photo opportunity is being taken, every assistant is answering a question, every treadmill has a runner trialling shoes and every till has an impressive fast-moving queue.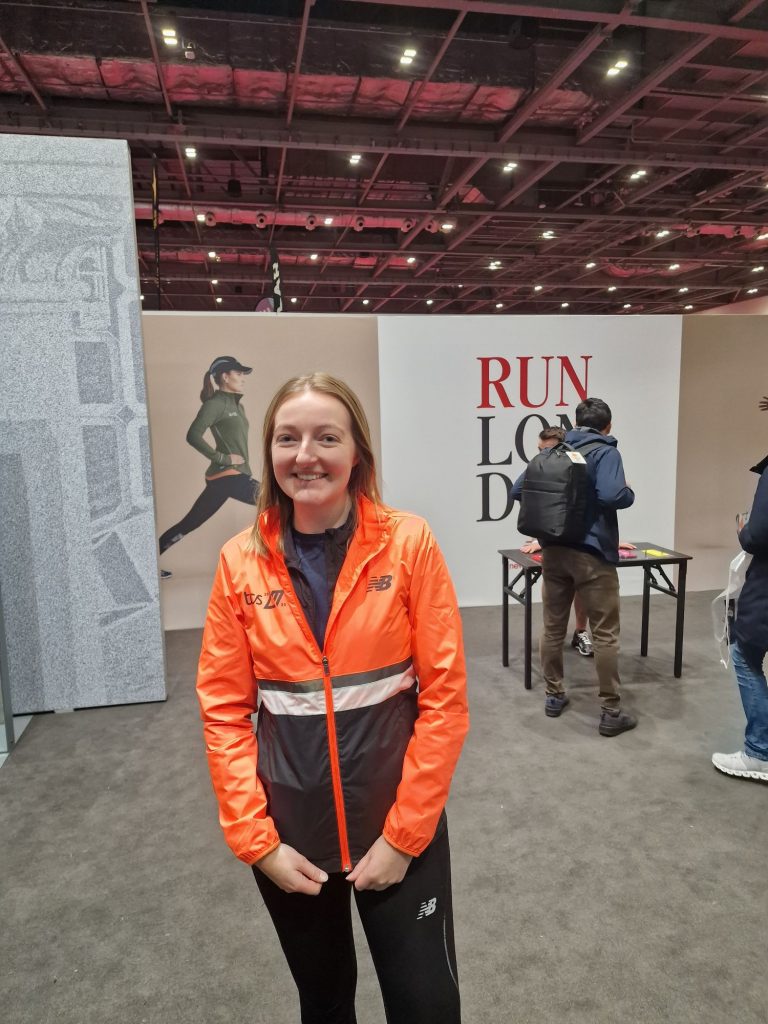 At the event I met RPM's Account Manager Abbie Hansford, and it was immediately obvious that she liked being in at the heart of this event, seeing so many consumer touchpoints interacting at once.
Agency RPM told me post-event that the store had seen 9.29% increase in sales vs 2022 and enjoyed 14706 engagements with the Test Run and Signing Wall experiences.
I'm not surprised in the least. You can imagine a few factors at work to deliver this, but I would guess:
It's a great event to sponsor that will have helped win the brand a special place in the hearts of the running community. For many London is a ballot win or a charity run to get a place, so you feel inclined to make it live long.
As a runner I rarely hear a bad word about New Balance. It is a popular brand that has grown in status. New Balance has developed a London Marathon event specific design range that is very desirable. They also provide the finisher shirt which is strikingly wearable – not just for its look, but its quality. I have an embarrassingly large number of event shirts, but London Marathon is one I will train in.
The brand-agency partnership has focus, determination and experience. The brand ambassadors and demo staff that I met were great communicators and above all energetic. If there was a shopper with an issue, they fixed it.
'Test Run' was delivered to make the footwear trial feel like a proper experience. You signed in to a slightly quieter area of the store and wore the shoes under guidance by knowledgeable hosts with insight.
Though stylish and consistent, the store is without gimmicks. RPM and New Balance clearly understand that the huge emotional road closing event is the big draw and there's no need to compete with that.
The overall growth of the running community.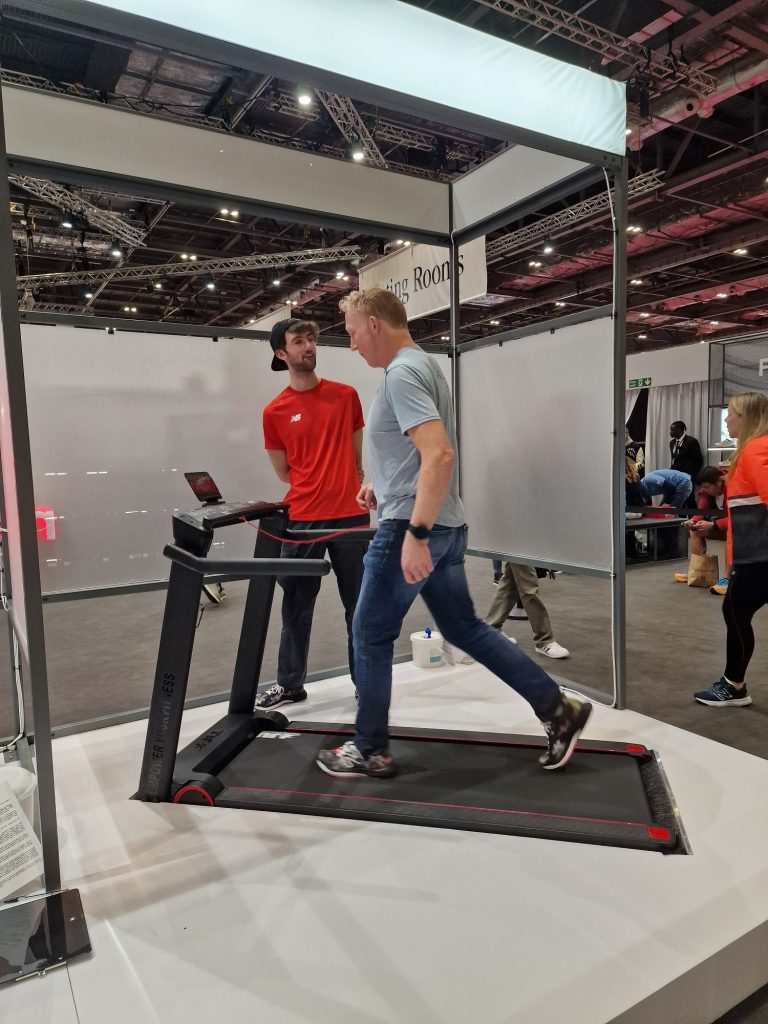 New Balance's presence at the marathon itself is impossible to miss with endless displays and banners around the course. These logos repeat their value, reaching runners, supporters, and television viewers as well as appearing in so many photographs on social media. The brand also gets represented out on the course to become the thunderous heartbeat of the marathon with drummer bands South London Samba and Box 9 picking up the runners when they need it most, going through Blackfriars underpass at mile 24. RPM took responsibility for this and also engaged 6 running clubs to man the cheer zone with branded great and clappers. As a runner, I can reassure any doubters, this created an immense wall of sound!
TAG Heuer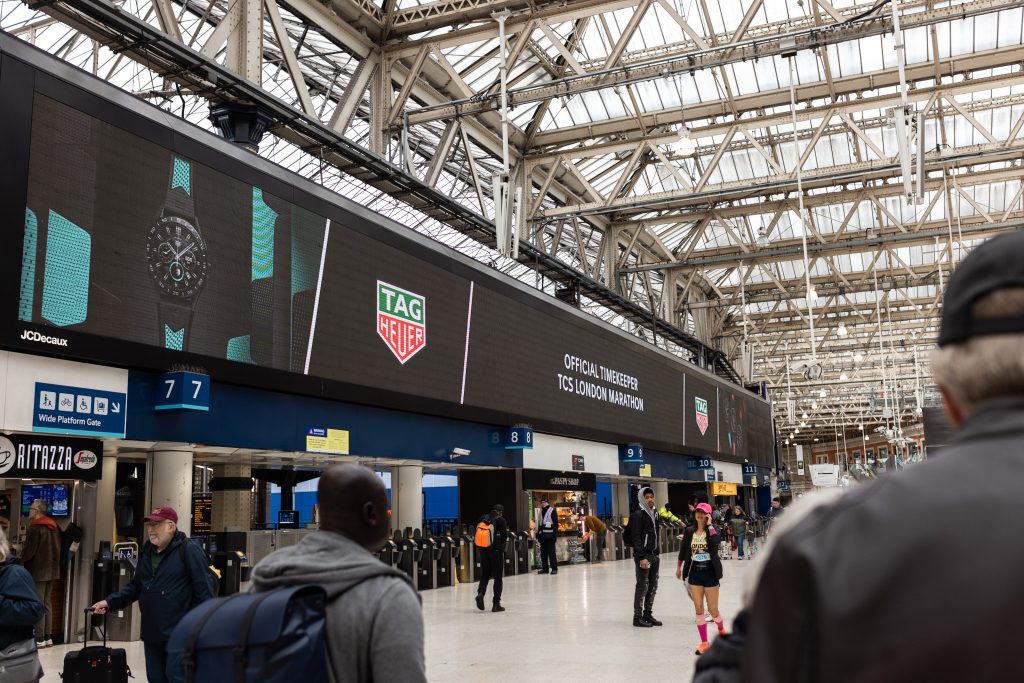 Committed to a legacy of timekeeping TAG Heuer is proud to be Official Timekeeper of the TCS London Marathon for its eighth consecutive year, and to continue to celebrate its sporting excellence. TAG Heuer is committed to the world of sport, having created the world's most accurate timing instruments and achieving an accuracy of 5/10,000ths of a second.
The winners of this year's elite races were presented with a TAG Heuer Connected Calibre E4 watch in recognition of their determination, passion and excellence.
"Year on year, I never cease to be impressed by the spirit and accomplishments of all participants in the TCS London Marathon. It is a great pleasure to award the winning athletes our pioneering Connected watch, and to seeing so many runners undertake the challenge. We are delighted to be Official Timekeeper and to keep all runners connected across this iconic race in a city where TAG Heuer has such a strong community," says Rob Diver, TAG Heuer Managing Director, UK & Ireland.
A passion for human performance in the city United by a common interest in physical and mental achievement and resilience, for the 2023 TCS London Marathon TAG Heuer partnered with urban running collective Run Dem Crew. Established in 2007 by London-based DJ, poet and writer Charlie Dark, Run Dem Crew aims to disrupt the status quo and promote fitness, culture and healthy lifestyles with as many people around the planet as possible. Sharing in these values and with an ethos that every performance matters, this was the first year that TAG Heuer partnered with the collective which, since 2011 has brought a carnival to the roadside at mile 20.
This year, runners once again experienced the 'cheer zone', now one of the liveliest points on the course, as they approached the final stretch of the race on TAG Heuer time.
In addition to the lively cheer zone, this year's runners were also encouraged around the course by TAG Heuer's out of home live digital campaign, which was present across city. In the morning, sites such as Waterloo Motion, London Bridge and Kings Cross stations displayed motivational messages from Run Dem Crew such as "It's not how fast you go, it's how you cross the finishing line".
Following the event, the banners feature congratulations messages and highlights of the records achieved, as well as imagery from the day.
Other Sponsors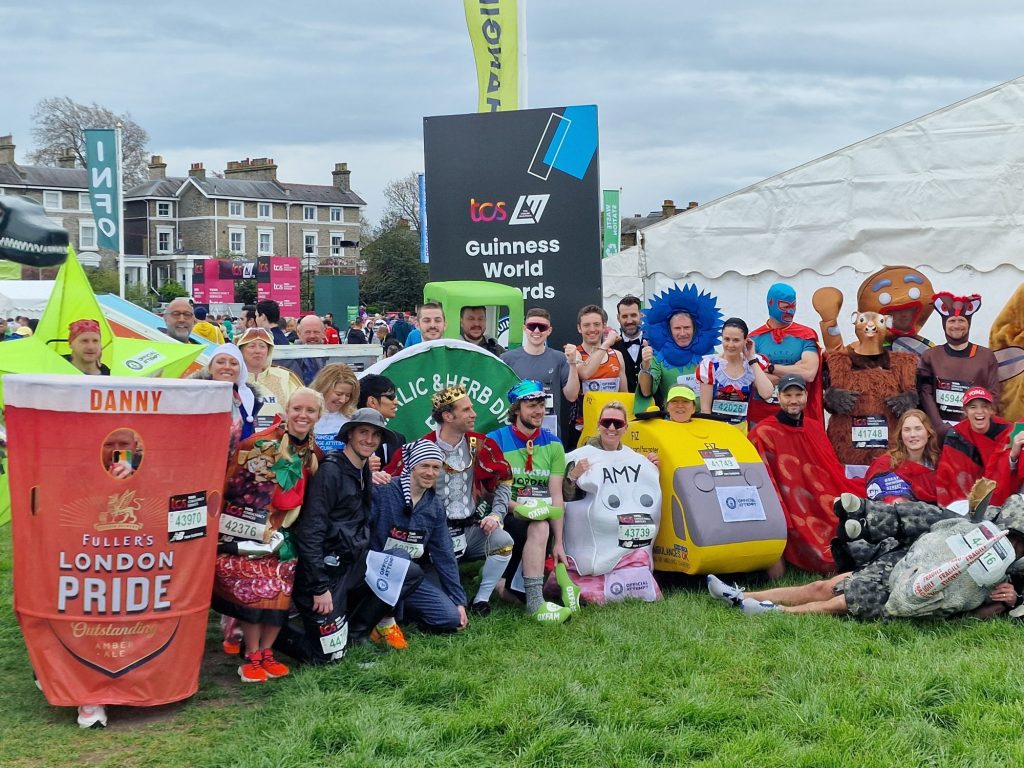 Here's a footnote on other sponsor suppliers and brand engagers at the London Marathon. I'll refer to my straw poll in this, 5 runners who participated in this year's marathon who I asked for brand recall.
Buxton Water – Their presence was especially welcomed at the pre-race area where there can be a delay and a need to stay hydrated. I didn't notice their Sweat and Tears Runners campaign on the day – a shame as it documented how runners use the marathon and its training schedule to combat mental health. The campaign was focussed around a £100,000 donation from the brand to Mind. Straw poll 3/5 could name the water supplier unprompted. 5/5 named Buxton when asked who supplied the runner's water.
Lucozade Sport – The brand extends its support of the event to help with training and prep programmes. At the event the gel handouts can be especially welcome for emergency energy boosts. Straw poll – 2/5 unprompted brand recalls and 4.5/5 when asked who the energy supplier was, with the .5 being one who thought High 5 were also involved.
London Pride – I was at the start line with a couple of huge pints of beer who were costume runners for the brand. Post event evidence suggests that there was also a band on a trailer on the course delivering pub rock classics, but I went past it unaware. Straw poll – a disappointing 1/5 could name the sponsor unprompted rising to 2/5 when asked to name a beer from the marathon. 2/5 thought Erdinger Alkoholfrei was the likely beer sponsor but said if so, they had missed the brand at the finish.
Nissan – the logistics put in by Nissan to the event went unnoticed by my straw poll group with BMW topping the 'best guess' at a car brand associated with the marathon. The LGBTQ+ cheer zones were spotted and appreciated by the runners but no connected to 'powered by the Nissan Leaf' was made. Hopefully for the brand the electric fleet it supplies to London successfully impacts the main beneficiaries of it. It seemed to me that the brand's intriguing messaging and its commitment to the sustainability of the London Marathon would have been solidly appreciated by runners if a stronger cut through had been forged.
Reaching the Running Community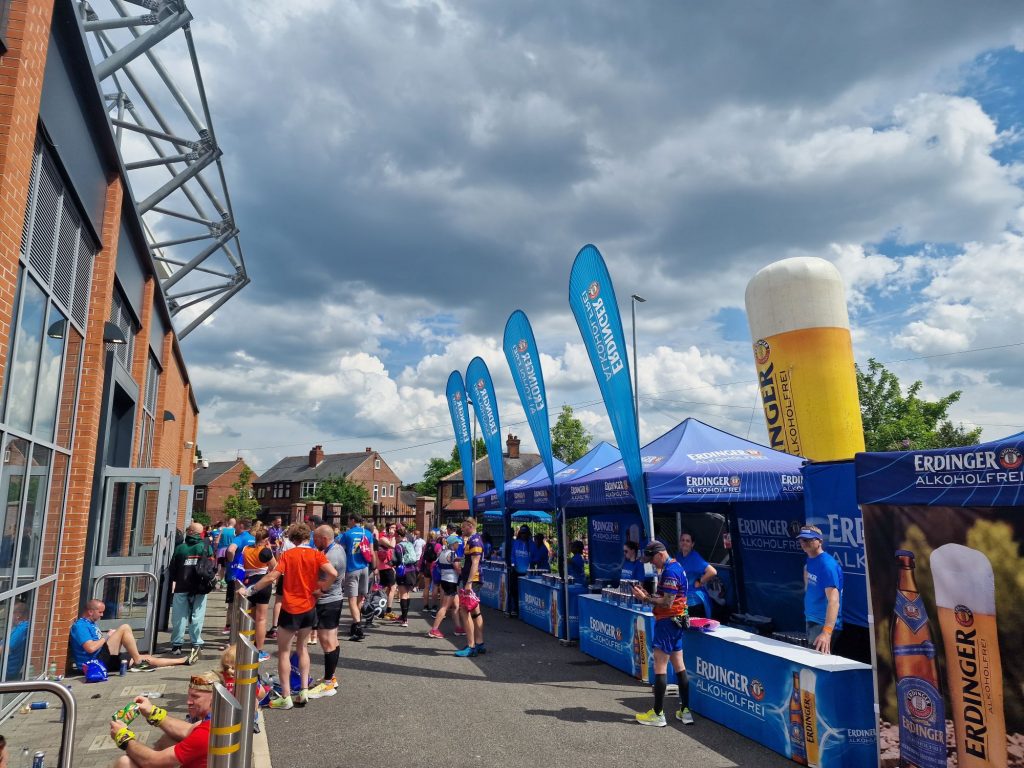 Paradoxically London may not be the best place for a brand to make a long-term connection with regular runners. The event is massive, and its reach is huge, but many participants are not regular club runners. To reach these regulars it may be better to support several smaller scale events – case in point, Erdinger Alkoholfrei who wrongly topped my unscientific straw poll as the event beer.
A few years ago, the brand started pressing its isotonic post run hydration into the eager hands of race finisher at numerous events and the policy seems to be paying off. It was recently added behind the bar by special request at the Sports and Social Club, Chippenham, which is surely a new high water/beermark for Erdinger.
My last free Erdinger came at this year's Leeds Marathon where I ran as a pineapple to raise money for the Motor Neurone Disease Association, making Leeds tropical with hula dance moves – and making BBC Breakfast news in the process.