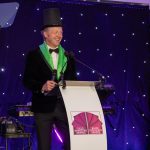 from Frank Wainwright – FMBE Awards Director
Congratulations to all our FMBE Awards winners, and shortlisted finalists.
We enjoyed a hat-tastic evening at Ascot Racecourse with our awards host this year, comedian Simon Evans and our ever-reliable Voice of God, Jonathan Clays. The dancefloor was filled by Extreme Ways.
Our tip top best hat winner from award's night is… announced below.
There are some fantastic photos of it all from Aniseed Photo. If you haven't found them already, go here for them.
They have also inspired a photo caption competition, below. Scroll down the page for it.
Of course, this event owes a huge debt to our sponsors and supporters.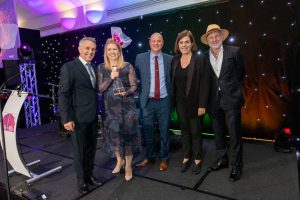 SpaceandPeople
SpaceandPeople's support saw Head of Agency and Brand, Andrew Bodwick called to stage more often than anyone else (he's in the centre of the picture, with We Are Collider) . SpaceandPeople has been FMBE's most consistent supporter through our 18 years and this year took up the lead sponsor mantle for the first time. We covered this development in our news, here. We're very proud of the association. Their experientialspace.co.uk website is such a great service and the team has so much accumulated expertise for facilitating amazing events at great locations.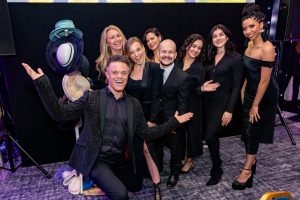 Elevate Staffing
Our hosting team for the evening really kept things buzzing. Our event celebrates great staffing, so it has to be wonderfully staffed. Event manager Jordan and his team really stepped up for our event and gave it pizzazz.
Elevate are proving to be true thought leaders in all things FMBE. Here they are blogging on sustainability. And here's a recent staff event – F*CK Being Humble. Interesting update, we covered this event and a reader from a global media business contacted us to tell us that she has since stepped beyond her marketing events team and initiated her dream of teaching wellness classes to her company. It's going really well.
Location Live
The team at Location Live always bring lovely guests and a little more to FMBE, helping us with our evening's entertainment. Thank you. Location Live has featured quite a bit in our news recently, with investment helping innovation as they work alongside more and more great brand experiences.
ONWRD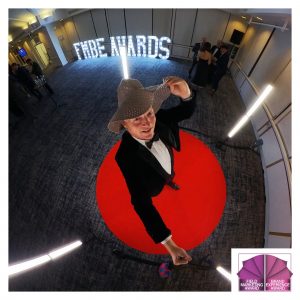 ONWRD first learnt about the event two weeks out when it was too late to get tickets. They didn't let that exclude them though, watching our live Twitter feed all night pledging support to Grocery Aid if any of their clients won.
Pictures Experience
People have loved the share of my selfie stick photo (left) from the awards, but what impressed me was the ease with which Tom set this photo experience up. It really is a low effort, small footprint memory maker.
Pictures Experience have supported FMBE for many years and this is +1 to their extensive services list and a big plus to value for money.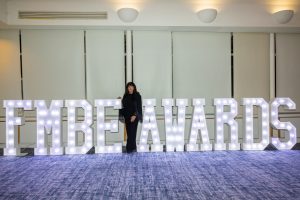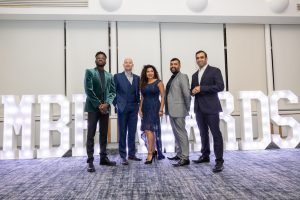 Blooming Fabulous Flowers
The giant FMBE letters were provided by Louise Araguez (pictured left), a Blooming Fabulous entrepreneur whose decorative events business, Blooming Fabulous Flowers can be trusted to understand any FMBE industry brand event need. Why? Well, we know Louise from her previous life orchestrating award winning FMBE campaigns.
Aniseed Photo
JT's super photos are all free to use. We love you to credit Aniseed Photo where you can, and always if you are using them for anything other than social media. We will also typically permit use for commercial and marketing purposes but do ask you to ask us first.
Aniseed is events industry focused. We are always confident our brief will be delivered with JT on board.
Ambanja Film
Another company with an events industry reputation, we love working with Ambanja. The first edit for this year looks great – final version is promised soon, so we'll let you know about it when it's done.
Photo Competition
Choose one of these 8 photos to caption. Send your caption to frank@frankpublishing.com. Hat prizes to the winners.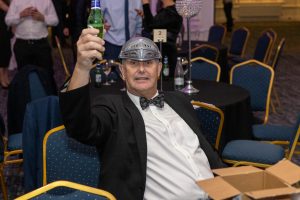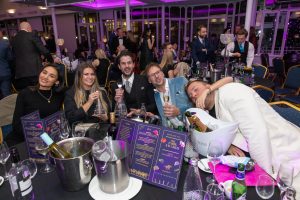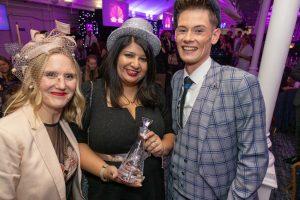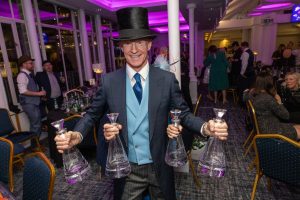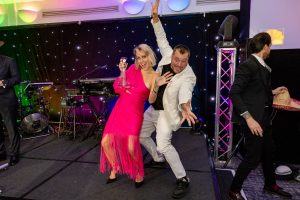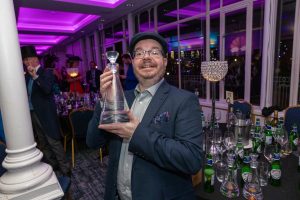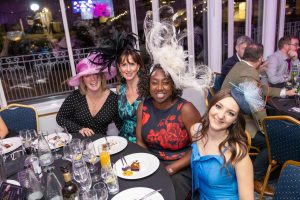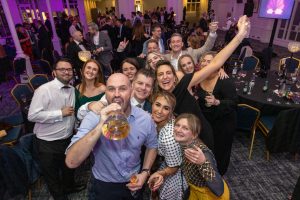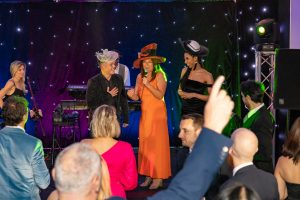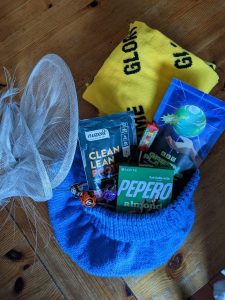 Best Hat
Best hat winner was Joanne Criss, WDS, Costco. For sampling afficionado Joanne, we have a tantalising Tam O'Shanter of goodies together with a Fame and Glory scarf and fabulous fascinator (pictured). Well won Joanne, your orange and black combination was a total showstopper.
Judges
We're blessed with connections into some amazing industry clients  to help with our judging – this year companies such as Britvic, Coca-Cola, Fulfil, Grace, Hitachi, Just Eat, Organix, Pepsico, Pladis, O2, Panasonic, Sharp, Unilever and ably supported by industry experts who specialise in areas such as resources, sustainability, shopper insight, field data, campaign evaluation, team training, social media,  venue selection. A full list will be published here in coming weeks.
And finally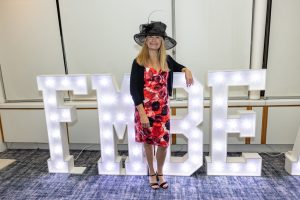 Finally my personal thanks to all of our guests. We only have to open the doors at FMBE Awards to be assured of a great party. As with any event, it's all about the people and we know how lucky we are with our lot.
And special thanks to the indefatiguable Sam Tasker  – who produced our event immaculately.
I've a few category reports to release in the next couple of weeks so check back for those.