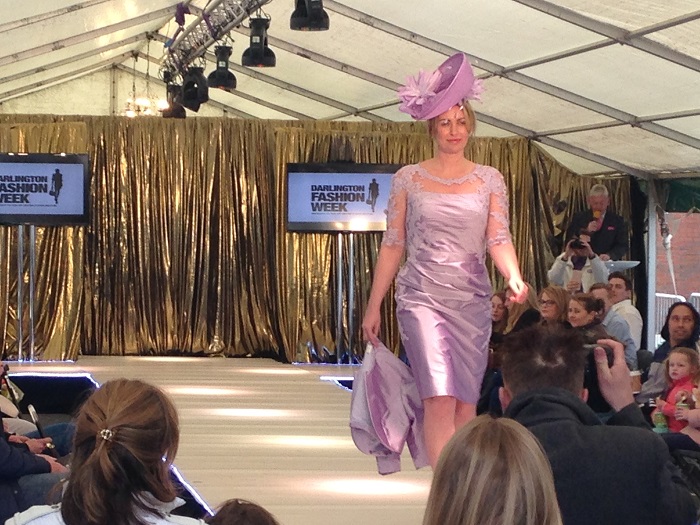 Fashionistas from across the North East headed to Darlington for the town's first ever outdoor catwalk.
On Saturday 23 April, the town's Grange Road was transformed into a 14m runway where a parade of models showcased this summer's  looks in a series of shows.
National names such as Binns – House of Fraser, M&S and shoe retailer Moda in Pelle, were among those displaying their latest collections, alongside independent Darlington stores, such as Leggs, Geoffrey Gillow, Chestnut and Elan.
The event, organised by BID company Distinct Darlington was designed to highlight the town's independent and high street clothing retailers, and now bosses are already planning a follow-up event for later in the year.
"It was successful beyond our wildest dreams," said Distinct Darlington manager, Alex Hirst.
"Not only did the whole town come together to support the event – even handing out food and drink samples from local businesses throughout the day – but people came from far and wide.
"Each show was performed to a capacity audience and the atmosphere in the town was just amazing.
"Those in the know when it comes to clothes have long appreciated the vast choice we offer, in terms of labels, prices and styles and, now the secret is out, we expect to welcome even more shoppers and visitors than ever.
"We had several business owners say that they saw lots of new faces in their shops on the day of the event, which is fantastic to hear.
"All our retailers are asking when we can repeat the event so looking in to the possibility of doing so is going to be a priority in the coming months. We'd love to repeat the event in late summer/early autumn as the fashion season changes.
"In the meantime, though, we would like to thank everyone who took part in and supported the event."