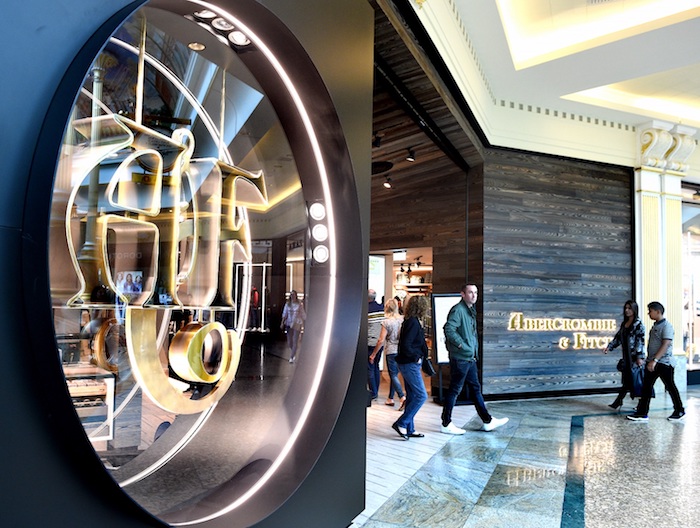 Abercrombie & Fitch has opened its second UK location at intu Trafford Centre in Greater Manchester. The 5,554 sq. ft. flagship site is one of eight new prototype stores that have been completed since the initial launch of the design in February 2017, and only the second location outside of the US following an opening in Hong Kong.
The new prototype, which has demonstrated improved customer engagement and productivity on a smaller footprint, was designed to encourage product trial while providing the customer with a new vision of the A&F brand.
The modernised space was imagined with the best customer experience in mind; the layout includes accommodating features such as innovative fitting rooms with thoughtful amenities designed to enhance the customer's mood, including separate controls for light and music, as well as a phone charging dock. Select fitting rooms act as private suites to accommodate larger groups of friends and families. Checkout points will also be placed throughout the space, enabling a quicker and more accessible experience.
Colin Flinn, regional managing director at intu, said: "intu's high footfall, experience-based destinations are popular locations for international brands looking to thrive within new areas of the UK. Abercrombie & Fitch's new store has been carefully designed to give intu Trafford Centre shoppers even more to enjoy as part of their big day out at the centre."
Stacia Andersen, Brand President of Abercrombie & Fitch and abercrombie kids, said: "We are delighted to unveil our new store design in the UK for the first time, in the fashion-forward and vibrant city of Manchester. Customers old and new will discover A&F's evolved brand experience and collections, in a space designed to deliver a seamless experience across all our platforms."
Work is also underway on a £75 million transformation of intu Trafford Centre's Barton Square which will gain a new glass-domed roof and a fully redesigned interior under intu's plans to expand and refresh that area of the centre. A number of new brands are set to join intu Trafford Centre's popular retail and leisure mix for the first time once the project completes early in 2020.