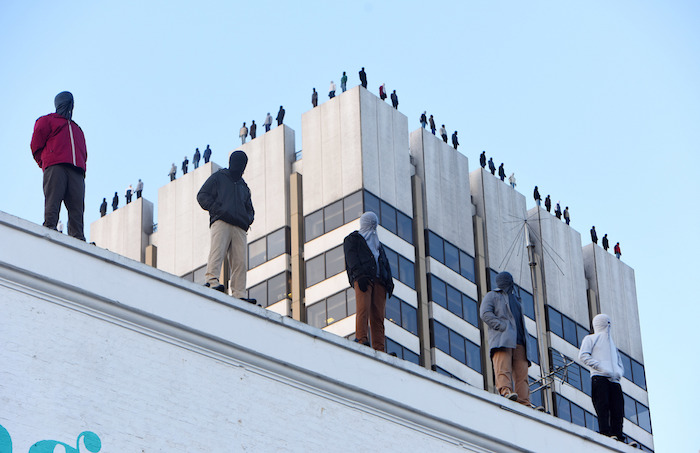 adam&eveDDB have launched their second campaign, Project 84, for CALM (The Campaign Against Living Miserably), a charity dedicated to preventing male suicide.
The work aims to initiate conversation and action around male suicide prevention and bereavement support. The 84 sculptures are a visual representation and poignant reminder of the tragic statistic that 84 men take their own lives every week.
The sculptures have been created by renowned sculptor Mark Jenkins, with support from bereaved friends and families who have lost a loved one to suicide. Across a series of workshops, the relatives were guided in Mark's signature tape casting technique, each producing a sculpture for the installation.
The sculptures have been installed on top of Southbank's buildings from Monday 26th March for a week. Supporting the project, ITV's This Morning has been raising awareness of the campaign with three days of programming dedicated to male suicide, including interviews with the friends and family of the men at the heart of Project 84.
Alongside broadcast coverage by This Morning, Project 84 is supported by a PR campaign from creative communications agency W. The campaign is being bolstered with online comms and posters. Volunteers on the ground are raising awareness of the signs to look out for in people who may be at risk and advising on how to provide them with support. 
Simon Gunning, CEO of CALM, said: "Achieving our goal of male suicide prevention requires everybody to take a stand. As a society we have to face this awful issue, discuss it and actively work to stop it, which is why we're particularly invested in making this campaign a success. Project 84 is all about making the scale of the situation very clear and we hope it will drive change and encourage everyone, government included, to come together to take suicide seriously."
Ant Nelson and Mike Sutherland, deputy executive creative directors at adam&eveDDB added: "Male suicide and mental health is a big issue that can't be ignored any longer. It's unacceptable that so many men are tragically taking their own lives every week, and yet there are so few people talking about it. Hopefully this piece of work will highlight this shocking statistic and help start conversation."
Warren Johnson, founder and global CEO at W, comments: "CALM's work is vital, and I feel privileged to support such a hard-hitting campaign. #Project84 is about drastic action and everyone should be taking a stand to join this movement, helping to prevent male suicide."
The campaign is supported by male grooming brand, Harry's.