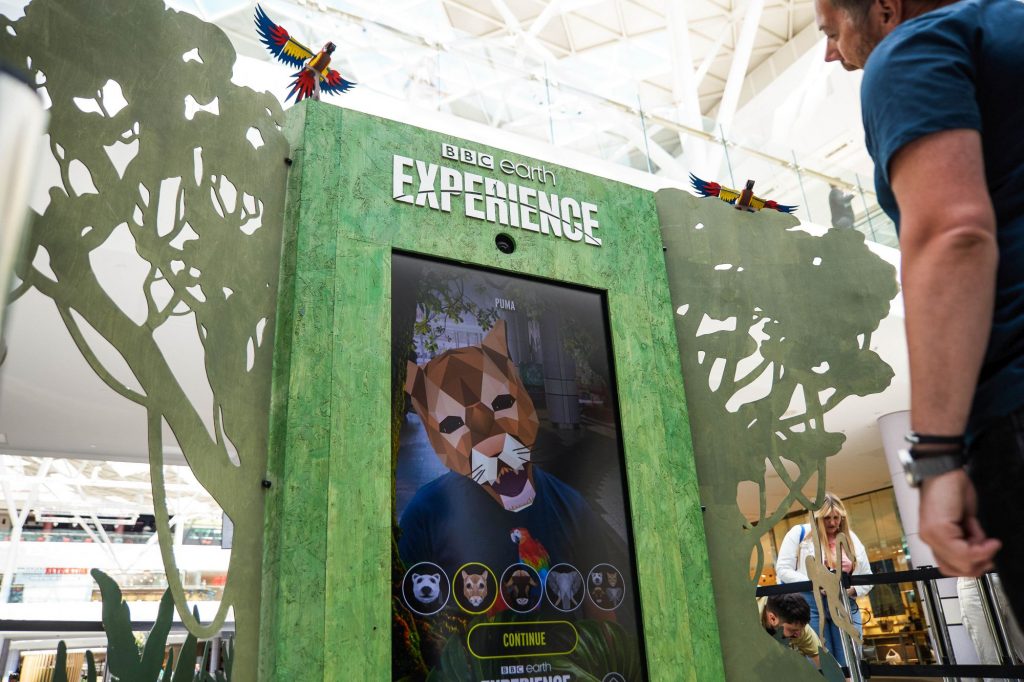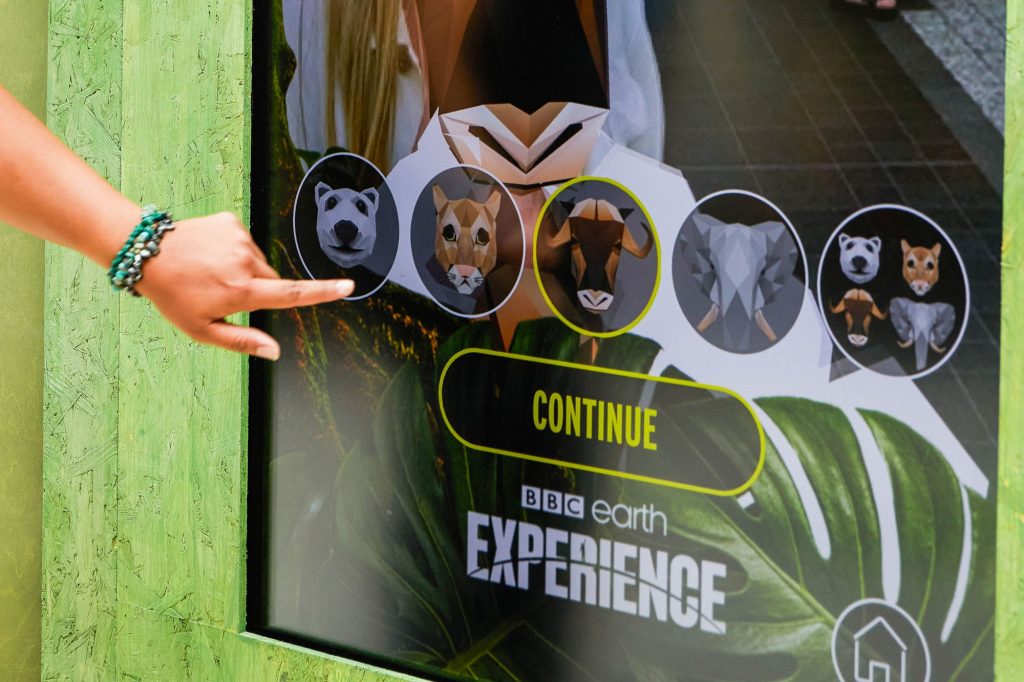 BBC Studios has created a touring Interactive Photo Booth Pop-Up to celebrate the launch of the BBC Earth Experience. The BBC Earth Experience is a majestic 360-degree audio visual journey that encourages visitors to step inside and explore iconic landscapes and connect with mesmerising animals from around the world and will be open at The Daikin Centre, Earl's Court London until January 2024.
The photo booth has been produced by independent brand experience agency Undercurrent Ltd. and designed to appeal to a family audience. The booth features four AR animal masks that members of the public can digitally 'try on' and take a wild selfie! Each AR mask has been created in an artistic geometric style inspired by the range of natural history merchandise available at the BBC Earth Experience gift shop. The AR masks will be mapped to visitors faces and react as people move and gesture, giving participants the chance to pose for a bespoke animal selfie as a Polar Bear, a Musk Ox, a Puma or an Elephant. Post interaction, a bespoke GIF will be sent straight to their inbox to share with friends on social media. Every participant will be entered into a prize draw to be in with a chance to win a free ticket or a 20% discount code to the fabulous BBC Earth Experience.
In keeping with the ethos of BBC Studios and the BBC Earth Experience, the booth has been built with sustainable materials and every environmental aspect of the activation has been considered. The main internal structure of the stand is composed from reclaimed birch plywood panels with sustainable OSB board cladding and the booth gets its colour from clay paint which is non-toxic and compostable. The stand structure is accessible, compact, and has been built to be easily transported and stored, allowing BBC Studios to use it again and again.
The tour will visit the below locations prior to landing at its home within the BBC Earth Experience in Earl's Court for the summer.
Saturday 7th – Sunday 9th July: Westfield Shepherd's Bush
Saturday 15thJuly: Kings Cross Station
Saturday 22nd – Sunday 23rd July: Reading Oracle
Stephen Davies, Managing Director, Consumer Products and Licensing, BBC Studios said: "The BBC Earth Experience is about bringing our incredible natural history content to life in a new and exciting way. By creating this interactive pop-up, we wanted to provide members of the public with an opportunity to learn more about London's newest attraction and have fun while using our bespoke AR filters".
Damian Clarke, CEO, Undercurrent said: "This is Undercurrent's first partnership with BBC Studios, and we're thrilled it's a brief that resonates so strongly with us. Seven Worlds, One Planet is a ground-breaking series, and the BBC Earth Experience at Earl's Court takes this a step further, this project takes a small taste of that experience on the road to raise awareness and drive ticket sales. The team relished the chance to deliver a sustainable build and throughout the process we learnt new skills and discovered new materials that we'll continue to work with in future. Ensuring that we're building an asset with maximum re-use in mind, but also delivering something that is biodegradable at the end of its lifespan".